Breaking News Featured Editorials Home Slider
Fitzpatrick, Jets Stuck in Tough Spot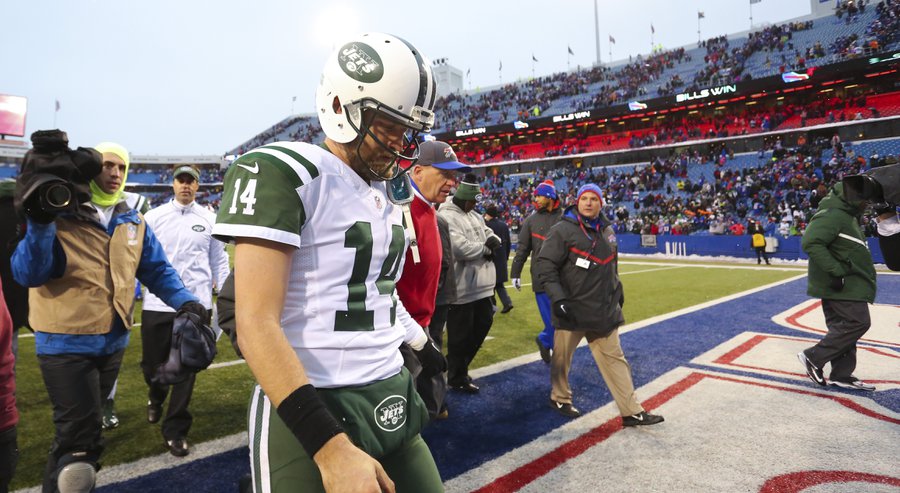 It's not easy tackling the Ryan Fitzpatrick issue. There are so many different points, all of which hold merit.
Let's start with the facts:
Fitzpatrick had one of the greatest statistical seasons in New York Jets quarterback history.
Fitzpatrick tried to bank on that season. He tested the market and the market won.
The only reason Fitzpatrick was able to test that market was because Geno Smith was punched in the face.
Both sides have some obvious leverage. Fitzpatrick and company have been able to fairly point out the quarterback market demands top dollars, even for a 34-year-old journeyman. Dolphins quarterback Ryan Tannehill makes $19.2 million a year. Eagles third-string quarterback Chase Daniels makes $7 million per year. To each their own.
Recent reports claim Fitzpatrick has a three year contract – offering $12 million in the first year – on the table. I love this contract and ultimately think Fitzpatrick will sign it. I wouldn't be surprised to hear reports on how years two and three aren't backloaded enough. The Jets will likely want a quick out if/when Christian Hackenburg is ready.
I've been largely indifferent on the Jets' quarterback situation. I'm certainly not the leader of the Ryan Fitzpatrick fan club, but I do think he was fair to question his value and test the free agent market.
The players seem to love him. If you believe certain reports, wide receivers Eric Decker and Brandon Marshall are sitting out voluntary OTA's to "protest" his contract negotiations. While this might not be the most fair to guys like Geno Smith, it speaks volumes about what important pieces think of Fitz.
To me, that matters a lot. Quarterback is not just about arm action and reading defenses. Being the quarterback of an NFL team means you're the face of the franchise. Your team has to respect you and be able to rally around you. I don't think the Jets had this in Smith and Mark Sanchez.
There's also a precedent for success. Fitzpatrick's TD to INT ratio is 2:1 in his last two seasons. He's never thrown for less than 3,000 yards under current offensive coordinator Chan Gailey.
The big gamble, of course, is questioning whether Fitzpatrick's 2015 was an anomaly or the beginning of a nice two to three year stretch of his peak. There is more precedent – Rich Gannon and Vinny Testaverde come immediately to mind. Is Fitz that kind of talent? I have no idea, but it might be worth the gamble.
I, along with plenty of other Jets fans, obviously have concerns. Fitzpatrick has gone a full 16 games just three times in his 10 year career. He also couldn't live up to a lucrative six year deal in Buffalo, given to him in week six of the 2011 season.
The Jets' contract offer is more than fair. Why bid against teams that don't exist? I get it. Mike Maccagnan and company should be applauded for their stance.
Even with all the factors, there's a thin line between wins and losses. Is there a huge difference between Fitzpatrick and Smith? Probably not, but if the difference between the two is 8-8 and 10-6, sign me up. The Jets have all the pieces to compete right now.
Eventually, I think Fitzpatrick gives in. He's not getting more money from anyone else to be a starter, especially for a contender. Fitz needs the Jets. The Jets need Fitz.
Get it done.
Videos
NY Jets Phase 3 OTAs, Expectations and a Minor Calf Tweak with Greg Renoff