Breaking News Featured Editorials Home Slider
OTA Updates: QB Edition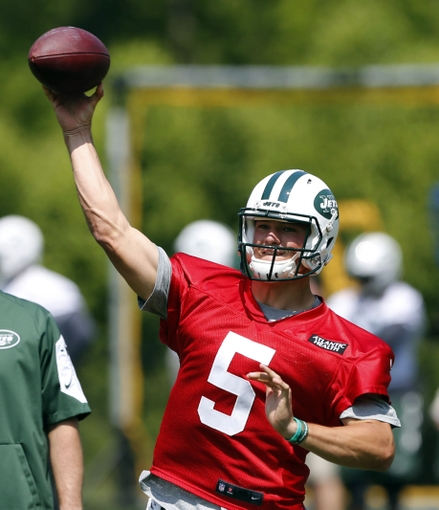 It is very hard to judge football players when they are practicing in shorts. That said, we will do it anyway. Or in this case we will pass along the opinions of those who have been watching the QB's so far. This is a very small sample and again they are in shorts. But here are some thoughts from the media.
If the NFL season was held in June, Geno Smith would be building a resume for Canton. #Jets #nyj

— Kristian Dyer (@KristianRDyer) June 1, 2016
Geno has had a great praCtice absent that one pass. Shouldn't be overlooked

— Connor Hughes (@Connor_J_Hughes) June 1, 2016
Geno Smith looks very very very good today… for what it's worth.

— Manish Mehta (@MMehtaNYDN) June 1, 2016
Bryce Petty gets picked off by Kevin Short. Petty had been unimpressive today. #NYJ

— Brian Costello (@BrianCoz) June 1, 2016
Todd Bowles says he's throwing a lot of defensive looks at Hackenberg. Bowles expects Hackenberg to look "sloppy" right now. #Jets

— Darryl Slater (@DarrylSlater) June 1, 2016
Coach Bowles talks about the QB's:
On if he's seen a different and more mature version of Geno Smith…
Just from being in the system a year. Having learned the system and having a year under his belt, you see more growth that way. Obviously it is still early in the stages, but right now you seen the growth that way. From maturity of commanding the huddle and understanding where to go with the ball quicker.
On Geno Smith having an opportunity and if he is taking advantage of that…
Well right now we're five days into OTAs. From a mental stand point he's getting a lot of reps and he's getting to see things a lot clearer. Like I said being the system a year, I think it helps him that stand point. We're not at the August stand point where we can say that that opportunity has taken place yet. So it's still early in the staged but he is getting major reps.
On throwing a lot at Geno Smith during practice…
All of them get a lot. What the offense ends throwing the defense ends. Defense is normally ahead and the offense catches up repetition rise and things that they got to see. So technically the defense is more ahead right now.
On just specifically throwing a lot at Geno Smith…
They're seeing everything that we can throw.
On Christian Hackenberg looking sloppier and if he feels that is just normal rookie struggles…
Right now I expect him to look sloppy because again he's seeing a whole boat load of defenses that's coming at him daily and there's going to be a growth period. No different than Geno and Fitz saw last year, as well as Bryce (Petty). So everything that Hack is seeing this year he's seeing for the first time so better him see it now in the Spring and be more comfortable in the summer then vice versa.
On Christian Hackenberg improving his accuracy…
I mean as a quarterback you continue to work on your mechanics. You know first thing and then once you get the system down and you start playing a lot faster, and your accuracy becomes a lot better. So he's in a progression stage right now. So to say that he's going to be accurate every time is no. But he's not as off as we've seen him off and he's been grasping the system pretty good. And the new things that's getting thrown at him he learned from his mistakes. So he's got time to grow there.
On if he envisions Fitzpatrick leading this team…
I don't envision anything but coaching the guys that are here and if he's here I can envision it. If he's not, I got to envision the next man up.
On if he has seen progress from Bryce Petty's this spring…
Mentally yes. But with the few short practice we've had, we still got to see more and to see it in training camp. But again he's been in the system for a year so he's a little bit more comfortable this year than he was last year.
On Christian Hackenberg's successful 2:00 drive at the end of practice today…
He was poised. The biggest thing was when he fumbled the snap, he picked it up and he threw a complete pass and standing in the pocket than getting too caught up in the moment. But it was early, a lot of mistakes on both ends of the ball there. So that's his first time, second time doing it. So that's progress.
On what Ryan Fitzpatrick is missing by not being here…
Well you get in a routine as a veteran player and you have your routine, your workout routine and your comradery routine, where you get used to the guys and being around the guys. But you know, again it's voluntary and a lot of guys have missed. And he was hurt last year when he was here at this point in time. So it's pretty much the same thing and that didn't seem to hurt him.
Videos
Aaron Rodgers Injury Fallout & Jets/Bills Recap