Breaking News Home Slider Jet News NY Jets Training Camp
2016 Jets Training Camp Schedule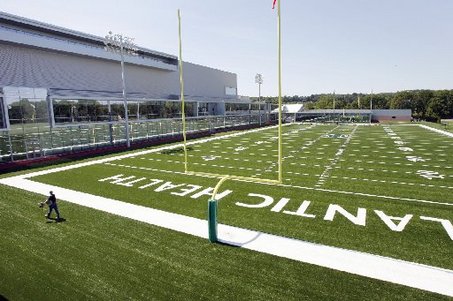 The Jets have announced their 2016 training camp schedule. It will be held in Florham Park, NJ again this year.  Here is the press release from the Jets, along with the dates of the open practices. Be sure to check our NY Jets forum all summer long for real time updates.
JETS ANNOUNCE 2016 TRAINING CAMP SCHEDULE
Camp Returns for Another Year at the Atlantic Health Jets Training Center
#JetsCamp
The New York Jets 2016 Training Camp will provide fans with a number of opportunities to watch practice, including nine practices (Open Practices and Special Youth Group Days) specifically designed to host large crowds, before breaking camp prior to the Week Three preseason game against the New York Giants.  All practices will be at Atlantic Health Jets Training Center and are supported by BASF, EMC, JetBlue, MetLife, SAP, Seasonal World, SNY and Toyota.
Players will continue the Jets tradition of signing autographs for fans after practice along the fence line. However, autographs are not guaranteed for every fan in attendance.
Admission and parking at all Jets Training Camp events are free, but tickets are required.  Beginning on July 14th, fans can register and print tickets for Open Practices and find information on parking and directions by visiting newyorkjets.com/camp.  Season ticket holders will be granted an exclusive window to register before the general public starting July 12th. Fans attending Training Camp are encouraged to check the website for security and carry-in procedures.
Practices may be cancelled or closed to the public in the case of inclement weather.  Fans are encouraged to call the team's fan line at (973) 549-4844 or visit newyorkjets.com/camp for the most up-to-date news regarding practice schedules.
Amenities for the Fan Experience at the Atlantic Health Jets Training Center
For Open Practices and Special Youth Group Days, fans can take advantage of bleachers (up to 1,400 fans) for enhanced viewing, a shuttle service to and from the parking lot, water stations close to the field, and cooling zones provided by Seasonal World.  There will also be an expanded food court presented exclusively by Village Super Markets, offering food for purchase for guests in the fan and seating areas.  Fans will also enjoy Training Camp staples including a fan zone fully equipped with family-friendly activities, Jets Fest presented by Chase, featuring skills challenges, music, inflatable rides, and the Jets Shop tent filled with new merchandise for the 2016 season.  Season ticket holders will receive an exclusive 15 percent discount when making purchases at Jets Shop.
Jets Legends Day
On Sunday, August 14th, the New York Jets will host more than 40 former players who will participate in meet-and-greets with fans. Legends will be available for autographs throughout the day in the Jets Fest tent and around other areas of the training facility.
Gen Jets Kids Club Presented by Chase
At all Open Practices and Special Youth Group Days, members of the Gen Jets Kids Club presented by Chase will have a kids-only player autograph area. Space is limited to the first 125 kids each day on a first-come, first-serve basis.  Parents are encouraged to check in their children at the Gen Jets tent upon arrival.
Parking and Shuttles
All guests must park in the BASF parking lot located at 100 Park Avenue. Fans will then be shuttled to and from Training Camp.  The shuttles will begin 30 minutes prior to gates opening and will continue to run for approximately one hour after practice ends.
2016 New York Jets Training Camp Schedule
For all practices at the Atlantic Health Jets Training Center (AHJTC), gates will open at 1:00 p.m. (except for August 6th).  All dates and times are subject to change including cancellations due to inclement weather. 
| | | | |
| --- | --- | --- | --- |
| Date | Location | Time | Event/Access |
| Wednesday, July 27, 2016 | AHJTC | | Players Report – No Practice |
| Thursday, July 28, 2016 | AHJTC | | Closed to Public |
| Friday, July 29, 2016 | AHJTC | | Closed to Public |
| Saturday, July 30, 2016 | AHJTC | 2:20 p.m. | Open to Public with a Valid Ticket |
| Sunday, July 31, 2016 | AHJTC | 2:20 p.m. | Open to Public with a Valid Ticket |
| Monday, August 1, 2016 | | | Players off, No Practice |
| Tuesday, August 2, 2016 | AHJTC | 2:20 p.m. | 1st Summer Youth Day |
| Wednesday, August 3, 2016 | AHJTC | | Closed to Public |
| Thursday, August 4, 2016 | AHJTC | | Closed to Public |
| Friday, August 5, 2016 | AHJTC | | Closed to Public |
| Saturday, August 6, 2016 | AHJTC | 5:30 p.m. | Open to Public with a Valid Ticket |
| Sunday, August 7, 2016 | | | Players off, No Practice |
| Monday, August 8, 2016 | AHJTC | | Closed to Public |
| Tuesday, August 9, 2016 | AHJTC | 2:20 p.m. | 2nd Summer Youth Day |
| Wednesday, August 10, 2016 | | | Closed, Day Before Game |
| Thursday, August 11, 2016 | MetLife Stadium | 7:30 p.m. | Jaguars vs. Jets (CBS) |
| Friday, August 12, 2016 | AHJTC | | Players off, No Practice |
| Saturday, August 13, 2016 | AHJTC | 2:20 p.m. | Open to Public with a Valid Ticket |
| Sunday, August 14, 2016 | AHJTC | 2:20 p.m. | Open to Public with a Valid Ticket / Jets Legends Day |
| Monday, August 15, 2016 | | | Players off, No Practice |
| Tuesday, August 16, 2016 | AHJTC | 2:20 p.m. | 3rd Summer Youth Day |
| Wednesday, August 17, 2016 | AHJTC | | Closed to Public |
| Thursday, August 18, 2016 | AHJTC | | Closed, Day Before Game |
| Friday, August 19, 2015 | FedEx Field | 7:30 p.m. | Jets at Redskins (CBS) |
| Saturday, August 20, 2015 | | | Players off, No Practice |
| Sunday, August 21, 2015 | AHJTC | 2:20 p.m. | Open to Public with a Valid Ticket |
| Monday, August 22, 2015 | AHJTC | | Closed to Public |
| Tuesday, August 23, 2015 | AHJTC | | Closed to Public |
| Wednesday, August 24, 2015 | AHJTC | | Break Camp |
Videos
Aaron Rodgers Injury Fallout & Jets/Bills Recap