Featured Editorials Home Slider
Too Late for Jets About-Face on Fitz?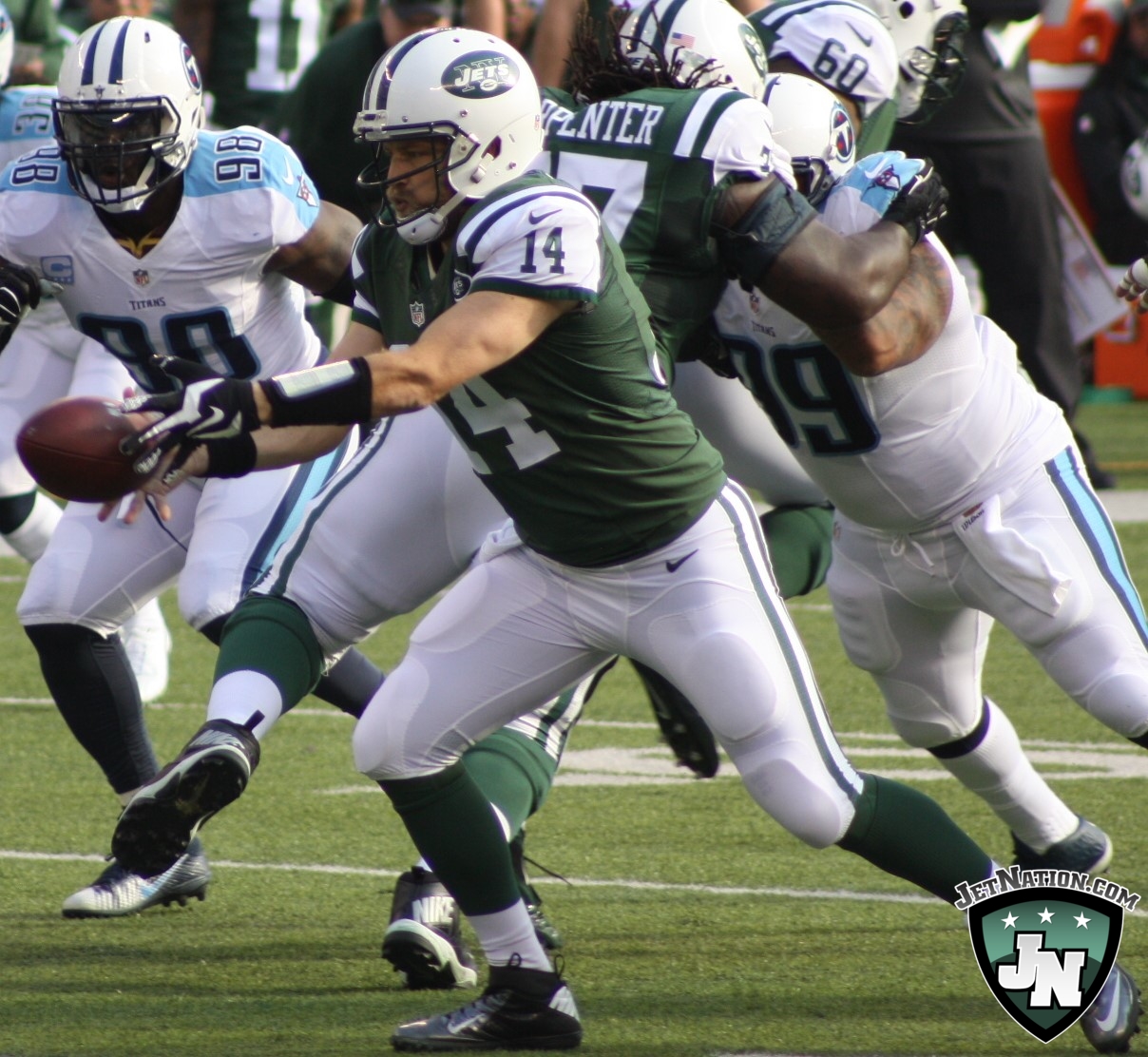 By Glenn Naughton
Mike Maccagan, Todd Bowles, Chan Gailey and the New York Jets can say they'd be happy to go in to this season with the QB's currently on their roster until they're blue in the face, but the very fact that they're still negotiating with a physically limited journeyman in Ryan Fitzpatrick, whom they have already anointed their starter upon return, tells us otherwise.
As the world's most boring game of "chicken" presses onward, you have to wonder, even with OTA's in the rear view mirror, might the Jets entertain the possibility of going out to acquire another veteran quarterback for much less than what it's going to cost to re-sign Fitzpatrick and allow that new signal caller an opportunity to beat out Geno Smith who was voted the NFL's worst starting quarterback in both 2014 and 2015?
Trades at this point of the off-season are quite uncommon, but the Jets find themselves in a rather uncommon situation as the only NFL franchise without its publicly acknowledged preferred starting quarterback under contract.
Over the past several seasons, Fitzpatrick has been solid, throwing 133 touchdowns to 89 interceptions in his 82 starts since 2010.  Hardly Hall of Fame worthy, yet still much better than what fans have grown accustomed to over much of the past decade.  Even still, the Harvard grad is playing with fire as there are a handful of back-ups with enough NFL playing time to make them worth consideration given their age, experience, production and of course…salary.
Here are a few options for the Jets to explore should they decide to thank Fitzpatrick for his franchise-best 31 touchdown passes, before looking elsewhere for a veteran QB.
Josh McCown- Cleveland Browns – The Browns have yet to name their starting quarterback, but you would have to believe it's going to be 26 year-old Robert Griffin III over the 36 year-old McCown as Cleveland takes a shot at yet another re-build.  Fitzpatrick is seeking significantly more cash than McCown who carries a cap charge of just over $5 million for each of the next two seasons according to overthecap.com.
Like Fitzpatrick, McCown is a career journeyman (the Jets would be his 9th team entering his 14th season), but unlike Fitzpatrick, he has enough arm strength to throw the deep ball, and over the course of the past three seasons, his production has not only been solid, but downright dominant at times.
McCown struggled while battling injuries and playing with a banged up supporting cast in Tampa Bay 2 seasons ago, leading to an 11 touchdown, 14 interception season while completing just 56.3% of his attempts, but his performance in the season before and after were remarkable.
In 13 combined starts between the Bears and Browns in 2013 and 2015 respectively, McCown threw 25 touchdowns and just 5 interceptions to go along with a 65% completion percentage.  His production in Cleveland was especially impressive given the lack of talent and poor coaching staff.
I spoke to one Browns insider about the culture under former head coach Mike Pettine who said point blank "Pettine was in over his head.  A high school coach who hired all of his buddies".  Ouch.
In all, between the Bears, Bucs and Browns, McCown has started 24 games, throwing 36 touchdowns to just 19 interceptions while completing 61.5% of his passes over the past three seasons.
As a veteran arm to compete with Geno Smith, you could do a lot worse.
Nick Foles- Los Angeles Rams – After just one season under head coach Jeff Fisher, Foles and the Rams are headed toward a very
public divorce.  Having lost is starting job to Case Keenum last season and being bumped further down the depth chart after the Rams drafted quarterback Jared Goff with the first pick in the draft, Foles is clearly the odd man out.
The quarterback has yet to take part in any of the team's off-season program and having already collected a $6 million roster bonus, he's due just $1.7 million this season, even less than McCown.
Foles is a hard player to get a read on as he had tremendous success just a few years ago when Chip Kelly's up-tempo offense took the league by storm and Foles threw 27 touchdowns to just 2 interceptions.  Minus that one incredible season, Foles has thrown a pedestrian 26 touchdowns to go along with 25 interceptions.
Given offensive coordinator Chan Gailey's penchant for getting the most of his quarterbacks, a very talented receiving duo in Brandon Marshall and Eric Decker as well as Foles' ability to throw the deep ball with speedsters Devin Smith, Quincy Enunwa and possibly Charone Peake on the roster, the move could make sense as the asking price for Foles will likely be a day-3 draft choice.
Austin Davis- Cleveland Browns – Davis isn't the easiest quarterback to evaluate based on the fact that his most recent stint came with the Browns after logging just 8 starts in 2014 with the Rams.
While he doesn't possess the strongest of arms, Davis did show decent production with a mediocre supporting cast in St. Louis, throwing 12 touchdowns to 9 interceptions while completing 63.4% of his passes.
His most impressive performance came in a 28-26 Rams upset win over the Seahawks that saw Davis complete 17 of 20 attempts (85%) with two touchdowns and no interceptions with his top receivers that day being Benny Cunningham and Jared Cook.  Not too shabby.
The former Southern Miss QB posted a better than 2/1 TD to INT ratio in college with 83 TD's and  27 interceptions while completing 61.1% of his passes.  Not just a one-dimensional player, Davis also ran for 1,375 yards and 25 touchdowns in four collegiate seasons.
If the Browns decide to retain both the aforementioned Griffin III and McCown, Davis could be cut loose and become another cheap option at the quarterback position who is more game-ready than Bryce Petty or Christian Hackenberg.
If nothing else, the Jets could always look to get Davis some reps at wide receiver.
Matt McGloin – Oakland Raiders – With one Penn State QB on the roster in Christian Hackenberg, should the Jets make a run at McGloin who is currently Derek Carr's backup in Oakland?
The Raiders drafted Michigan State quarterback Connor Cook in the fourth round following an unforeseen free fall for a player who many felt would go in the top two rounds and reports out of Raiders OTA's suggest Cook is getting equal reps with McGloin and has looked impressive thus far.
McGloin has only appeared in 10 pro games and his results have been underwhelming (11 TD's 11 INT's) but in fairness to McGloin, his most extensive playing time came in 2013 (6 starts) when his top targets were wide receivers Rod Streater and Denarius Moore.  That season, the pair combined for 1,583 yards on 106 receptions.  Since then, in two seasons, the two have managed  just 22 catches for 207 yards.
While Jets fans continue to laud Hackenbergs college production where threw for 20 touchdowns and 10 interceptions in his only full season under former Penn State Head Coach Bill O' Brien, why not consider McGloin's 24 touchdown/5 interception final season in that very same offense?
Shaun Hill – Minnesota Vikings – Without another viable back-up on their roster, the Vikes may not be in a big hurry to deal Hill unless they really like what they've seen out of third-year pro Taylor Heinicke and/or rookie Joel Stave.
Like Fitzpatrick and McCown, Hill is a veteran journeyman who has played on some bad teams that have combined for just 3 seasons of .500 football or better in his 10 pro seasons will Hill has hovered around .500 with a lifetime record of 16-18.
In his most recent extended action as a starter, Hill played alongside the aforementioned Austin Davis with the Rams in 2014, throwing 8 touchdowns and 7 interceptions on a team whose receiving corps consisted of Tavon Austin, Kenny Britt, Stedman Bailey and Jared Cook at tight end.  Fair to say Hill, or any QB for that matter, would see a bump in production with Brandon Marshall and Eric Decker to throw to while trying to improve on his 49/30 TD/INT ratio thus far as a pro.
Mike Glennon – Tampa Bay Buccaneers – The best quarterback of the bunch, Glennon is unlikely to be dealt by the Bucs this season as he gives them arguably the best back-up situation in the league.
In 18 career starts, Glennon has played on some of the league's least talented rosters, but has still managed to nearly post a 2:1 TD-INT ratio at 29/15.
The fact that Glennon will likely land a starting job next season as a free agent, possibly netting the Bucs a 3rd round compensatory draft choice makes it even less likely they'll be willing to part with him barring a first or second-round choice.
Based on how patient the Jets have been with Fitzpatrick up to this point it would be hard to imagine them jumping ship now, but at some point, the Jets will have to feel like enough is enough, and look to move on.
Videos
Aaron Rodgers Injury Fallout & Jets/Bills Recap