Breaking News Home Slider NY Jets Training Camp
Jets Camp Report – 07/29/16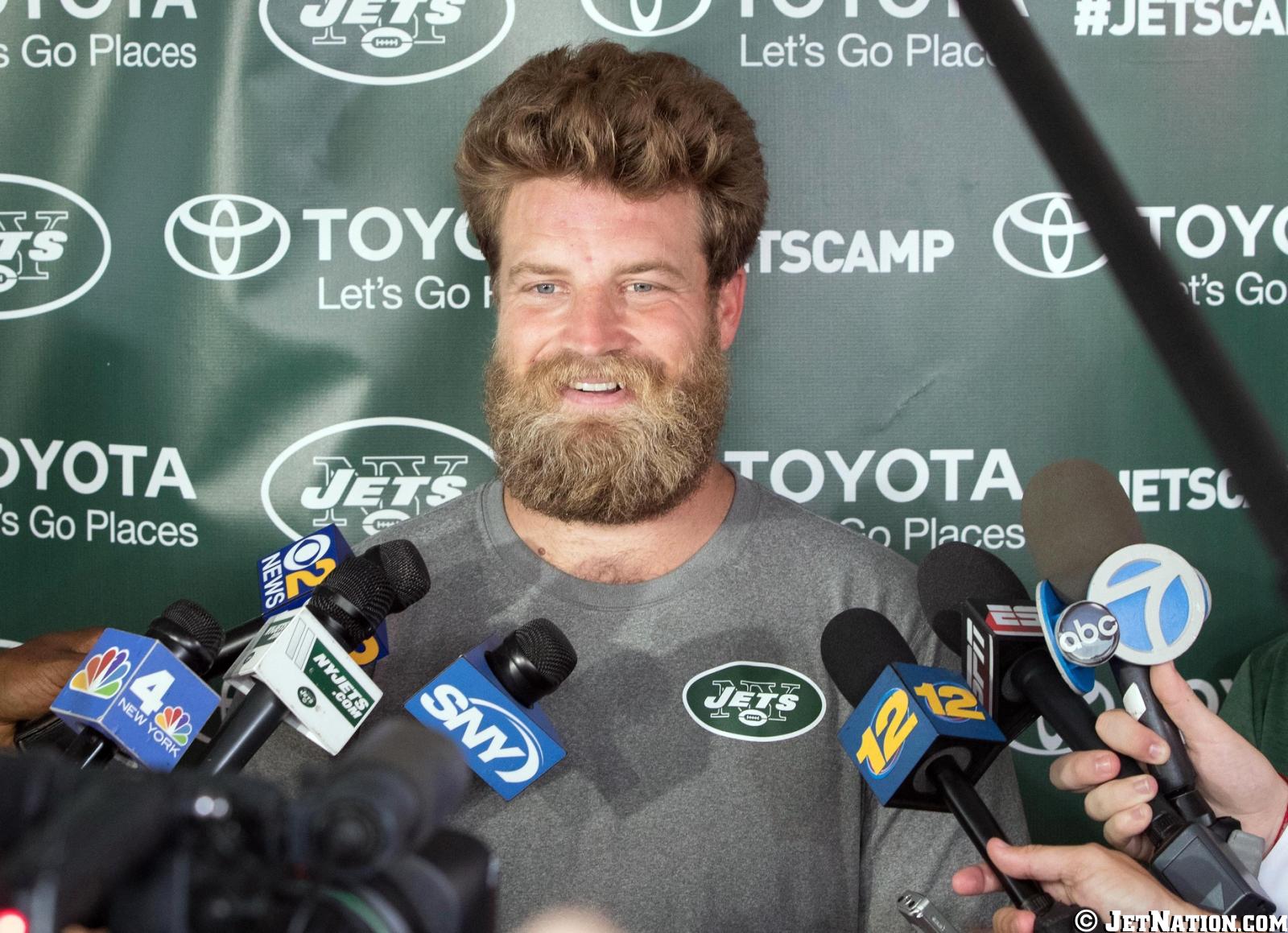 KRL Camp Notes – Day Two Friday 07/29/16
General Notes – Posted by KRL
– Players in shorts & shells.  This weekend the pads go on.
– Practice ran 2.5 hours.
– The media really thinned out today after everyone got their Fitzpatrick story.
– The same players were out Forte, Wilkerson, Carpenter, Devin Smith, Khiry Robinson and Giacomini.  Also I never saw Sheldon Richardson today.
– Brant Boyer (STC) had three stations set up today to practice different aspects of blocking punts.  Also to work on kick off return blocking assignments he used trash cans again to simulate tacklers.
– They started to emphasize running plays today which was surprising without pads on.
– Was very interesting to hear Karl Dorrell (WR coach) instruct the young WR's through various routes (stutter go, drags) and being precise in getting proper depth.
Player Notes
– Jordan Jenkins (OLB) is starting to "stack" practices together.  He had another good one today with his highlight being a "scoop & score" of a Fitzpatrick fumble during 11 on 11.
– Juston Burris (CB) also is starting to "stack" practices together.  Very good coverage again and his highlights were a red zone break up of a pass to Brandon Marshall and a near INT of Hackenberg during 7 on 7's.  He just couldn't come up with it as he dove.
– Jalin Marshall (WR) also is "stacking" practices together.  Again he has that "Chrebet vibe" where he seems to be always open.
– Leonard Williams had a very "loud" practice with multiple "tackles for loss" during 11 on 11.
– Bilal Powell stood out showing the quickness we saw at the end of last year and making one handed catches on screen passes.  With Forte out and an emphasis on the running game Dominique Williams and Romar Morris got extra reps.  They both flashed with their quickness and Morris broke off a 40+ yard TD run in 11 on 11.  Let's see if they can keep it up when the pads go on.
– Darron Lee showed off his speed today particularly when the defense went to their inside blitz packages.
– Steve McLendon disrupted the middle of the running game with a couple of TFL's.
– Buster Skrine had a sweet leaping INT of Fitzpatrick during 7 on 7's.
– Robby Anderson (WR) who I mentioned yesterday has a way to go in his route running. Dorrell had him doing extra reps on the things he didn't like.
QB's
– Good day for Fitzpatrick as the rust starts to come off.  Very good in the intermediate area and he was particularly sharp throwing the "back shoulder" to Brandon Marshall and Kenbrell Thompkins.  He also threw a TD to Thompkins in an end of game situation.
– Smith was solid again his highlights were a 50+ yard TD to Thompkins during 7 on 7's. And a 40+ yard completion to Kyle Williams during 11 on 11.
– Petty had a very nondescript day, no big plays no major mistakes.
– Hackenberg's best play was a "near catch" by Charone Peake on a 50+ yard bomb which he dropped.  For some reason the ball comes out of his hand with a wobble on some of his throws.  Hopefully that will be corrected.
Daily Standouts
– Jordan Jenkins
– Juston Burris
– Jalin Marshall
– Leonard Williams
– Bilal Powell
Please visit our forums to read more about NY Jets Training Camp.
Videos
NY Jets Phase 3 OTAs, Expectations and a Minor Calf Tweak with Greg Renoff