Weapons Check: Robby Anderson- Preseason Week 2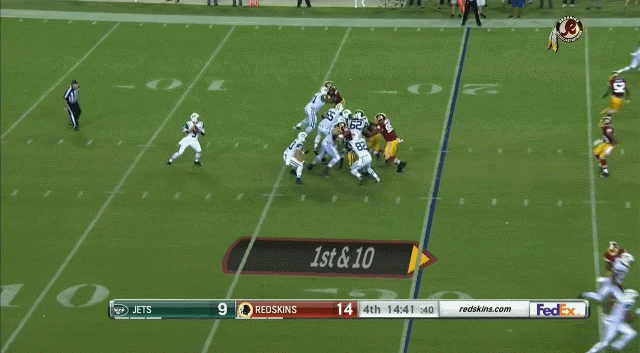 Robby Anderson is an undrafted free agent out of Temple University, mainly known for his speed.  He has a wiry build, but reportedly ran a 4.34 at his pro-day, which would have equated to second among wide receivers in this year's combine behind Will Fuller.  Anderson has flashed at times during practice, but Week 2 was his coming out party.  Let's see how he did:
 1)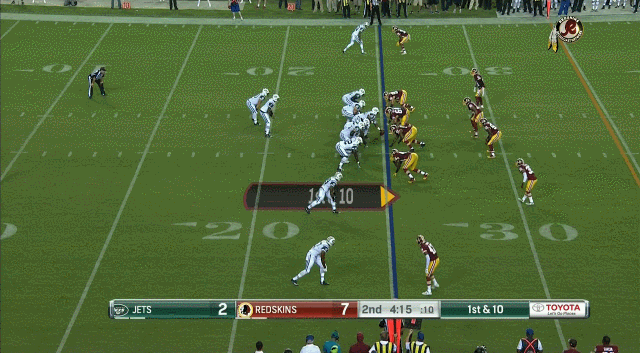 The first play here is actually somewhat negative, and Anderson isn't really involved in the play.   On this play, Anderson runs a slant route, but is well covered by the CB.  Anderson shows a lack of dedication on this route, as the CB is absolutely sure he is going inside, and doesn't bite on the outside fake as well.  This is one of the reasons why he fell in the draft, because he's not quite polished as a route runner.  While he has a good route tree, he doesn't sell fakes well enough right now.  This is something to monitor as we move forward, because he does have a good amount of ability, so improving the route running skills would go a long way for his production.  On this play, Geno Smith makes a good throw to Charone Peake.
2)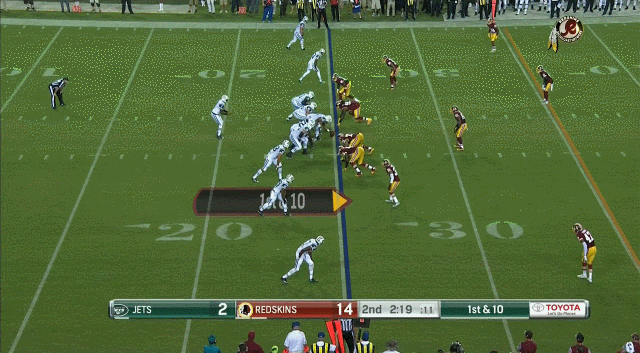 This play is a simple zone read for Anderson.  The Redskins are in zone coverage, and the LBs drop back, Anderson finds a soft spot in the zone and plays catch with Geno Smith.  The read on this play is the LB covering Anderson to start the play.  If he follows Anderson inside, then Tommy Bohanon is open on a comeback route, especially with the CB playing deep.  The route shows good recognition of coverage, and good timing with Geno.
3)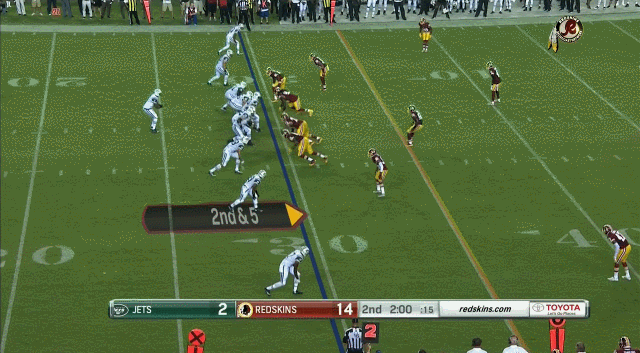 This play has a very similar look to the last play on the top of the screen.  In this case, Bohanon and Anderson have reversed roles, and the Redskins have the LB stay with the inside route (which turns into an outside route) and Geno hits Anderson with excellent timing.  There are a few things to notice on this play, primarily that Geno started this motion before Anderson broke his stride, and came back to the ball.  The second important aspect is Anderson coming back to the ball to put even more distance between him and the CB.  The third aspect is that he times his jump well to catch this high pass naturally, and then turn around for a couple of yards after the catch.  The play shows excellent timing between the QB and the WR.  It's usually hard for rookies drafted in the lower rounds or not drafted at all to develop timing with QBs because of the lack of practice hours available to them.
4)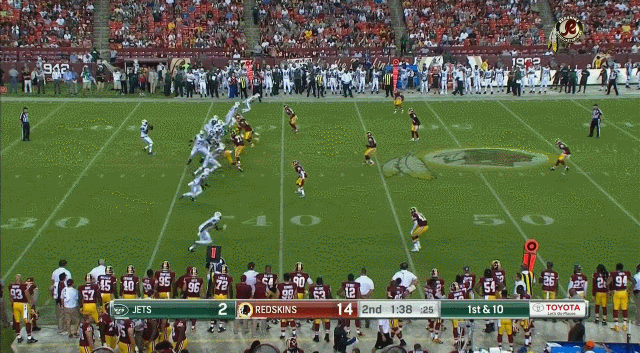 The Redskins were giving Anderson space all evening, and he takes advantage by running a comeback route again.  This is an excellent play call, because there are multiple options that open up, and Geno Smith goes with the safest option with the highest possibility of yards after the catch, but it all goes for naught when Jalin Marshall drops the ball.  Since we're examining just Anderson here, he runs a good route and has separation from his man.
5)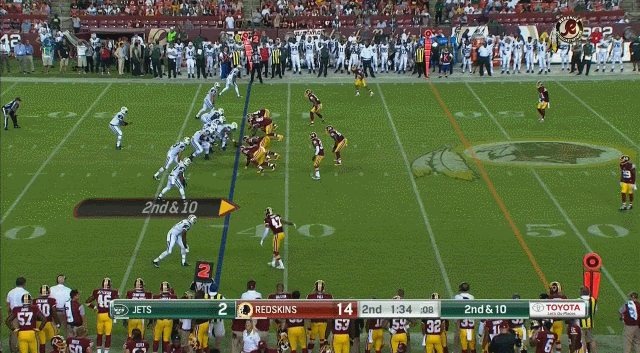 The defense is in zone coverage again, and Anderson burns them again.  They have 2 safety deep look, with the CBs and LBs doing a bump and release with the receivers.  Anderson's deep speed comes into play, because once he gets past his CB, the safety can't take much risk to the outside and over pursue because a move inside would leave him wide open for a TD.  Geno and Anderson take advantage of this fear by running a deep out route and it works to perfection.  Notice that Geno begins this throw before Anderson has turned outside, hitting him perfectly for a good gain.  This type of play doesn't work if say this is David Nelson running this play, because the safety would be much more aggressive in attacking this route.  With speedsters like Peake and Anderson, they have to respect the deep speed and sometimes back off the pedal to avoid being exposed.
6)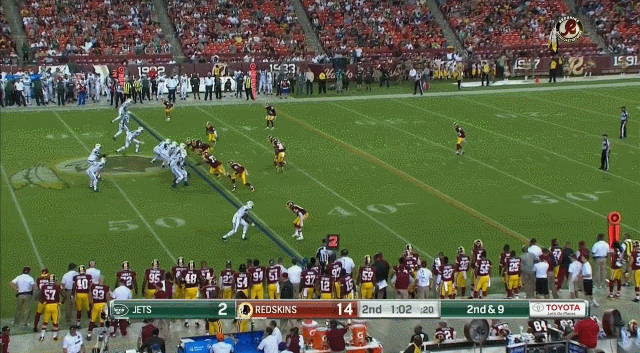 This is a bad play all around for the Jets.  First of all, this is eerily similar to the Geno Smith interception from earlier in the game, especially since he has Jace Amaro open on both occasions right next to his passing lane.  In this case, Anderson fails to sell his deep route well, and then fails to come back to the ball, allowing the CB to get his hand around him.  Geno Smith is a late on this throw as well by a hairline, as he starts his throwing motion just as Anderson is making his break instead of right before.  In another angle of this throw, you can clearly see Anderson leaning away with the trajectory of the ball, awaiting its arrival.  These are the types of throws where the WR has to come back for the ball to help out the QB in tight spots.  Someone like Brandon Marshall or Eric Decker would come back for this pass more often than not, allowing for a completion.  Furthermore, the reason why Geno Smith doesn't pick Jace Amaro for this throw is baffling.  The lack of comebacks for these types of passes are very reminiscent of Stephen Hill, which may stem from the fact that most college CBs are so afraid of speed that they will give up comeback routes.
7)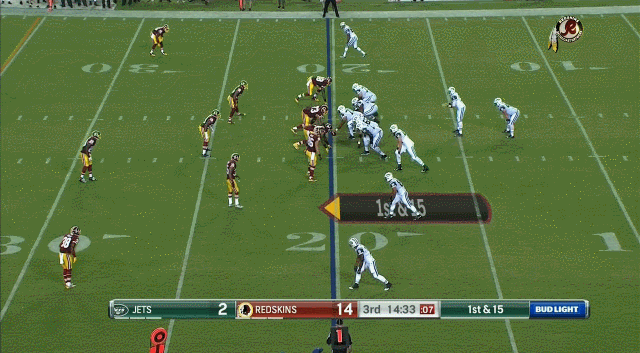 This is a play that comes up a couple of times during the game, and would have been a good way to combat the Redskins' CB playing so far off the line.  The Jets run a mirror route on the WR screen here with Ross and Anderson, albeit the main play is a run to Tommy Bohanon (which seems to be the "We need to run block as well, but don't want any important RB to be injured" playcall) and therefore does not factor into the play.  However, this is one of those instances where a QB can audible at the line in a real game if they see this level of space for the WR.
8)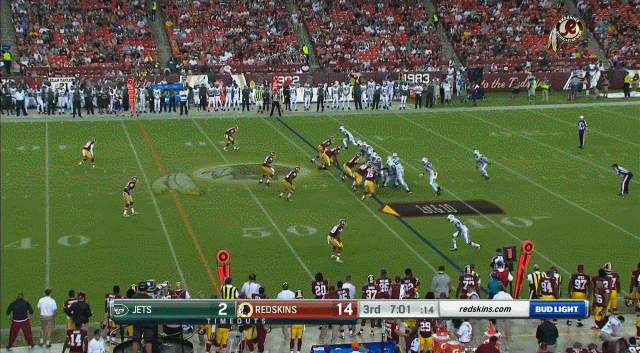 This is a huge missed play during the game.  The defense is in zone coverage as well, but the Jets run a two tiered deep route tree with Williams on one end, and Anderson on the other.  Anderson dips his shoulder with his CB and gets behind him, making himself wide open down the middle.  However, Petty already has his mind set on Williams, and unloads a throw that just misses Williams.  There are some good aspects of this throws, especially with how early Petty throws this ball relative to Williams break inside.  The ball is just led a bit too much, and Williams can't catch up with it.  In retrospect, Anderson was more open and would have been the safer play here.  This is also interesting to see the cat and mouse game between the defense and the offense.  Remember the out route on play 5 before?  Anderson had burned them with an outside route behind the CB and in front of the safety.  Notice the CB on this play go outside even before Anderson makes a move, anticipating a similar route.  He's beat on this play (although his job was zone coverage) so he takes a guess based on past routes to see if he can make a great jump on the outside pass route.  He guesses wrong in this case, leaving Anderson even more open.  However, we usually only see plays where the CB guessed right and jumped a pass, so it's refreshing to see them guess wrong sometimes, showing that mixing routes is paramount to success in the NFL.
9)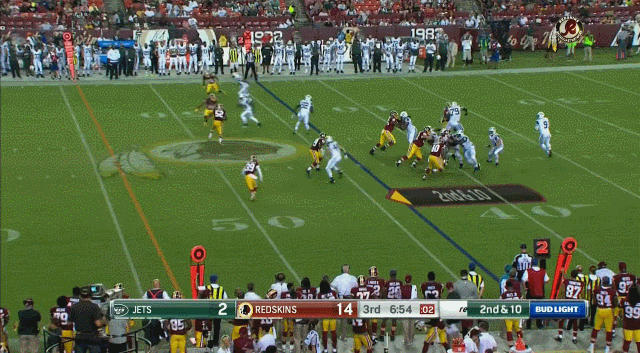 This is a pass to Sudfeld, but Anderson runs a great route and becomes open past the first down marker.  Unlike the times before, where he failed to sell the deep route, he stops on a dime here and comes back for the ball creating about 2 yards of separation between him and the CB.  However, Petty decides to go with the safe option under-neath.  Anderson shows very good ability to sell the route here, it just needs to be more consistent now.
10)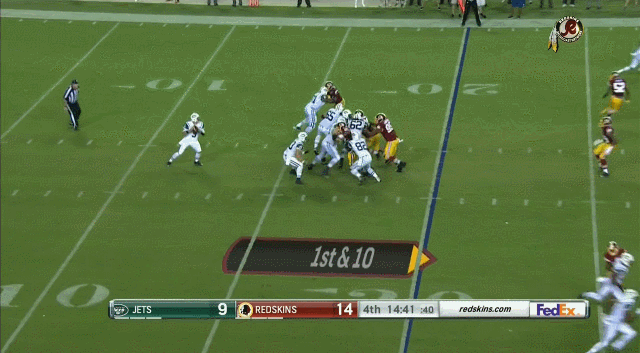 On this play, Anderson runs a straight go route and just goes right past the CB, who wasn't in zone coverage.  He has a good 3 yards on the CB down the field, and Petty throws a good pass.  It is not a "perfect pass" as the Washington announcers alluded, because Anderson has to slow down for the ball, allowing for the CB to catch him from behind.  Remember play 7 from before, where the Redskins were willing to give up the short pass to Anderson?  Well this is why they were willing to do so.  While this does not show it (because slow motion means this file is too big) the Redskins are playing man coverage on this one.  They did not want to give up an easy pass, and they paid for it with a bomb.  Anderson makes a good hand catch here and holds onto the ball through contact.   This play is reminiscent of a pass from Fitzpatrick to Brandon Marshall last year against the Dolphins, as in both cases the WR had created separation, but the ball held them up just enough for them to get tackled after the catch.  Petty shows off a strong arm here, and good anticipation as well, just not perfect as the announcers mentioned.
11)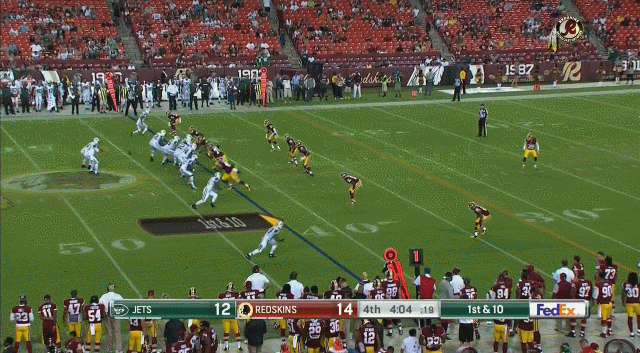 This is a weird play, because it's a tale of two sides.  On one side, Anderson runs a horrible route here showing off some of the lack of polish.  This is in slow motion to show where the issue is in his route.  The play calls for a double move go route, especially after Anderson had thrived on the comeback routes earlier in the game.  Anderson executes the first half of this route tree perfectly, but fails to sustain the initial move long enough to turn the hips of the CB.  The CB has barely started to react when Anderson shows his hand with the double move, allowing the guy to be there step for step.  In last week's review, we saw Jalin Marshall take advantage of hip positioning a couple of times to his advantage.  Anderson needs to sell the first part of this route better, by moving inside with the double move, and forcing the CB to react.  You can actually see Marshall on the bottom of the screen demonstrating to an extent exactly what we're talking about.  Marshall waits until the safety or CB moves up and commits before making his second move, which opened up space for him.   On the other side of the coin, Anderson makes an absolutely great catch on the pass, and scores a TD.   Bryce Petty also makes a great throw under-pressure, and Anderson high points the pass to snatch it away from the defender.  The throw and catch is executed beautifully here, although the initial route was not ideal.
Conclusion:
Robby Anderson shows very good potential, and much like Charone Peake offers a rare speed/size combination (although in Anderson's case, it's more of a speed/length combination) that can over-power defenses.  However, Anderson is not completely polished when it comes to his route tree, and this causes a lack of separation at times.  Anderson came into Week 2 of the preseason on the outside of the roster bubble, but his potential may be too enticing for the Jets to pass up at this point.   It will be interesting to see how the Jets handle their wide receiver depth going forward in camp.
Please discuss this story and other Jets related topics on our forum (Click Here)
Week 1 Weapons Check Articles:  Charone Peake (Click Here), Darron Lee (Click Here), and Jalin Marshall (Click Here)
Forum Question(s)
On the depth chart, where do you place Robby Anderson?
Who (if any) did he leap over with his performance this week?
Who player does he remind you of with his playing style?
Videos
New York Jets OTA Presser Takeaways, Aaron Rodgers' Impact and Summer Delusion