Breaking News Featured Editorials Home Slider Jets Report Card
New York Jets Report Card: Week 1
New York Jets Report Card
Week 1: Bengals @ Jets
9/11/16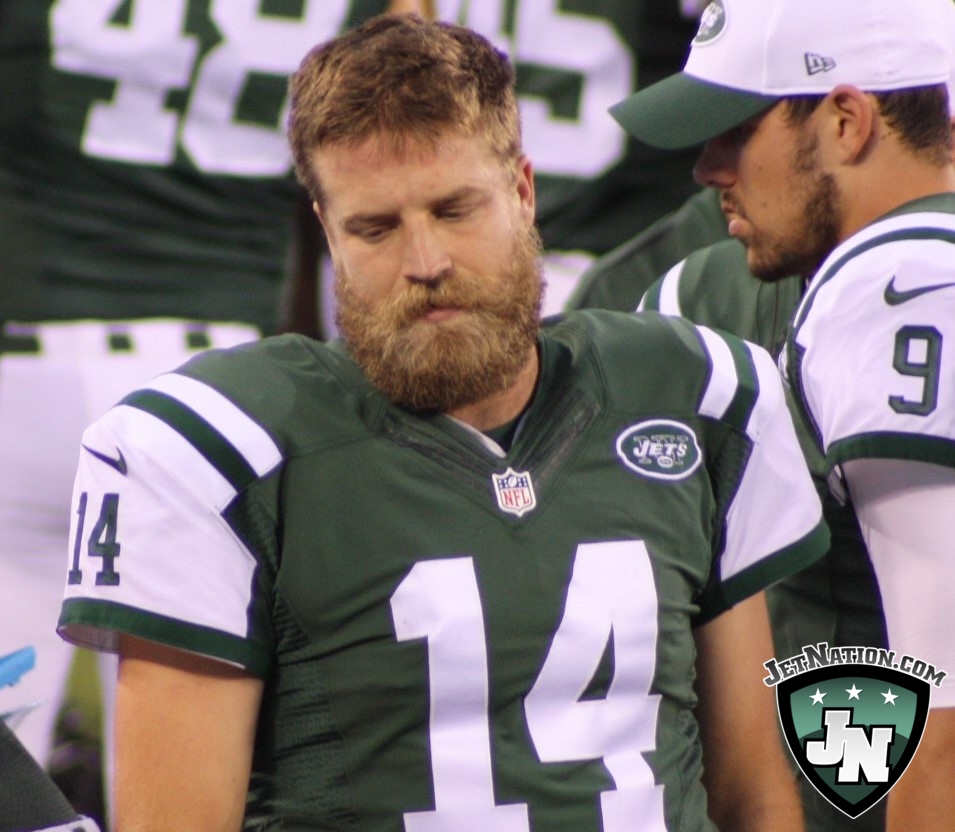 Quarterback: C-
Fitzpatrick: 19/35, 189 yards, 2 TD, 1 INT, 4 rushes for 15 yards
Fitzpatrick got off to a slow start for the Jets in the preseason, having missed training camp while negotiating a new contract. Has the rust finally come off?  Perhaps a little, but certainly not enough. Fitz didn't turn the ball over until the final seconds of the 4th quarter were ticking down and there were even brief moments when he seemed to be in mid-season form, but he'd be the first to admit that he left way too many plays on the field. Of particular concern were the failed red done conversions.
Running Backs: B+
Forte: 22/96/0, 5 receptions for 59 yards
Powell: 4/41/0, 2 receptions for 7 yards
Forte was a major addition for the Jets this offseason, as they looked to add a more multipurpose back to the roster: one with the ability to run, catch and block. So did the move pay off in week 1? Absolutely. Forte made his presence felt early and often, gaining over 150 yards from scrimmage. He may not be the bell cow that Ivory was, but the added element he brings in the passing game and as a dump off option for Fitzpatrick will make him quite a weapon for this offense in 2016. Powell looked spry on limited touches.
Wide Receivers/Tight Ends: B-
Enunwa: 7/54/1
Decker: 2/37/1
Marshall: 3/32/0
The Jets are carrying several young receivers into the season to complement their big duo in Marshall and Decker. Enunwa was the star on the day, and, although I could live without ever seeing one of those quasi end-arounds again, he's clearly providing an element to the passing game that he didn't last year.
Offensive Line: B
Offensive Line has been a major question mark on this roster all offseason, especially along the right side where Breno Giacomini is out and unproven young tackles are fighting for his spot. But the Jets O-line surrendered just 1 sack on the day. Part of that is due to Fitz getting the ball out of his hands and maneuvering out of dangerous situations, but that's more than you might have expected from this unit going up against a tough Bengals D-line. They did a good job here in blocking for the run as well and that's a positive sign as Forte is not the type of power back that Ivory was last year.
Defensive Line: A
The Jets were without Sheldon Richardson, but did you really notice? Steven McLendon (formerly of the Pittsburgh Steelers) was a force out there at defensive tackle, posting 2 sacks to go along with Wilkerson's 1.5 and Leonard Williams' – get this – 2.5. Altogether, the Jets defensive line came down with 6 sacks on the day (an additional sack was provided by linebacker Lorenzo Mauldin).
Linebackers: C-
The Jets made a number of changes in the offseason to improve their team speed at linebacker. The Cincinnati Bengals ran just 19 running plays. Jets linebackers struggled, though, in pursuing the tackle on screen passes and in providing support on short outs.
Secondary: D
The Jets had question marks surrounding the 2nd cornerback position on the outside after the release of players like Milliner and McDougle. This was the toughest game that I can remember for a Jets secondary in years. In fairness, Cincy QB Andy Dalton was firing a laser gun out there time and time again, and his #1 receiving threat A.J. Green was at the top of his game. Nevertheless, numerous mix-ups, miscommunications and trips and falls contributed to Dalton's total of 366 passing yards on the game.
Special Teams: D
The Special Teams unit is expected by many to be the most improved unit for the Jets this season. Rookie returner Jalin Marshall (not Brandon) looked explosive out there but Nick Folk missed a PAT and had a short FG blocked and that ended up being more than the difference in the game. This is the kind of game that you'd love to give split ratings for, if you could: other than a few devastating mistakes, the Special Teams does indeed look improved. Look for a big bounce back performance coming shortly.
Coaching: C-
With one of the league's toughest schedules early on, Bowles and his staff knew the importance of securing this week 1 win. Gailey's overly conservative playcalling in the red-zone was a big contributor to the loss here, as was miscommunication and confusion in the secondary – and those kinds of mistakes are on the head coach. It was a tight game against a tough team, and sometimes that ends up being a coin toss kind of game as it did today. It's those little decisions here and there that can turn the game in your favor or against you.
Videos
Aaron Rodgers Injury Fallout & Jets/Bills Recap