Breaking News Home Slider Injury Report Jet News
Fitz to Start; Hack # 2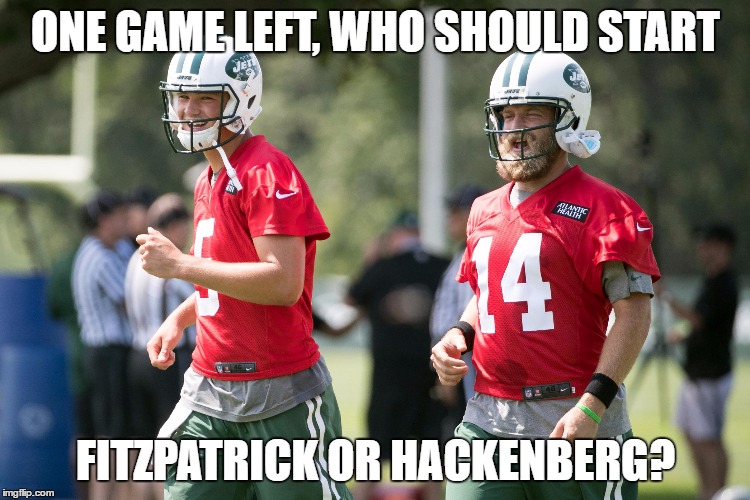 Todd Bowles ended the speculation today, after the recent injury to Bryce Petty, Ryan Fitzpatrick will start again on Sunday. Christian Hackenberg will be active for the first time, but it doesn't sound like Hackenberg will play unless the game is lopsided either way. Bowles doesn't normally offer very detailed explanations for his decisions and that was the case this time. Here is the reasoning behind starting Fitzpatrick.
Because he was the backup and now he's the starter.
He did give additional thoughts on why it isn't important for Hackenberg to play this week.
Bryce (Petty) had four games to get ready for. We're not going to gain or lose nothing by looking at Christian or not in this game.

Anybody that hasn't played. They won't be ready until they play, but you don't leap frog people to start playing. If Fitz gets hurt and he gets to play, you'll see him play, but if not it doesn't mean anything plus or minus that we're not playing him this year. We had a plan for him going in when we drafted him. He's taken a lot of reps in practice. If Fitz gets hurt, he'll go in there and play. If Fitz doesn't, he won't play, but he's ready to play. He'll be ready to play. Obviously with experience comes better play and you'll see a bunch of things, but putting him in right now isn't going to hurt or help him.

All of them had mechanical problems coming out (of the NFL Draft). We didn't need him to play right away because going off of last year, Fitz had a great year and Geno (Smith) was coming back. The idea was to put him on the shelf regardless and let him get better going in. He wasn't going to come in and then beat out the two guys that were ahead of him, or three guys that were ahead of him. He can use some mechanical work and he got better as the year went on. That will only show in the game, but (putting) him out there in the last game and say his mechanics aren't great or his mechanics aren't bad doesn't make any sense either.
The game won't mean much for either team, except for draft position. The Bills fired Rex Ryan, along with his brother Rob on Tuesday. So the revenge matchup angle isn't there any longer.
It would have been nice to get more game film on the young QBs, especially since Ryan Fitzpatrick won't be on the team next season. Bowles said the team will talk about Petty's future in the offseason. He did say he hasn't had surgery yet and there is no timetable yet for his return to the field.
Here is the assessment of Petty from his head coach.
On how Petty played this season…
We won one, so that was a good game. We lost the other two, so not so great by anybody.
 On what Petty needs to work on…
Mostly his reads. Getting his reads down. Controlling the game, a little bit more.
Videos
New York Jets OTA Presser Takeaways, Aaron Rodgers' Impact and Summer Delusion