Breaking News Home Slider Jet News
Woody Speaks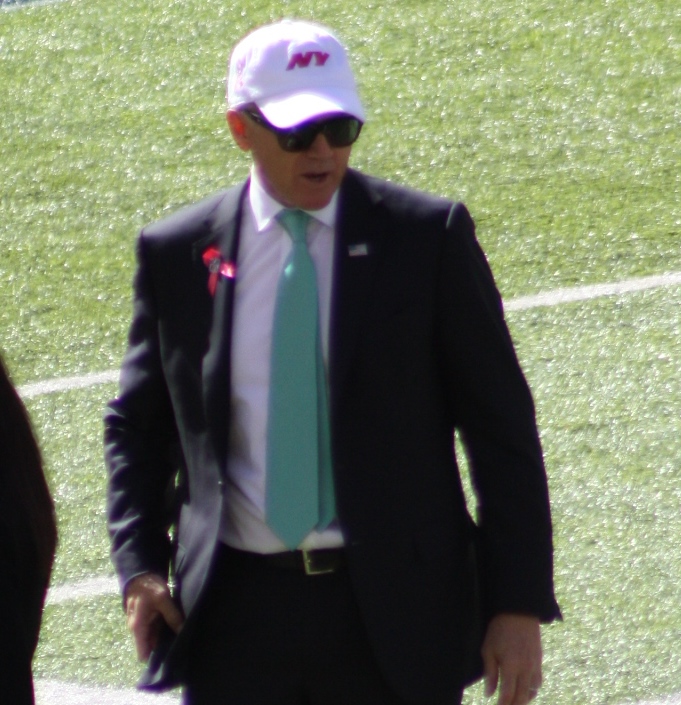 Woody Johnson spoke to the media on Thursday. The full transcript can be found in our NY Jets forum. Here are some highlights, or depending on how you feel about the answers maybe they are low-lights, we will leave it up to you to decide.
On his thought process in bringing Head Coach Todd Bowles back…
I have confidence in Todd Bowles. We went through a pretty exhaustive search – a 10-day search – going through that process with Ron (Wolf) and Charley (Casserly) and Neil (Glat), and some other guys here, I have the same feeling about him (today as I did then). (He's) very, very smart. (He) played the game (and) understands it from the player standpoint and from a coaching standpoint. He was (assistant) coach of the year with the Cardinals, so none of that's changed. I've been talking to him the last couple of days, and I'm still very, very (much) in his corner. He's very talented. I think he's going to get better as we all are, including me, at what they do. So, I'm just so happy to have him – both him and Mike (Maccagnan).
On if there is mandate to make the playoffs in year three…
No. I don't really like mandates because they normally don't work – lines in the sand or whatever. You don't want to judge it that way. The way we'll judge it is getting better each and every year, and seeing it in our players, our young players – are they getting better or are they going the other way.
On what makes him think this is going in the right direction right now…
Just what I see when I see the young players and their contribution this year. Even though it was not the year we wanted or expected, you could see that some of the young receivers, some of the defensive players making a contribution. So that's pretty good. That's what we're looking for.
On how disappointed he is with the 5-11 record…
Well, I'm in the game of winning. So, anytime I don't win, I'm disappointed. We do this for our fans. Our fans want us to win. This is their team and when they don't win, they're disappointed. I don't blame them. I'm disappointed.
On if he needs to suggest that the fans should be more patient…
I think that they have to have confidence. This is their team. They have to see what's happening and have confidence that we have everything in place to make it better and give them what they want. So they can be proud of their team.
On if he wants Revis to return next year…
I like Darrelle, but it's up to the coaches and general manager to decide how he fits, and all that.
On if it will impact the way he handles this football team as far as his ownership responsibility if he accepts a role in the Trump administration…
Let me just say it would be an honor to be considered for something like that. But that's speculation at this time, so I really can't comment on that.
On why Jets fans should be confident he can steer this team going forward…
That's a good question. I think they have to be confident that we, the team here at the Jets, care about the Jets and care about the success of the Jets as much as they do and we've got the talent to do it. We've got to show them, Mike and Todd and the team and me, that we're going in the right direction. That this plan, that we'll be laying out, is a plan that they believe in. I think it's the only real way to get better in the NFL, and that's to build with young players through the draft. You can look at the history of all of these teams. It's really hard to do it any other way.
On if his confidence in Coach Bowles wavered at any point during this season…
I think it's the realization that you have to build with young (players) through the draft. It's the way it's done. Just having confidence in your drafting ability and your pro and particularly college scouts. Making sure that they're accurately drafting the players that the coach is looking for to build this kind of team.
On how difficult it is for him to patient…
I'm like the fans. I'm not essentially patient. But I know that planning is the only way you get anything done long term. You've got to stick to your plan. It's (like) investing or anything else. You've got to have a plan and you've got to have the confidence and courage to stick by that plan and build that way.
On how he feels about the quarterback position…
That's a key position. We're finding out. We're learning more about (it). Now we've got Bryce (Petty) and Christian Hackenberg. We don't know a lot about Christian, but we saw some good things from Bryce in the last (few) games that he played. So, we'll have to evaluate.
On if he questioned why Hackenberg did not play this season…
I think it was a plan. We started out with four quarterbacks, so there was no way that Christian Hackenberg was going to get the reps to really get himself ready. This is kind of a redshirt year for him. We'll see. Between now and camp, he'll have some time to get better on his own without us talking to him.
On an anonymous coach's comment that Hackenberg "couldn't hit the ocean"…
Yes, I saw that. I guess it depends which ocean (joking). Maybe it was a small ocean (joking). EPA describes that as an ocean (joking). Anyway, no that's not funny. You've got to ask Todd Bowles about Christian because he's got some opinions about Christian Hackenberg. I think he has maybe a little bit (of a) higher opinion than that.
On if he believes the Jets have a realistic chance of winning the AFC East while Tom Brady and Bill Belichick are in the division…
I can't talk about individual players or individual teams, but the AFC East has been very, very difficult with that great team. That's a challenge, but we like a challenge. Our goal is to have a team that's very, very competitive.
On his message is to the fans regarding patience…
I think they have to be confident in the plan and the idea of building this way. All of the great teams have been built this way. This is what you've got to do.
On what he would say to the fan that says change is necessary in order to win…
I would say you've just got to be confident in what we're trying to do. There's really no way around it. I understand their anger after losing. We don't like to lose. Jets fans want to win.
On if he will consider lowering ticket prices in 2017…
We haven't decided what we're going to do with ticket prices this year. We probably won't raise them.
On if he's surprised by angry fans who decided not attend games at the end of the season when then became angrier upon learning that Bowles would be returning as head coach…
No. The passion shows up in a lot of different ways. No, I'm not surprised at all. I'm not surprised. They want to win and so they're looking for answers. And the answer is what I've been describing – it's the way you have to build these things. That's the way to do it. A lot of change, as I pointed out earlier, is not the answer. That's not the way to do it, in our opinion. You'll get to where you want to be sooner if you go down the path that we're going to go.
On if he sees Bowles and Maccagnan as a tag team working together…
Helping each other? They do. They're on the same page. Different personalities, different ways of delivering information, as you are well aware, but they will get this done, in my opinion.
On if the structure of Bowles and Maccagnan reporting directly to him is working…
That's the way it is on paper, but they talk to each other more than they talk to me. You have to have a community of interest between the two important players on the team side. On paper, it goes that way. That's kind of typical to the extent that there is anything typical in the NFL.
On what he means specifically when stating that Bowles and Maccagnan will 'get it done'…
What I mean is, from my standpoint, I have confidence that they have a plan looking into the future that will make the team better and they have a way of judging accountability and judging performance in a way that really accurately measures what's going on.
On if he believes Bowles and Maccagnan will be able to deliver a Super Bowl…
I wouldn't have them if I didn't. I'm not in here to come in second place.
On what he has to do differently or better as an owner…
Everything. I have to get better, too.
On if he was angry or frustrated by some of the team's performances this season…
What was the fans' reactions, do you think, on that? Not good, right? Well, I mirror that.
On if he learned anything in observing Bowles or Maccagnan during a losing situation…
Yes, I think those are the guys you want in a particular situation like this. I think they can handle going down and they can handle, more importantly, going up.
Videos
New York Jets OTA Presser Takeaways, Aaron Rodgers' Impact and Summer Delusion