Featured Editorials Home Slider
Bowles May not Have to Look far to Find Ideal Offensive Coordinator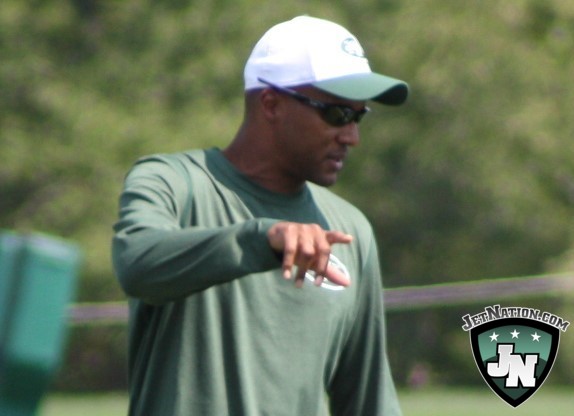 By Glenn Naughton
The Jets search for a new offensive coordinator is three weeks old and while only a handful of candidates have been leaked to the media (John Defilippo, Eric Studesville, John Morton and George Godsey), it's fair to say that a member of Todd Bowles' current staff could be exactly what the Jets are looking for to run their offense in current wide receivers coach Karl Dorrell.
A former wide receiver himself out of UCLA, Dorrell has almost 30 years of coaching experience between the NFL and several big-time college football programs in a variety of key roles.  From head coach at his alma mater where he posted a career record of 35-27, to go along with six seasons of offensive coordinator experience with stops at Colorado (1995-1998), Washington (1999), and Vanderbilt (2014).
Bringing in an experienced play caller is crucial for the Jets, given the fact that the only two quarterbacks on the roster who will be under contract next season are Bryce Petty and Christian Hackenberg.  A coordinator who has worked with young quarterbacks on a day-to-day basis is a must for the Jets, and it's another area in which Dorrell has extensive experience.  Dorrell has spent three seasons as a QB coach  with Miami in 2011 before spending 2012 and 2013 with the Houston Texans.
With the Dolphins, Dorrell's stay was short-lived as head coach Tony Sparano and his staff were dismissed after the season, but the Dolphins did manage to get career journeyman Matt Moore to post a 6-6 record with 16 TD passes to just 9 interceptions with Dorrell as his QB coach.
In Houston, Dorrell worked with Matt Schaub during a 12-4 season in 2012 that saw Matt Schaub throw 22 TD's and 12 interceptions with a 64% completion percentage.  The following season was a completely different story as the Texans fell to 2-14 while Schaub , Case Keenum and TJ Yates combined for just 19 touchdowns and 22 interceptions.
None of those performances will get Dorrell lumped in with the elite offensive coaches of today, but right now isn't about today for Bowles
and the Jets.  In a way, it's more about the past and future.  Dorrell has worked with quarterbacks and called plays in the past, and the work he'll be doing will presumably be all about laying the groundwork for the future of the franchise at the quarterback position.
Another box Dorrell ticks with Gang Green is continuity.  No outside hire is going to have the first-hand knowledge of the Jets young quarterbacks that Dorrell has, and none will have been present for any meetings being held by the front office and coaching staff as the team has attended the East/West shrine game with the Senior Bowl up next.
Dorrell may help Todd Bowles save face publicly.  The coach has been shut  down by at least one candidate (Defilippo) with a picture being painted of a man without a plan. Bowles reportedly had a full season to plan on hiring Gailey's replacement as the former coordinator informed Bowles of his pending departure before the season, but now three weeks later, he's still looking.
Elevating Dorrell from within the organization allows Bowles to say Dorrell was the team's top choice, or one of their top choices all along, but he felt the need to complete his due diligence.  Unlikely true, but not beyond the realm of possibility either.
Bowles was asked recently about the offensive coordinator search, and he simply answered "I'm pretty sure where I'm going.  I know what we need and how to slot them in".
If he's looking for play-calling experience, one-on-one QB experience and continuity for the players and staff, the only place Bowles should be going, is to Karl Dorrell's office to make him an offer.
Videos
NY Jets OTA Recap; Robert Saleh Cancels Minicamp