Deducing the Jets Draft Board, Part 4: Pittsburgh QB Nathan Peterman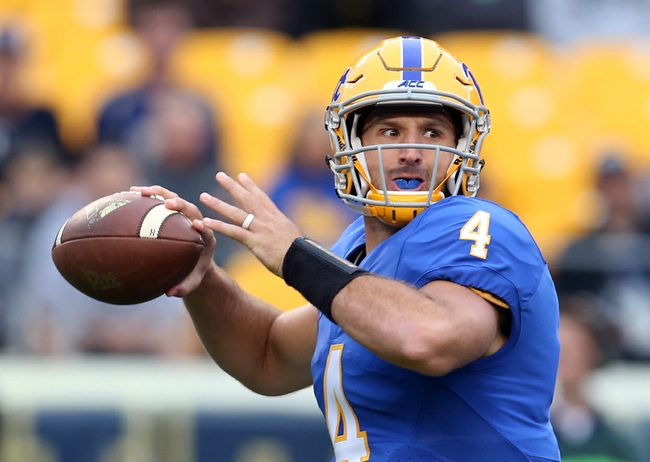 With the NFL combine behind us and the draft just around the corner, mock drafts will be flooding all of your favorite sports sites at an even more ridiculous rate than they have over the past few weeks.
While it's always fun to sit back and play armchair GM, trying to predict each of your team's picks, doing so accurately is impossible.
However, that doesn't mean you can't do a little bit of digging to give yourself a better idea as to not only who they're watching right now, but who they've had under the microscope for several months.  Luckily for Jets fans, we've done the digging on Gang Green, and over the course of the next few weeks will be sharing some names of players the Jets have shown a significant interest it.
This won't be based on rumors or speculation, but on certain criteria that must be met:
Did the Jets dispatch members of their scouting department to at least one of the player's games during the 2016 season?
Did the Jets dispatch members of their scouting department to at least one of the player's practices during the 2016 season?
Did the Jets conduct at least one interview with the player?
Did the player participate in the Senior Bowl?  (Mike Maccagnan has drafted several senior bowl participants in his first two seasons)
Does the player fill a need for the Jets?
If all of those questions have a "yes" answer, it's safe to say the interest shown by the Jets is legitimate, or at least noteworthy.
Previously featured:
Houston Linebacker Tyus Bowser
Wisconsin Running Back Corey Clement
Ole' Miss Tight End Evan Engram
Today we take a look at University of Pittsburgh quarterback Nathan Peterman whom the Jets reportedly met with yesterday at his pro day according to Kristian Dyer of metro who addressed the Jets meeting with Peterman here.
A 6′ 2" 225 lb native of Jacksonville, Florida, Peterman transferred from Tennessee to Pitt when he was unable to unseat Joshua Dobbs from under center, seeing only spot duty in two seasons as a Volunteer.
At Pitt, Peterman was called on to run a pro-style offense that saw him play from under center (yes, some colleges still do that) where he performed at a high level.  In two full seasons at Pitt, Peterman threw 47 touchdown passes to just 15 interceptions while completing 60% of his passes.  In 26 career starts, Peterman had 14 contests in which he was interception-free, and threw more than 1 interception in a game only twice.
During his time at the Senior Bowl, Peterman caught the attention of several teams with his strong showing, leading one observer to draw a very favorable pro comparison according to MMQB:
Says one evaluator who has studied Peterman extensively: "He reminds me a lot of Kirk Cousins in this sense: He's not going to blow you away with any of his traits, but he can do everything you need."
Peterman's production at Pitt is even that much more impressive when looking at the fact that he didn't have elite talent around him, but he still managed log some impressive performances against some big-time schools.  Most notably against Clemson, when Peterman threw 5 touchdown passes without an interception en route to a 43-42 thrilling upset over the number 2 ranked Tigers.
There was also a very efficient performance against Penn State in which Peterman carved up the Nittany Lions, going 11-15 with 3 touchdowns and an interception against a team that posted an 11-3 record.
Maturity and character are two words that continually show up on multiple reports from various outlets regarding Peterman who married his long-time girlfriend at 22.
While his footwork can be sloppy at times, Peterman does like to throw the ball down the field as evidenced by his 9.3 YPC average in 2016, and has functional mobility.  Another attribute on display on watching Peterman is his willingness to hang in the pocket and take a big hit while allowing a route to develop.
Currently listed as a 3rd or 4th round prospect, the general feeling seems to be that his pro-style background will help him in transitioning to the NFL, but as is the case with most quarterbacks, he'll need at least one season of grooming at the pro level.
With comparisons being made to Kirk Cousins and Derek Carr by NFL.com, he could be worth the wait no matter where he ends up.
Videos
Aaron Rodgers Injury Fallout & Jets/Bills Recap