Deducing the Jets Draft Board, Part 9: NC Quarterback Mitchell Trubisky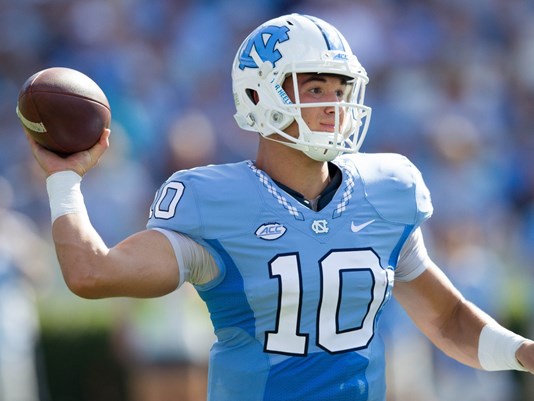 By Glenn Naughton
With the NFL combine behind us and the draft just around the corner, mock drafts will be flooding all of your favorite sports sites at an even more ridiculous rate than they have over the past few weeks.
While it's always fun to sit back and play armchair GM, trying to predict each of your team's picks, doing so accurately is impossible.
However, that doesn't mean you can't do a little bit of digging to give yourself a better idea as to not only who they're watching right now, but who they've had under the microscope for several months.  Luckily for Jets fans, we've done the digging on Gang Green, and over the course of the next few weeks will be sharing some names of players the Jets have shown a significant interest it.
This won't be based on rumors or speculation, but on certain criteria that must be met:
Did the Jets dispatch members of their scouting department to at least one of the player's games during the 2016 season?
Did the Jets dispatch members of their scouting department to at least one of the player's practices during the 2016 season?
Did the Jets conduct at least one interview with the player?
Did the player participate in the Senior Bowl?  (Mike Maccagnan has drafted several senior bowl participants in his first two seasons) or, did the team attend that player's pro day as the draft approaches?
Does the player fill a need for the Jets?
If all of those questions have a "yes" answer, it's safe to say the interest shown by the Jets is legitimate, or at least noteworthy.
To view previously highlighted players, visit our draft section here.
Today we take a look at North Carolina Quarterback Mitchell Trubisky.
Having chosen Penn State quarterback Christian Hackenberg in the second round of last year's NFL draft, there are those who feel that taking a quarterback in round one this year would mean certain admitted failure for Mike Maccagnan and the New York Jets, but would that really be the case?
We're talking about a franchise who has been without a quarterback for decades, and even the most optimistic fan couldn't call Hakenberg anything more than a question mark at this point.  For both the casual observer and for the Jets front office, nobody has seen what Hackenberg can do in live action, so passing on a quarterback who you believe can be a franchise guy simply because you have a question mark in place would be highly irresponsible.
Jets fans would have to look no further than a few years ago when the team had the opportunity to select current Raiders quarterback Derek Carr, but then-GM John Idzik opted not to because he had picked colossal bust Geno Smith just one year earlier.
Should Trubisky go on to be a franchise quarterback with Hackenberg failing to pan out, it would be just another in a long line of draft blunders for Jets fans to point at as the reason why the Jets never find THE guy.
Whether or not it's a smoke screen remains to be seen, but the Jets, who have stated publicly that they'd like to trade down from the number six spot, are doing an awful lot of flirting with Trubisky.  In addition to sending scouts to watch Trubisky play this past season, the team has continued to show serious interest this offseason.
Of the top 4 QBs, the Jets have put the most work into Mitch Trubisky. Interviewed at Combine, Pro Day, and added a private work out.

— 2017 NFL Draft (@DraftRT) April 3, 2017
At this point in time the biggest knock on Trubisky is his lack of reps at the collegiate level.  The signal caller had only 125 pass attempts entering his final season at NC before wowing onlookers with a 2016 season that saw him throw thirty touchdowns to just 6 interceptions while completing an impressive 68% of his passes.
While opinions on this year's QB class are all over the map, Trubisky is consistently mentioned as one of the top three quarterbacks who will be available on draft day.
One thing that's seemingly overlooked by those who frown on Trubisky's inexperience is that last year's number two overall pick, Carson Wentz, threw just 40 more passes at a lower level of competition (North Dakota State) than Trubisky did at the top level of college football.
Unfortunately for NFL front offices, projecting a young quarterback is more difficult than ever as college offenses go to spread/up-tempo/read option schemes that rarely see them take a snap from under center or have to read a defense as they did years ago, and this year's class is no different.
According to OptimumScouting's 2017 draft guide, only Pitt's Nathan Peterman took fewer than 89% of his snaps from under center and he came in at 78.49%.  Trubisky took a whopping  99.6%, of his snaps out of the shotgun, not far off from the other top QB's in the class per OptimumScouting:
Josh Dobbs- 99.63%
Jerod Evans- 98.81%
Brad Kaaya- 89.78%
Chad Kelly- 100%
DeShone Kizer- 100%
Patrick Mahomes- 100%
Nathan Peterman- 78.49%
Mitch Trubisky – 99.6%
Deshaun Watson- 100%
Davis Webb- 100%
So when critics throw the "project" label at Trubisky due to  his lack of experience playing in a pro-style offense, it's a title than can easily be slapped on any QB prospect in the draft.
One could make the argument that the Jets already have two project QB's on their roster in Hackenberg and Bryce Petty, but if neither one pans out, would it be better to have Trubisky entering year-two as a pro to audition for the job, or to draft another "project" QB in next year's draft who will likely need another year or two before being ready?
As the old saying goes with quarterbacks, you keep drafting one 'til you find one, and decades after Joe Namath, the Jets are still looking.  If it's going to be a quarterback in round 1, Trubisky makes as much sense as any QB on the board.
Videos
Aaron Rodgers Injury Fallout & Jets/Bills Recap