Featured Editorials Home Slider
Decker's Price tag Shouldn't Outweigh Presence and Production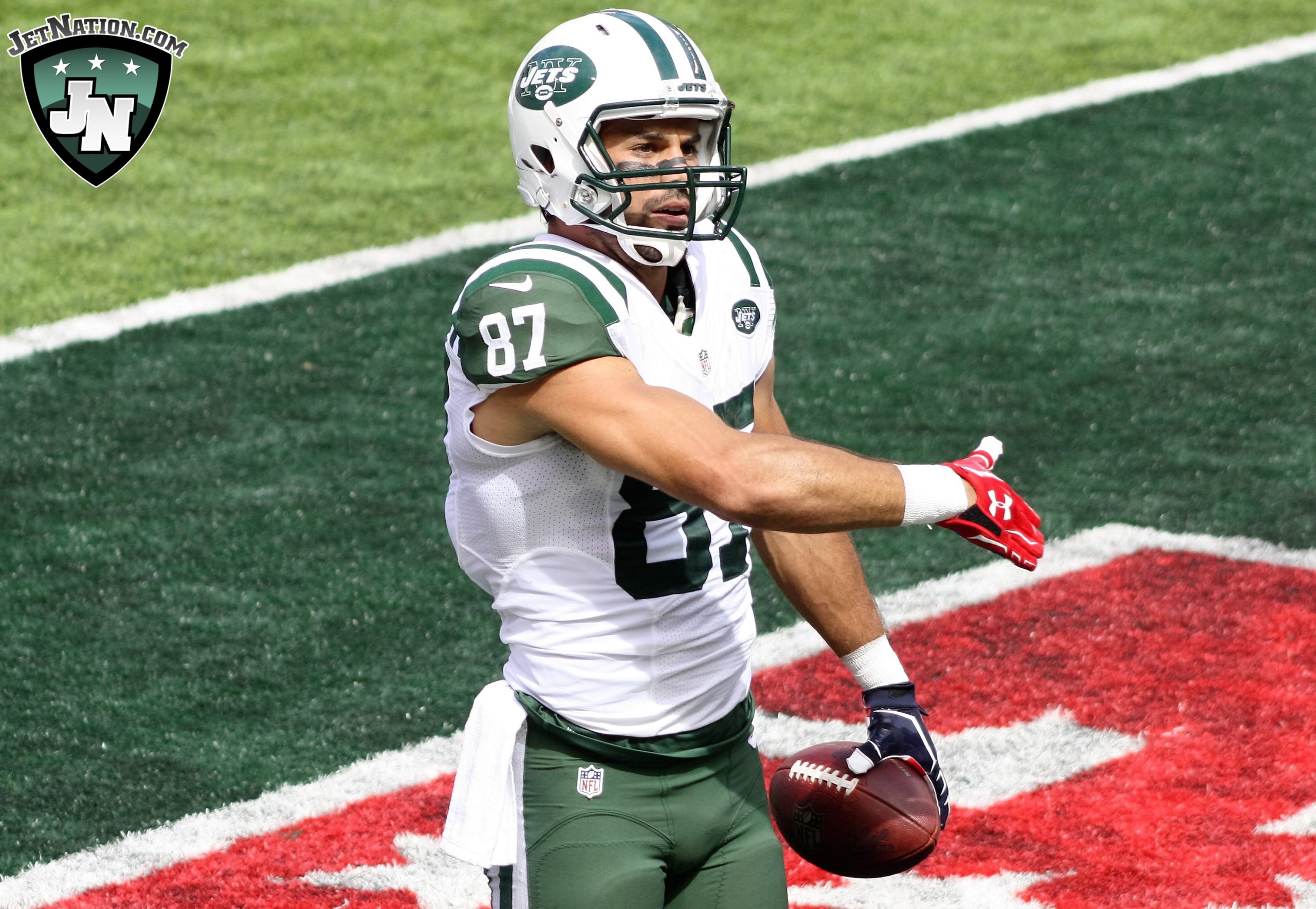 By Glenn Naughton
At several points during this off season, speculation ran wild regarding the future of Jets wide receiver Eric Decker and his standing with a team that was clearly looking to get younger and faster.  So much so that the rumors of his possible departure prompted his wife, Jessie James Decker, to responded to fans via twitter.
We ain't going anywhere. Chillax

— Jessie James Decker (@JessieJDecker) March 4, 2017
Decker, a 30 year-old veteran on a team that's heading nowhere fast in 2017, has piqued the curiosity of onlookers once again after the Jets selected wide receivers ArDarius Stewart and Chad Hansen in rounds three and four respectively of the NFL draft.
Even if Gang Green has an eye on a youth movement from this point on, make no mistake about it, letting Decker go would be incredibly foolish.
As it stands today, the Jets have an impressive stable of young, high-ceiling receivers whose potential makes their offense very intriguing moving forward, but it's nothing more than that right now…potential.
In Decker, the Jets have an established veteran in the wide receiver room to help the likes of Robby Anderson, Charone Peake, Jalin Marshall, Stewart and Hansen as they learn the ropes in the NFL.
More important than his role in working with the young Jets receivers however, will be his ability to work in the huddle and on the field with second year quarterback Christian Hackenberg who is bound to end up under center for Gang Green at some point this season.
Easily the most seasoned receiver on the roster, Decker is also the team's best route runner, enabling him to create separation underneath, a critical trait on any offense, but particularly useful if the Jets run any semblance of a west coast offense under first year coordinator John Morton.  How much would Hackenberg (or Bryce Petty) enjoy having a player who can do that as well as Decker can?
Some point to Decker's $8.75 million cap hit as a reason to send him packing, but for a team that's projected to have roughly $63 million in cap space next season (It will likely be closer to $70 million), it makes little sense financially to move Decker in order to save $5.75 million this season (per  overthecap.com) with no viable option to fill his shoes.
After having multiple off season surgeries, there was further speculation pertaining to Decker's availability early on this season, but if Decker's recent comments are accurate, those concerns should be alleviated.
Eric Decker (hip, shoulder surgery in '16) said he'll be full go for camp. "I was surprised when people thought I wasn't going to be ready."

— Bob Glauber (@BobGlauber) May 2, 2017
Remember that time John Idzik told Jets fans that there was a legitimate quarterback competition between Geno Smith and Michael Vick, with Smith getting roughly 80% of the snaps in practice?  That was great, wasn't it?  Well don't expect anything like that this season.
Head coach Todd Bowles has said that all three quarterbacks on the roster (Hackenberg, Petty and Josh McCown) will have a fair shot to win the starting job.  If he stays true to his word, the last thing the Jets need to do is fail once again to develop a young quarterback with inexperienced or ineffective receivers all for the sake of saving a few million dollars in 2017.
Videos
New York Jets OTA Presser Takeaways, Aaron Rodgers' Impact and Summer Delusion