Featured Editorials Home Slider
Maccagnan, Jets Trying to Assemble Arsenal for Future Signal Caller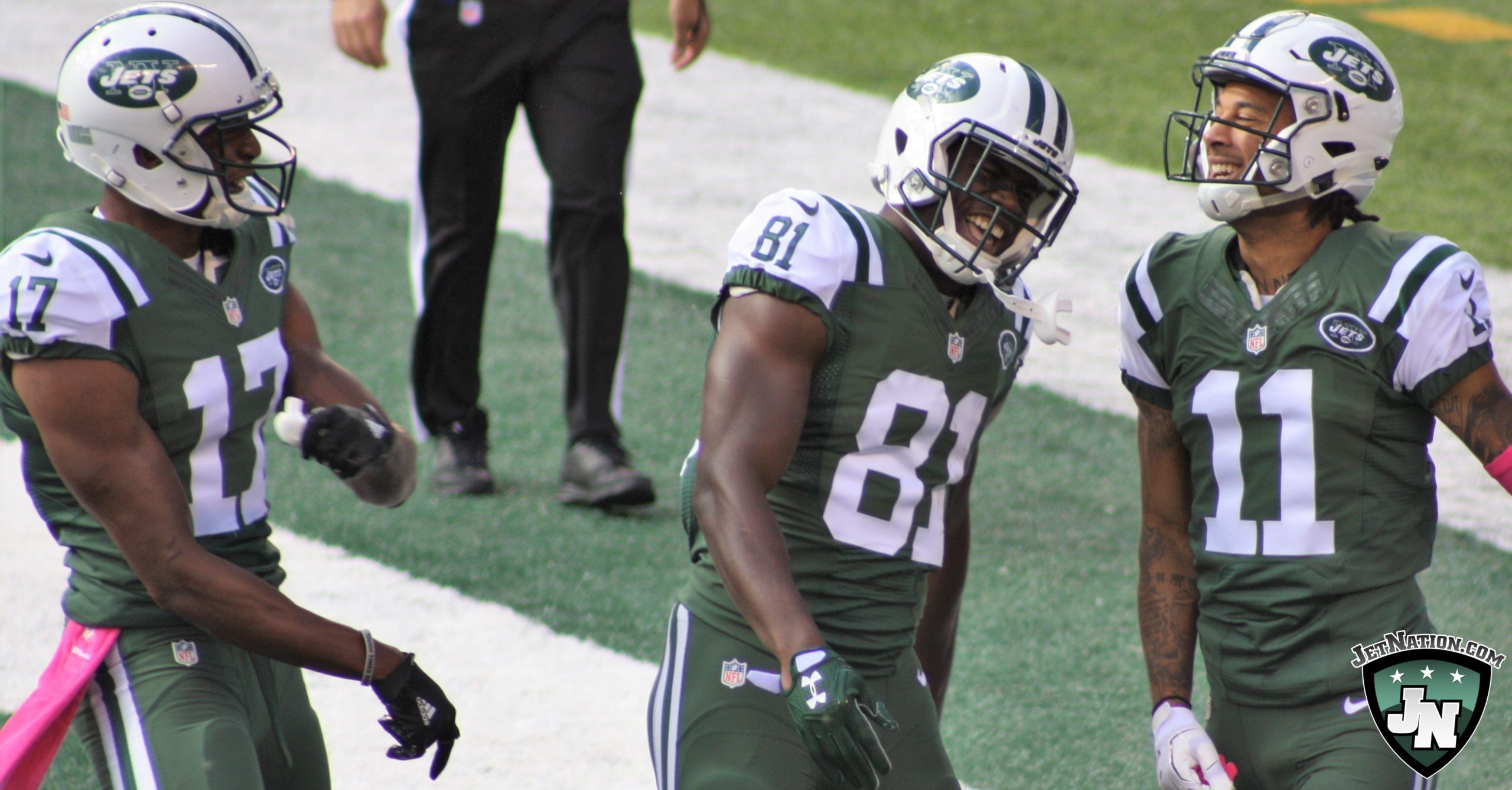 By Glenn Naughton
The New York Jets may not have a franchise quarterback on their roster right now, but if they do manage to snag one in the 2018 draft as many fans are hoping, the moves they've made this season and last, could benefit any future signal caller for years to come.
This is not a dismissal of the potential of current QB Christian Hackenberg, but an acknowledgement that what he showed last year gave onlookers little reason to believe he'll be the answer at quarterback for the franchise moving forward. Of course fans are free to hope Hackenberg can be great, but how many of us remember hoping that John Idzik was going to be a master deal-maker, and that Geno Smith, another second round QB, was going to end the team's decades-long drought at quarterback?  So much for that.
With the addition tight end Jordan Leggett and a pair of wide receivers in ArDarius Stewart and Chad Hansen in the NFL draft, followed by undrafted free agent additions Gabe Marks and KD Cannon, the Jets currently have a total of 21 wide receivers and tight ends to audition in training camp, with Eric Decker being the only one with 8 pro seasons under his belt.
Behind Decker, there's Quinton Patton and Quincy Enunwa, with five and four pro seasons respectively, as the elder statesmen of the group.  In all, the Jets currently have sixteen receivers and tight ends with fewer than five years of pro experience.  That's a lot of young talent to mold and evaluate.
In looking up and down the list of receivers and tight ends, you see that it's a versatile and potentially deep group with speedsters such as Robby Anderson, Charone Peake, and Cannon, along with Enunwa and Stewart adding physicality at the position.  Decker's veteran savvy could prove critical in the development of some of the youngsters. and  his route-running is second to none.
At tight end, there are two big question marks in Leggett and last year's in-season addition, Austin Seferian-Jenkins. Both have the skills to be legitimate threats in the passing game, but neither has much interest in blocking opposing defenders, which could limit what the team does if they had any interest in using both players in any two TE sets.
One player worth keeping an eye on is Braedon Bowman, a young H-back/tight end out of South Alabama as Bowman may not have the ideal size to play in line at 6′ 4" 244, but he has good hands and is more than happy to mix it up with opponents as a blocker.
He'll have an uphill battle with so many options on the roster, but the aforementioned Gabe Marks is another
youngster who may not have elite speed at 4.56, but he shows excellent hands and quickness in and out of his breaks. He may find a way to stick as a slot receiver this season.
In the end, what matters most is that the training camp battle at wide receiver should be one of the best in camp, with a pair of quality pass catchers to throw in to the mix at tight end.
We've seen time and again that today's NFL is all about having a quarterback who can sling it.  Without one to turn to, the effort being made by the Jets to have the pieces in place for that quarterback, should they ever arrive, is probably the next best thing.
Videos
Aaron Rodgers Injury Fallout & Jets/Bills Recap