Featured Editorials Home Slider
Maccagnan's Longest day Won't be Forgotten Anytime Soon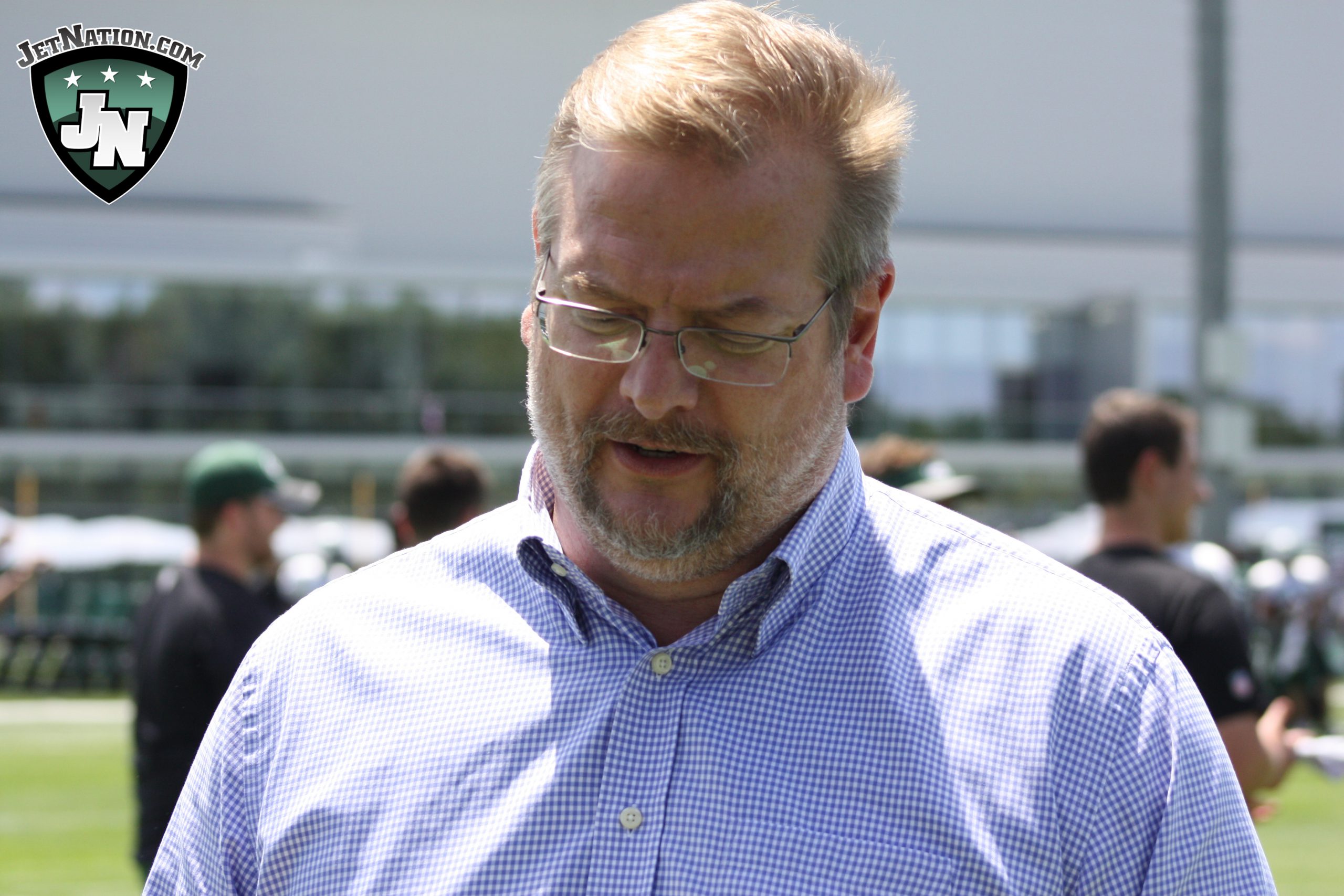 By Glenn Naughton
If Jets General Manager Mike Maccagnan spent most of today feeling like he'd just been hit by a truck, could anybody blame him.  It was a long day that neither he nor fans of the New York Jets will forget anytime soon.
The third-year GM didn't make any friends in the Jets locker room and angered countless fans by cutting ties with stalwart linebacker David Harris and the team's best wide receiver in Eric Decker.  Moves that made little sense at the time and don't make a lot more sense now.
Nobody in their right mind expected the Jets to contend for anything other than the first overall choice in the 2018 NFL draft this season, but Decker and Harris were still going to be key in assisting with the development of many of the young players Maccagnan has acquired in his first three offseasons with the team.
This is what makes the Decker move the more surprising of the two. He's younger than Harris and he's arguably the best receiver on a team with tons of young pass catchers who would have benefited from Decker's presence both in the huddle and the receiver room.
Players such as Robby Anderson, Charone Peake, Jalin Marshall, ArDarius Stewart and Chad Hansen may have been able to pick Decker's brain when it comes to some of the nuances of playing wide receiver in the NFL.
Now with Decker gone, Quincy Enunwa, a fantastic young receiver in his own right, becomes the go-to guy of the receiving corps.
Meanwhile, all Harris did with the Jets was rack up over 1,000 career tackles in 11 seasons while anchoring some of the best teams in Jets history in 2009/2010.  Harris also putting up with some of the lowest of the lows.  Most recently this past season when the team's 5-11 record didn't give a true indication of just how bad the Jets were.
Through it all, Harris didn't get too high or too low.  He just showed up to work every day, did his job, and did it better than most, leading by example.  Now, he's a former Jet.
One could easily make the case that moving on from Decker and Harris was the right football move, but nobody can possibly defend the timing of it.
In early June, most rosters are set and many teams are at or near the salary cap limit.  There's no denying it, both players deserved better, especially Harris.
As a matter of fact, the timing of the moves is so bizarre, that like it or not, you may have to lend a significant amount of credence to a report from Manish Mehta of the New York Daily News who claims to have been told that both moves were ordered by owner Woody Johnson to save $12 million in what is sure to be a lost season.  If so, it would go a long way in explaining the demeanor of both Maccagnan and head coach Todd Bowles.
When asked why Harris and his $6.5 million salary were let go, Bowles said it was "a good question", and one that should possibly be asked of someone else at a later date.
Then there was Maccagnan, who briefly met with reporters to discuss the day's moves, and was described by long-time Jets beat writer Rich Cimini of ESPN New York as "somber".
It was a somber Mike Maccagnan. He was as down as I've ever seen him. Not a happy day at One Jets Drive. #Jets

— Rich Cimini (@RichCimini) June 6, 2017
Bowles deflected the question about Harris elsewhere, Maccagnan's demeanor reflected that of a man who wasn't thrilled with the moves that had just been made, and Mehta claims Johnson made the call to make the moves.
In the end, no matter how it all transpired, Maccagnan's name will be attached to the moves forever, whether he likes it or not.  Football season stops for nobody, so even if the moves weren't what they wanted, Bowles and Maccagnan have to do what David Harris did so many times.  In the face of adversity, put their heads down and get to work.
Videos
Aaron Rodgers Injury Fallout & Jets/Bills Recap