Breaking News Featured Editorials Home Slider
Time for Maccagnan to Shift Philosophy, Extend Enunwa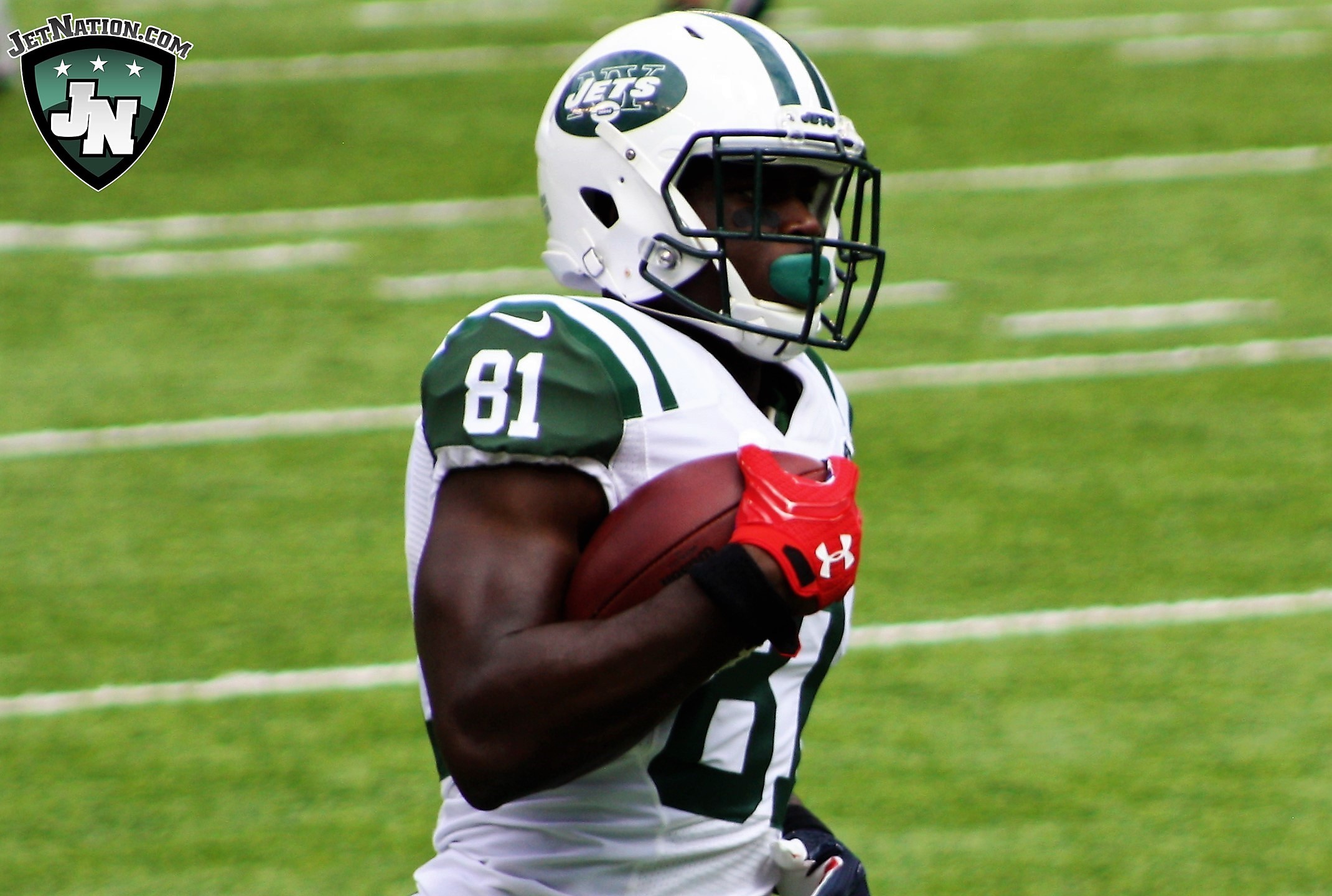 By Glenn Naughton
As the New York Jets and General Manager Mike Maccagnan prepare to kick off a season that promises to provide very few victories but plenty of opportunities to build toward the future, it's time for the GM to do something he hasn't done since his arrival; get one of his young players locked up go a long-term deal before his price tag goes up.
Jets wide receiver Quincy Enunwa is essentially a unicorn at Florham Park.  He's a physically gifted, high-ceiling player who has flashed the ability to be a difference maker on offense while staying out of trouble off the field.  A one-of-a-kind draft pick from the short-lived John Idzik era.
Yes, Enunwa did have some brief legal issues during his rookie season after being accused and eventually cleared of domestic violence.  Charges against Enunwa were dismissed with the NFL saying any suspension was "unlikely". However, the infamous Ray Rice incident put all domestic violence issues under a microscope and the league opted to double back and make an example of Enunwa, suspending him for four games. Since then, Enunwa has been a model citizen.
After spending the majority of his rookie season on the practice squad and being targeted sporadically in year two, Enunwa's development continued in 2016 when he caught 58 passes for 847 yards and 4 touchdowns, all career highs, despite what could easily be considered the worst quarterback play in the NFL.
Now, entering his fourth pro season, Enunwa becomes Gang Green's number one receiver with both Brandon Marshall and Eric Decker being shown the door.  With a quarterback depth chart featuring Josh McCown, Christian Hackenberg and Bryce Petty, nobody knows if this year's QB play will be better or worse than 2016, but one thing is certain.  If Enunwa sees another uptick in production in 2017 as a the Jets first option, teams will be lining up to give him a big contract.  Should Enunwa continue to improve and produce with middling QB play, imagine what a team like the Colts or Raiders would envision him being with top-tier QB play.
Maccagnan has been faced with the prospect of losing some of his top players entering the final year of their deals in the past with Muhammad Wilkerson and Sheldon Richardson.
With Wilkerson, Maccagnan didn't get a deal done until the eleventh hour, paying a premium with a deal that would pay him roughly $17 million per year.  JetNation confirmed through a source that the team did indeed turn down an offer of a first round draft choice for Wilkerson while entertaining trade offers one offseason earlier.
Maccagnan's handling of Sheldon Richardson was similar in that he is allowing the lineman to enter the final year of his deal after reportedly turning down an offer of a second-round pick from the Dallas Cowboys last season.  Should Richardson keep his nose clean and have a monster 2017, will he pry another monster contract out of the Jets who are projected to have up to $80 million in cap space next year?
Whether or not the Jets have approached Enunwa about an extension up to now is unknown, and it's unlikely that Jets fans will be getting much positive news in the coming months.  Kicking off training camp by inking Enunwa to a long-term deal would be a big step in the right direction, and a rare moment of satisfaction for a fan base that's already largely focused on a top-three pick in next year's draft.
We want to hear what you think. Stop by our forums and let us know if you think the Jets should offer Quincy Enunwa a contract extension?
Videos
Aaron Rodgers Injury Fallout & Jets/Bills Recap