Featured Editorials Home Slider Jets Preview
Positional Outlook: Defensive Line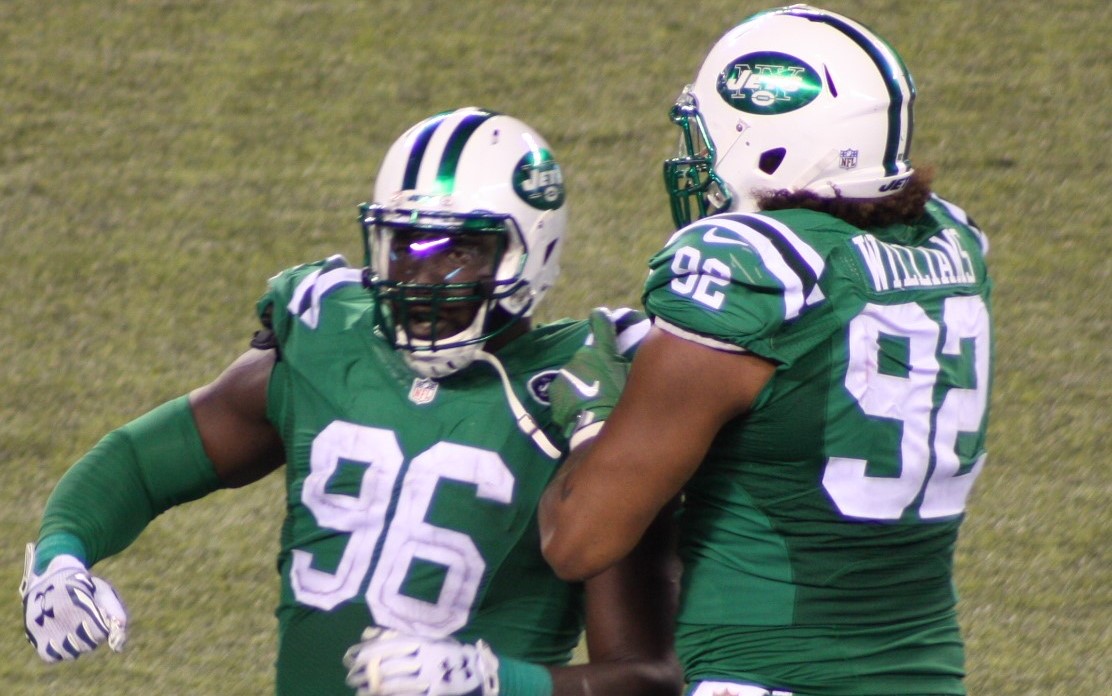 This is the second part of a multi-part breakdown of each positional unit. Here, we are going to breakdown the Jets defensive line, which is certainly their strongest unit.
Defensive Lineman on the Roster
Leonard Williams, Muhammad Wilkerson, Sheldon Richardson, Steve McClendon, Deon Simon, Lawrence Thomas, Mike Pennel, Anthony Johnson, Claude Pelon, Brandin Bryant, Patrick Gamble
Major Losses
Fortunately for the Jets, they didn't really lose anybody who made a significant impact on the defensive line. The only real loss they had was Jarvis Jenkins, who played in 9 games for gang green and recorded 7 tackles and 0 sacks.
Key Additions
Again, nothing really changed with the defensive line unit, but one big addition could be a healthy Muhammad Wilkerson. Wilkerson was one of the most dominant defensive lineman in the NFL in 2015 before breaking his leg in week 17. He recorded 12 sacks, 3 forced fumbles, and batted down 7 passes that season. In 2016, he just wasn't the same player, which could certainly be a result of recovering from the broken leg. He did manage to play in 15 games, but only recorded 4.5 sacks, 1 forced fumble, and only batted down 1 pass. Clearly, there is a significant decrease in production, but chalking that up to injury seems fair.
This upcoming season, Wilkerson should be able to bounce back to his normal self and become one of the most dominant players in the NFL again, especially with Leonard Williams starting to draw double teams as he improves. All in all, things should start to be easier for Mo as he has another year of recovery under his belt and an improving cast around him. Look for Wilkerson to bounce back and record 10+ sacks this season!
Players to Watch
When I wrote the cornerback outlook I only wrote about one player to watch (Juston Burris), but for the defensive line I believe it is worth two players: Sheldon Richardson and Deon Simon. People may ask, why not Leonard Williams? Well, we know what the Jets have in Williams: an ascending player on the verge of super-stardom. Williams, barring any unforeseen regression, will continue to dominate games and improve his statistics. Here, I want to discuss players who could improve and make a significant impact for this team.
First, Sheldon Richardson, who was one of the Jets best players just a couple of seasons ago, saw some serious regression last year. For a man of his talents to only have 1.5 sacks last year is absurd, but that could be because the Jets failed to find a spot to play him and he was kind of all over the place. They need to let him put his hand in the dirt and get after the QB. With Williams and Wilkerson on board and healthy, Richardson shouldn't see many double teams and should be able to put up big numbers. There is also the issue of him being a locker room problem, but that was likely due to his feud with Brandon Marshall, who is now a member of the Giants. Richardson has been the topic of trade talk for months now, but I believe if he bounces back he could be a big part of this defense going forward.
As for Deon Simon, who is still relatively unknown throughout the rest of the league, I believe he can be our next version of Damon Harrison. Similar to Snacks, Simon came from a small school (Northwestern State) and has looked good in limited action. The Jets should give him the starting job over McClendon at NT if they are truly going full youth movement and see what they really have in this kid. He is already 27 years old, but if he can really start to see significant playing time, the Jets may have found another diamond in the rough.
Conclusion
On paper, this is one of the best defensive line units in the entire NFL, but names on paper don't win games. The Jets need the big three of Wilkerson, Williams, and Richardson to stay focused and healthy and I believe they will finally be used properly and find ways to dominate games. Throw in an ascending Deon Simon in the mix at NT and this truly could be one of the best units in the NFL. Another guy to look out for is Lawrence Thomas who was beginning to develop nicely before going to the IR last season. On a young, rebuilding team, this defensive line unit should be the leading force and easily be the best unit we have. Expect big things from these guys!
Videos
Aaron Rodgers Injury Fallout & Jets/Bills Recap