Featured Editorials Home Slider
Timeline to the Tank; How did Maccagnan and Company get Here?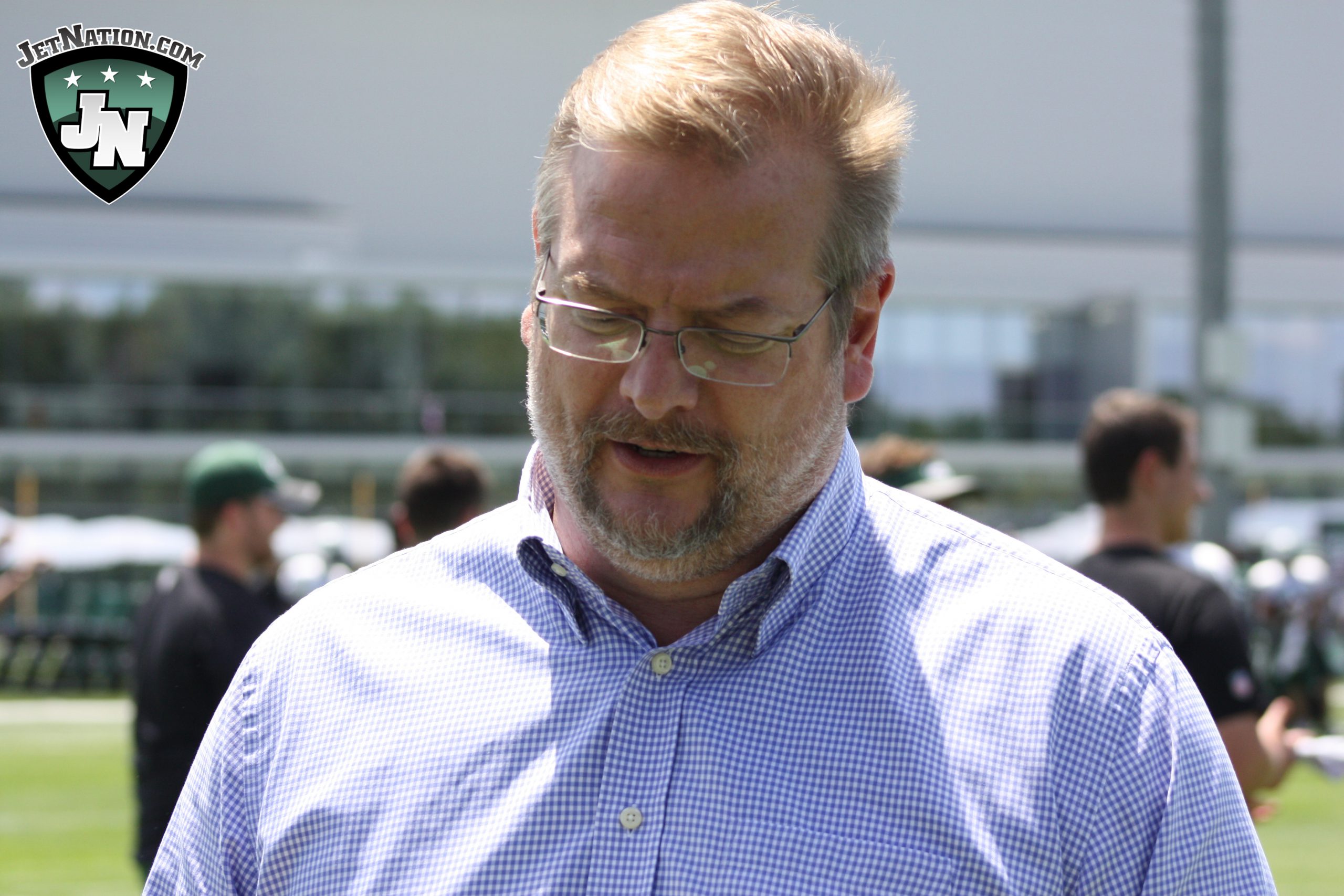 By Glenn Naughton
Maybe it's unfair to refer to the Jets upcoming 2017 season as "tanking" in an effort to secure the top pick, or as close as possible to it, in next year's draft.  Perhaps, justifiably or not, the team believes Christian Hackenberg can be the long-term answer at quarterback.
No matter the plan or expectations s at 1 Jets Drive in Florham Park, you couldn't blame the average Jets fan for looking at the team's roster, with all of the negative press surrounding the team, and asking, "how did they get here".  Well, let's take a look and see how things have transpired from the day Mike Maccagnan and Todd Bowles took over for the failed John Idzik and former head coach Rex Ryan.
Dec 29th, 2014- Woody Johnson does away with the duo of Ryan and Idzik following a four-year long playoff drought for Ryan, and one of the worst drafts in team history from Idzik.  In two seasons, Idzik would draft 19 players.  Just two seasons later, 14 are already gone, with many out of the league.  Only Quincy Enunwa, Sheldon Richardson, Brian Winters, Dakota Dozier and Dexter McDougle remain…for now.  (We took a look at just how bad Idzik was earlier this offseason right here).
January 13th/14th 2015- Johnson replaces the Ryan/Idzik tandem with Bowles and Maccagnan respectively.  Bowles is later named the league's top coordinator for the 2014 season, while Maccagnan brings years of experience in personnel.
January 19th, 2015- Bowels hires Chan Gailey as his offensive coordinator.  Gailey is the ideal choice, having gotten the most out of every young quarterback he's ever worked with.  It makes sense to expect the hire to give Geno Smith, then the team's starting quarterback, his best chance to succeed.
March 6th- The Jets send a 5th round draft choice to the Chicago Bears in exchange for wide receiver Brandon Marshall and a 7th round choice.  Smith is now expected have Marshall and Eric Decker as his top two targets.  With a stellar pair of receivers, Maccagnan is clearly building around Smith to determine if Idzik got it right or not when he drafted him to be the team's quarterback of the future.
March 10th- Wide receiver Percy Harvin is let go by the team.  One of John Idzik's solutions to the Jets offensive woes, Harvin struggles to stay healthy and isn't seen as being worth the hefty price tag.
March 11th- Maccagnan sends a late-round conditional draft pick to the Houston Texans for quarterback Ryan Fitzpatrick.  Fitzpatrick's knowledge of Gailey's offense and experience offers the Jets stability at the position should Smith fail to show improvement over his previous two seasons when he was voted the NFL's worst starting quarterback.
March 2015- With a cornerback depth chart that consisted of Kyle Wilson, Marcus Williams, Darrin Walls, Philip Adams and the oft injured Dee Milliner and Dexter McDougle, Maccagnan gets to work rebuilding the secondary. He inks cornerbacks Darrelle Revis, Antonio Cromartie and Buster Skrine.  Team owner Woody Johnson is hit with tampering charges for comments he made in regards to the team's interest in Revis before the start of free agency. That development leads many to believe the mega-contract given to Revis was ordered by the owner.
Maccagnan also adds guard James Carpenter, a former first round pick who struggled at offensive tackle with the Seattle Seahawks.
April 30th- Despite a plethora of talent along the defensive line, Maccagnan grabs Leonard Williams as the team's first round draft choice, a decision that surprised many at the time, but has proven to be the right move as Williams is an ascending elite talent.
April 31st/May 1st- After the Williams pick, Maccagnan chooses Ohio State WR Devin Smith, OLB Lorenzo Mauldin, OL Jarvis Harrison, QB Bryce Petty and defensive lineman Deon Simon.  Smith is likely done as a pro due to injuries and Harrison is long gone.  Beyond that, Mauldin and Simon have shown the potential to be anything from solid back up to starter material and Petty flashed briefly in spots last year but is likely some time away (if ever) from looking like an NFL starter.
May 8th- Jets sign undrafted free agent linebacker Julian Howsare who is converted to fullback.  Howsare spends the season on the practice squad before making the team and 2016 before being cut.  He has since been re-signed to audition again at fullback.
August 11th, 2015- Geno Smith suffers a broken jaw as the result of being punched in the face by teammate IK Enemkpali over what was said to be a failure to repay a $600 debt.  Fitzpatrick, who spent much of the offseason program rehabbing a broken leg, gets the starting job before taking a single pre-season snap.
One report surfaced claiming Maccagnan contacted the Washington Redskins in an effort to acquire quarterback Kirk Cousins in the wake of the Smith saga, but the uncertain future of Robert Griffin III leads the Redskins do rebuff Maccagnan's offer.
When Geno Smith broke his jaw, #Jets didn't know how long he was out. One team they called: The #Redskins about trading for Kirk Cousins.

— Ian Rapoport (@RapSheet) September 13, 2015
The purging of the roster, addition of talent through trades and the draft were in an effort to get a look at Geno Smith to determine once and for all if he was a franchise quarterback.  Had Smith bombed, the Jets would have likely torn it all down and started from scratch.
As we all know, the opposite occurred as Fitzpatrick, to the surprise of many onlookers, had a career year.  He would throw a franchise record 31 touchdowns en route to a 10-6 record, a mark that earned Maccagnan executive of the year honors.  Then, in a surprise move, Todd Bowles named Fitzpatrick his starting quarterback before he had the chance to enter free agency despite Smith still being on the roster.
With the Maccagnan/Bowles era set to enter year two, the focus became contending versus re-building, essentially delaying the inevitable.
Feb 22nd- In a highly anticipated move, the Jets part ways with Cromartie, who was signed to a deal with no guaranteed money beyond year one of his deal.
March 9th- Completely invisible in Chan Gailey's offense, wide receiver Jeremy Kerley and tight end Jeff Cumberland are both cut loose.
March 10th- With running back Chris Ivory gone via free agency, Maccagnan signs veteran running back Matt Forte along with Khiry Robinson, formerly of the New Orleans Saints.
March 10th- The Jets reportedly make a last-ditch effort to re-sign defensive lineman Damon Harrison by increasing their offer, but they're outbid by the co-tenant Giants.
March 21st- Maccagnan signs defensive lineman Steve McClendon who is viewed by some as a replacement for Damon Harrison.  McClendon clears that up by saying he signed with the understanding that he will not be a true nose tackle, but used in a variety of roles in Bowles' defense.
April 10th- Following the sudden retirement of left tackle D'Brickashaw Ferguson and only Ben Ijalana to turn to, the Jets send a 5th round draft choice to the Denver Broncos for LT Ryan Clady.
April 28th- Looking to get faster up front, the Jets select Ohio State linebacker Darron Lee in the first round of the 2016 draft.
April 29th/30th- Maccagnan follows up the Lee pick by taking Penn State Quarterback Christian Hackenberg, Georgia linebacker Jordan Jenkins, NC State cornerback Juston Burris, South Carolina offensive tackle Brandon Shell, Sam Houston punter Lac Edwards and Clemson wide receiver Charone Peake.
May 5th- The Jets add undrafted free agents; WR Robby Anderson, FS Doug Middleton, WR Jalin Marshall and defensive lineman Lawrence Thomas.
July 15th- The Jets re-sign defensive end Muhammad Wilkerson to a five-year deal that pays him close to $16 million per season.
July 27th- On the eve of training camp, the Maccagnan gets Bowles' preferred starter in Ryan Fitzpatrick.  It's a one year deal worth $12 million that's spread over two seasons.
September 3rd- Former first and second round draft choices, Dee Milliner and Jace Amaro are among the team's announced cuts.
September 4th- Cornerback Darryl Roberts is claimed off waivers.
September 11th- The Jets open the season with a 23-22 loss at home to the Cincinnati Bengals and the game is a sign of things to come.  Todd Bowles' secondary falls apart and allows multiple long drives to the Bengals whose top receiver, AJ Green, lights up Revis and the rest of the secondary for 180 yards on 12 catches.  Nick Folk misses an extra point, Brandon Marshall drops a critical pass in the fourth quarter and Ryan Fitzpatrick throws a game-ending interception.
A torched secondary dropped passes and interceptions become a theme for what would be a disastrous 5-11 campaign.  There was no capitalizing on a strong 2015.  No catching of lighting in any bottles.  Maccagnan, Bowles, the Jets and their fans all knew that it was time to start the rebuild that should have started one year earlier.  A rebuild that was delayed by a locker room knockout, and a standout performance by Fitzpatrick.
That brings us to the current off-season, one that is about to come to a close, and where it leaves the Jets roster today.
Some of the biggest names (and salaries) have been purged in an effort to start a full-on rebuild.
Darrelle Revis, Nick Mangold, Ryan Fitzpatrick, Brandon Marshall, Eric Decker, Marcus Gilchrist, Calvin Pryor, Nick Folk, Breno Giacomini…all gone.  The moves have the Jets sitting on $24 million in cap room as of today, and a projected surplus of up to $80 million next off-season.
To fill some of the voids on a short-term basis, Maccagnan has imported veteran quarterback Josh McCown to take on the role of veteran starter/mentor.  Kelvin Beachum, a highly regarded free agent just two seasons ago will likely be protecting the quarterback's blind side after one down season in Jacksonville.
Maccagnan used the NFL draft to help shore up the team's secondary.  Jets fans, after hearing at length how Todd Bowles' defense relies heavily on interchangeable safeties, will ideally have just that in 2017.
When LSU safety Jamal Adams fell to the Jets with the sixth overall pick, Maccagnan tabbed him with the team's first pick, then doubled down in round two by taking another safety in Marcus Maye.
He would follow that up by drafting several pass catchers for whoever will be under center in the coming years for the Jets, grabbing Alabama wide receiver Ardarius Stewart, Cal wide receiver Chad Hansen, Clemson tight end Jordan Leggett and a pass catching running back in Elijah McGuire out of Louisiana-Lafayette.
The remainder of the Jets draft choices this season were all on defense. West Georgia DE/OLB Dylan Donahue and cornerbacks Jeremy Clark (Michigan) and Derrick Jones (Ole Miss).
Now, with training camp just a couple of weeks away, Maccagnan's first draft class prepares to enter their critical third season, and it's year one of a delayed tear-down and re-build.
There are only four players on the roster who are at least 30 years of age in McCown (37), Forte (31), McClendon (31) and long snapper Tanner Purdum (30).  Projecting at least 12 of Maccagnan's 22 draft picks along with a few undrafted free agents to start or see a sizeable chunk of playing time isn't at all unrealistic.  It's also a number that would likely be higher if not for the off-field issues encountered by Mauldin and Jalin Marshall this off-season.
So for those of you asking how or why Maccagnan should be given a chance to right the Jets ship after what is perceived as little improvement over two seasons, remember that year one's evaluation was out the window on August 11th of that year, and an attempt to progress after a 10-win season fell on its face when it seemed the entire roster got slow, tired and lazy in a hurry.
Gone are the aging, unhappy, ineffective veterans, and a youth movement is under way.  A youth movement that in just one draft, with the selections of Leonard Williams, Lorenzo Mauldin and Deon Simon, has already out-performed almost all 19 of the players drafted by the buffoon who sat in Maccagnan's chair before him, and a year two draft class that could quite easily produce five starters this season.
Should Maccagnan's three draft classes manage to live up to their full potential this season, expect Woody…err..Chris Johnson, to allow Maccagnan's timeline to grow by at least one more year.
Videos
New York Jets OTA Presser Takeaways, Aaron Rodgers' Impact and Summer Delusion