#JetsCamp Report – Sat 07/29/17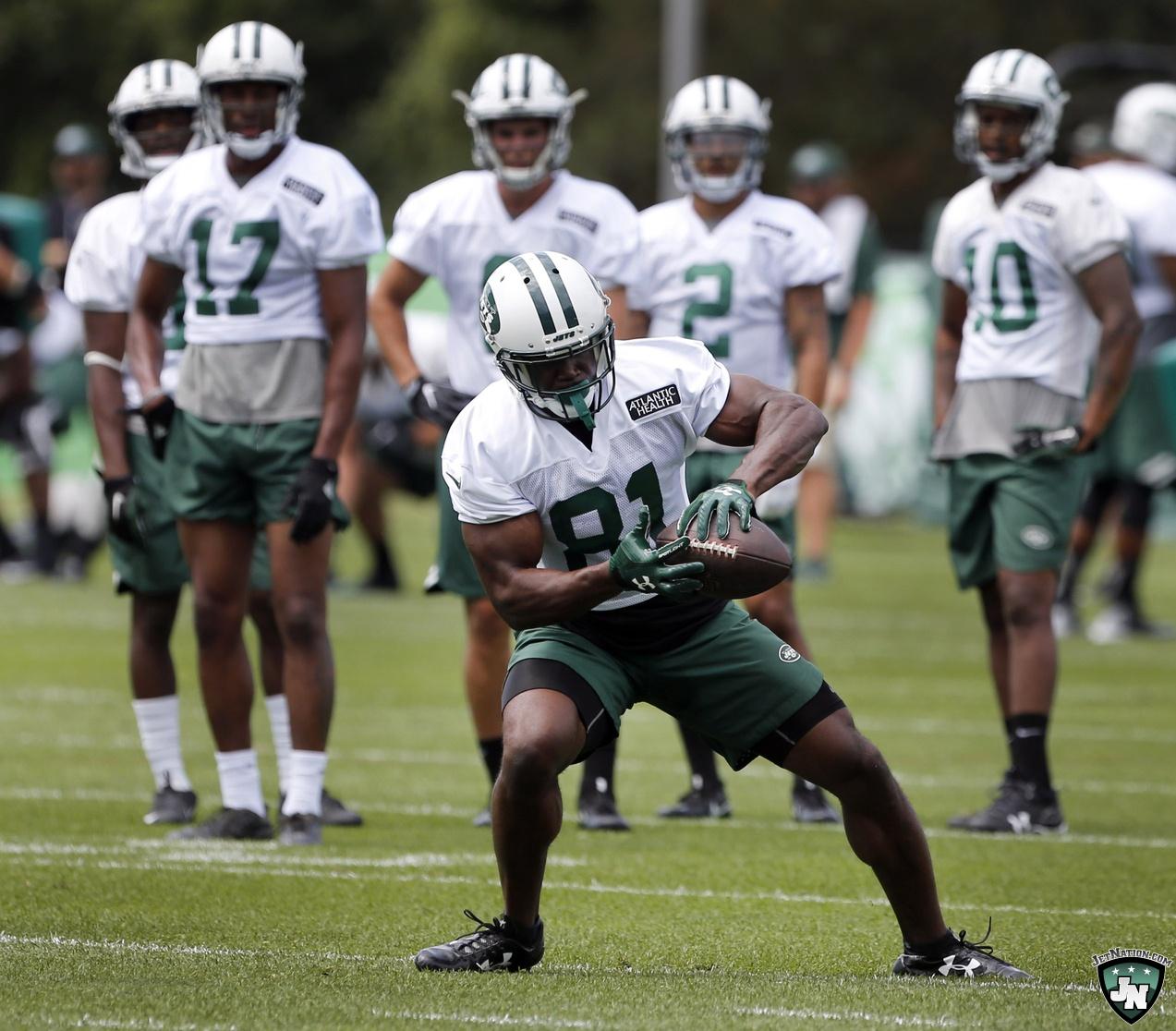 The New York Jets officially kicked off training camp in Florham Park, NJ. JetNation was there, we are planning on being there every day throughout training camp. Here is the official camp report by KRL for day one.
General Notes
– Players were in shells & shorts
– Practice ran 2.5 hours
– With the low expectations for the team there were fewer media members than last year. Also there were no "selected" season ticketholders in attendance.
– Frustration from Karl Dorrell (WR coach) early on as there were too many drops.
– Josh McCown was first in the team periods but the reps seemed even to me between him and Christian Hackenberg.
Player Notes
– Robby Anderson doesn't seem to be noticeably bigger but his ability to run routes over the middle of the field is improved. The problem that stood out today was his difficulty getting off the line against physical press coverage. Morris Claiborne gave him fits all day.
– Watching Claiborne you see why he was a top 10 pick, extremely physical in the five yard area and able to mirror receivers down the field. He gave Anderson fits and manhandled a couple of the other receivers throughout the day. In team periods he had a "pick 6" of McCown and he almost started a "fight" when he took Anderson to the ground, which is a no-no this early in camp. The question is can he stay on the field?
– Ardarius Stewart and Chad Hansen both practiced but it didn't seem like they got any reps in team periods. I wonder if they're behind in the offense because they missed time during OTA's.
– With Stewart & Hansen not getting reps young receivers such as Frankie Hammond, Myles White, Gabe Marks and Chris Harper got playing time. And they had difficulty getting open which led to coverage "sacks" during team periods.
– Lucky Whitehead got reps immediately as a returner and his short area quickness reminded me of Leon Washington. Hopefully that can continue because the team has been woeful in the return game for too long.
– Austin Seferian-Jenkins stood out all day. First with the shape he's in (noticeably thinner) then with his ability to get open in the middle of the field. He was a safety valve and a "seam stretcher" for the QB's.
– Sheldon Richardson was in the offensive backfield all day and reminded me of what he was his first two years in the league. He blew up running plays and caused "sacks" during team periods.
– Jamal Adams showed his range when he nearly picked off a McCown throw to Seferian-Jenkins outside the numbers during team periods. Marcus Maye had a quiet day.
QB's
– McCown and Bryce Petty were both "meh". Both of them threw "pick 6's" in team periods, McCown to Claiborne and Petty to Marcus Williams.
– Christian Hackenberg was much improved over last year:
1. He totally revamped his body and added muscle from top to bottom
2. His setup stance in receiving the snap from center has been revamped
3. His footwork coming away from center is cleaner
4. His footwork when choosing which receiver to throw to was consistent
Which led to accurate spirals and the elimination of balls in the dirt, balls that sailed and balls that wobbled. In addition on a 80 degree day he was wearing a glove on his left hand, which makes me wonder if he's using that to help in handling the ball. Now the question is can he continue to "stack" practices and take these improvements into games.
Standouts
– Sheldon Richardson
– Morris Claiborne
– Austin Seferian-Jenkins
Concerns
– Robby Anderson's ability to beat physical press coverage.
– Young WR's ability to get open against physical press coverage.
Additional Resources
–New York Jets Training Camp Photo Gallery
–#JetsCamp Updates – Day One – Sat 07/29/17 
Videos
Aaron Rodgers Injury Fallout & Jets/Bills Recap