#JetsCamp Report – Tues 08/01/17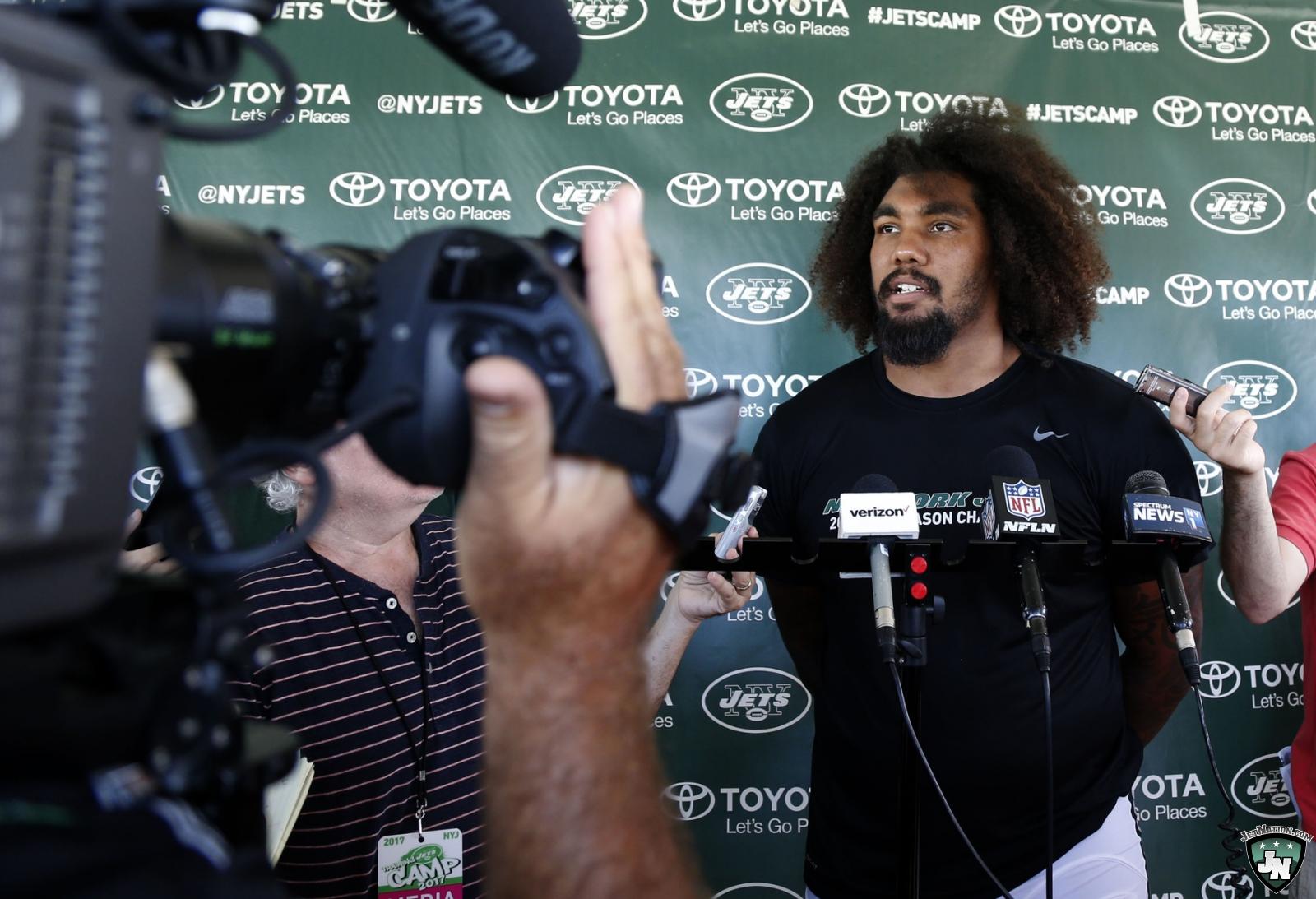 General Notes
– Players in full pads.
– Practice runs 2 hours 40 minutes.
– Matt Forte sits out with his leg injury but Robby Anderson practices fully.
– In the special teams period coaches squib kicked to the "big boys" (OLine & DLine) to simulate recovering an onside kick.
– The offense started to install formation shifts & motions.
– John Morton (OC) is very detailed oriented and demanding.  If you're not lined up exactly or if a receiver's feet are in the wrong position as they take their position he'll go "volcano".  Also if you don't finish the play sprinting you'll get called out.
– Dennard Wilson (DB coach) also wasn't a very happy man today.  He was all over his unit during team periods when they couldn't get off the field in "3rd down situations".
Player Notes
– Jamal Adams and Marcus Maye started to "flash" today.  In 1 on 1 drills Adams showed CB coverage skills as he defended RB's & WR's and in a team period he got a "sack" on a blitz.  Maye in 1 on 1 drills showed excellent closing speed to the sideline as he picked off a Christian Hackenberg pass to Jalin Marshall(?).  And in a team period he "blasted" Jordan Leggett on a short sideline reception again showing closing speed.
– Robby Anderson finally beat Morris Claiborne off the line and beat him on a 30+ yard slant during team period.  It deserves a mention because Claiborne was abusing him earlier in camp.
– With Forte out, Bilal Powell and Elijah McGuire flashed at the RB position.  Powell had a nice inside / out run where he got skinny up the middle then bounced out for 15+ yards.  And McGuire has surprised me with his willingness to run up the middle and not to bounce everything outside.
– After watching Demario Davis his first time around with the Jets I wasn't impressed. I thought he was pedestrian at best, but I'll give him credit for his play so far.  He's been extremely physical, today he blew up Julian Howsare (FB) on a running play that you could hear on the sidelines.  Maybe he'll be better this time around.
– A couple of lesser known players had some "splash" plays today.  Chris Harper (WR) had two circus catches, a 30+ yard one handed catch and a 20+ yard leaping sideline catch both from Bryce Petty.  Corey Lemonier (OLB) had a "sack" of Petty in team periods and during his reps showed good closing speed coming off the edge.
QB's
The offense was more run oriented today so there wasn't a ton of action.
– Josh McCown was probably the most effective QB.  A game manager type of practice with no INT's.
– Bryce Petty also had no INT's and Harper made him look good with those circus catches. But I think he's the #3 QB at best and his reduction in reps reflects that.
– Christian Hackenberg for the first time didn't progress, he threw an INT to Maye during the 1 on 1 period.  He also threw an INT to Dexter McDougle (a deflection as he tried to throw between two DB's).  In his final team period reps he ended on a good note with two nice throws one to Quincy Enunwa and one to Austin Seferian-Jenkins.  Now that he's hit a bump in the road let's see how he recovers on Thursday.
Standouts
– Chris Harper
– Jamal Adams
– Marcus Maye
Concerns
– The blood pressure of John Morton & Dennard Wilson.
Videos
Aaron Rodgers Injury Fallout & Jets/Bills Recap