Position Battles Continue as Jets Prepare for Lions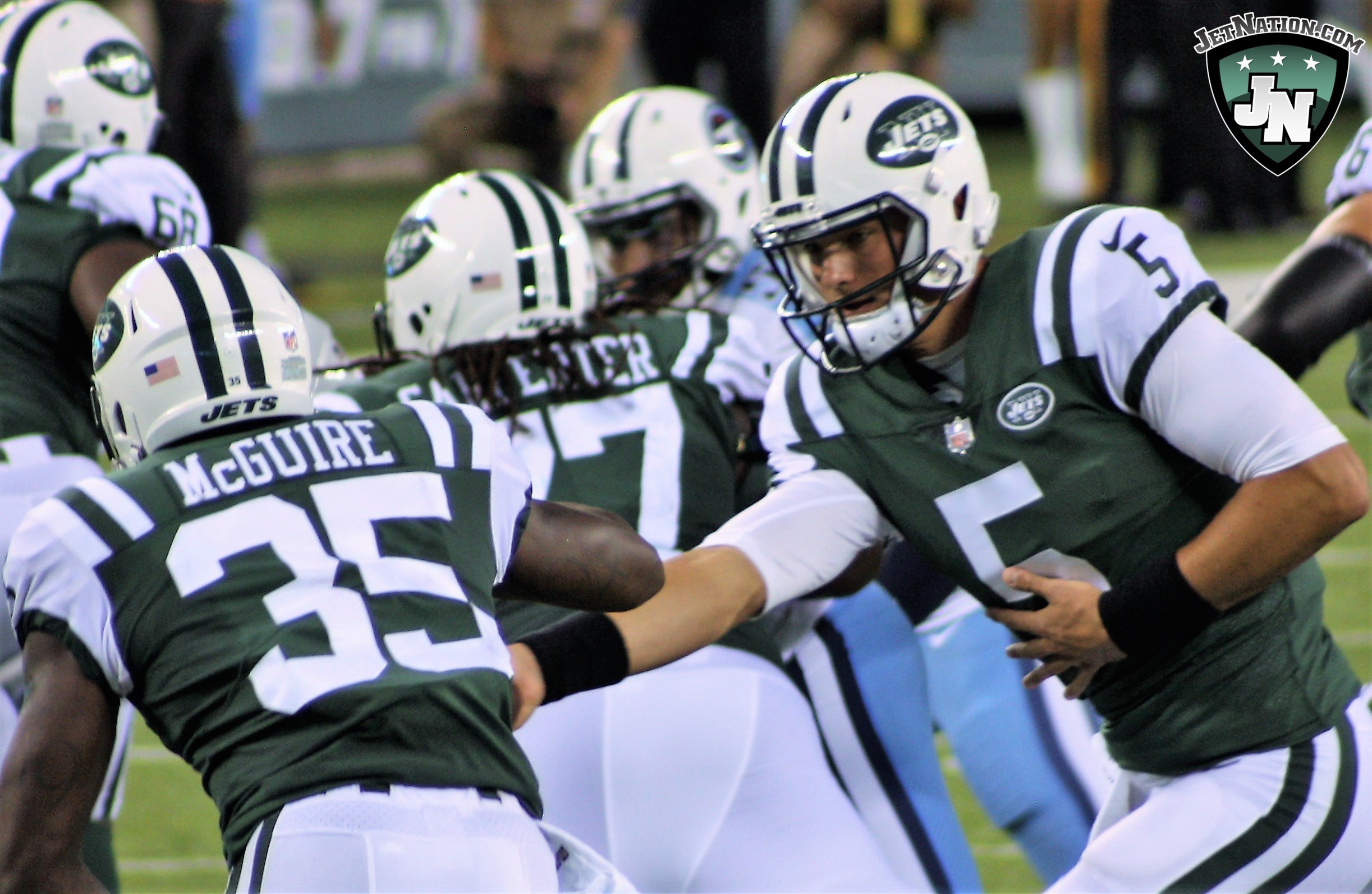 As the New York Jets prepare to take on the Detroit Lions tonight, let's take a look at some key positional battles to keep an eye on, along with young players who will try to build on a strong showing last week.
QB Josh McCown vs. Christian Hackenberg:
McCown played limited reps in week one but looked impressive in leading the Jets to their only touchdown drive.  Barring a few "lights out" performances from Hackenberg, the job appears to be his for the taking.  In Hackenberg, the Jets treated him with kid gloves last week and it may be a lot of the same tonight, but the Jets did spend a good amount of time on the deep ball this week in practice, so even if Hackenberg is mostly conservative, look for him to take a few deep shots down the field.
RT Brent Qvale vs. Brandon Shell
Seeing how few reps Brandon Shell was getting with the first team in Florham Park was one of the more surprising things we've seen over the past couple of weeks.  Shell played well enough last season that many expected him to split reps down the middle, if not get even more than Qvale.  As it turns out, it appears Todd Bowles and company are going to make it an uphill battle for Shell, who pro football focus named as one of their top performers from week one.
C Wesley Johnson vs. Jonnotthan Harrison:
Another surprise development this week in Florham Park was the number of reps we saw free agent addition Jonnotthan Harrison getting with the first team.  With Wesley Johnson being the presumed starter, Bowles did acknowledge during one of his press conferences that this was indeed a position that is up for grabs.  How the two split reps tonight should be interesting.
OLB Josh Martin:
Linebacker Lorenzo Mauldin is on the bench once again with a back injury, which means Martin, Freddie Bishop, Corey Lemonier, Frank Beltre and Dylan Donahue will get to share those reps.  Bishop is set to start tonight, but it was Martin (4 tackles, 1 sack) who stood out last week.  Another strong performance could  really put the heat on Mauldin.
Dexter McDougle:
McDougle is having his best camp as a pro up to this point, and it's not as if the Jets are stacked at the cornerback position.  Todd Bowles would like nothing more than to see another quality effort from a player who has struggled to stay on the field through his first three seasons.
Darryl Roberts: Roberts, who was once seen as a safe bet to make this roster, may be playing himself off of it.  He's has been beaten with great regularity in camp and was beaten badly on a deep ball by the Titans last week.  If Roberts continues to play this poorly, somebody else may end up taking the spot that Roberts held last year.
Anthony Johnson: 
A long shot but one of our favorites to stick with the team this season.  Johnson appears to be slimmed down just a bit and still playing with a great deal of intensity.  He quietly had one of the better performances on the Jets D-line last week. picking up a sack and doing a nice job of shedding blockers in the run game, getting a pair of tackles within yard or two of the line of scrimmage.
WR/PR Frankie Hammond: 
Hammond has had a strong camp and looked good returning punts last week.  With wide receiver Lucky Whitehead out with a broken foot, it's a prime opportunity for Hammond to step up and secure a roster spot if he continues to impress as a return man.
CB Derrick Jones:
Jones flashed several times this week in Florham Park, coming up with several passes defended and an interception during team periods.  A late-round physical freak, Jones is out-performing some of the veterans on the roster at this point, and could stick as a result.
Looking to talk about these position battles, players to watch and more?  Log on to our forums at JetNation.com.
Videos
NY Jets Phase 3 OTAs, Expectations and a Minor Calf Tweak with Greg Renoff