Jets Still Can't Rule out Doubling Down at QB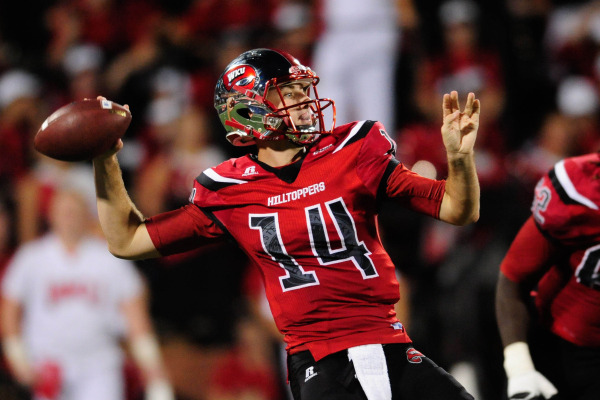 Back in October JetNation.com published this article, highlighting the fact that no matter how Gang Green's season played out, finding a quarterback was always going to be the number one job for General Manager Mike Maccagnan and company.
Of the top three suggestions we made, Maccagnan has already accomplished two (Trade up if necessary and add a veteran) and there's still plenty of time for some of the others to play out, with the most important one being doubling down on a quarterback come draft time.  If ever there was a year to take two quarterbacks, this would be the one.
It was over a year ago when GM's, media types and fans were already talking about USC quarterback Sam Darnold and how he was going to be part of a historically deep quarterback class.  Now, with the draft less than three weeks away, several analysts are projecting up to five quarterbacks being taken in round one, with three or four more slated to go in round 2 and more quality options lingering in rounds 3 and 4..
How do the top QB's in the class stack up against the top prospects of the past three seasons?  NFL.com's Daniel Jeremiah shared his pre-draft rankings of the top 10 QB prospects from 2016-2018 and of the top six, four of them are out of this year's class.  Jeremiah's full list was as follows:
Sam Darnold USC
Carson Wentz NDSU
Josh Rosen UCLA
Jared Goff Cal
Baker Mayfield OU
Josh Allen Wyoming
Deshaun Watson Clemson
Mitch Trubisky NC
Deshone Kizer ND
Paxton Lynch Memphis
In addition to earning four of the top six grades over the past three years, Scouts Inc. released their quarterback rankings for this class and for the first time in 15 years, there are four signal callers with grades above 90.
Sam Darnold, Josh Allen, Josh Rosen and Baker Mayfield all have grades of at least 90 on Scouts Inc., the first time in 15 years that four QBs in same Draft grade that high:

Scouts Inc. QB Grades, 2018
Darnold, USC 94
Allen, WYO 92
Rosen, UCLA 92
Mayfield, OKLA 91

— Adam Schefter (@AdamSchefter) April 5, 2018
It's not just the QB's at the top, though.  There are plenty of names that aren't generating as much buzz, but who have plenty of NFL traits that could lead to successful pro careers.  This sentiment has been echoed by several insiders, and here's how Eric Galko of Optimum Scouting put it:
For all the talk about the top, I haven't felt this confident in the depth of a QB class since the 2012 class.

Mike White, Kyle Laulleta, Chase Litton all quietly have a lot of NFL starting upside. Not to mention Mason Rudolph, Riley Ferguson, others who have NFL teams excited.

— Eric Galko (@OptimumScouting) January 14, 2018
Laulleta seems to have gotten more hype than White and Litton, but when you see them on the field, you can easily envision them having long NFL careers.  As is the case with any draft pick, it's based on the assumption that they continue to develop and grow, and with many of these quarterbacks, the foundation is there.
Taking a moment to look at the Jets quarterback room, here's what they've got on hand:
Josh McCown: Great leader and ideal mentor for whichever quarterback they take third overall.  However, more likely to be a coach than a player in 2019.
Teddy Bridgewater: One huge question mark following a knee injury that kept him off the field for the better part of two years. If he falters in camp, he'll be let go to avoid a $5 million cap hit.
Bryce Petty: Hasn't impressed in limited action, likely on his way out.
Christian Hackenberg: Sources say the team still has some level of faith in his development, but barring unparalleled level of progress, could be gone when camp wraps up.
Joel Stave: Camp body who may not even make it that far.
All told, the Jets have five quarterbacks, four of which are highly unlikely to be around next season, and it's not out of the question to presume none of them will be retained beyond this year.  With that in mind, it may not be as ridiculous as it sounds for the Jets to take a QB on day two or three just as the Redskins did when they took Robert Griffin III at the top of the first round before grabbing Kirk Cousins later on in that same draft.  When all was said and done, it was Griffin III who fizzled out while Cousins went on to be the far better pro player.
A few options for the Jets in the mid to late rounds?
Mike White, Western Kentucky: The ultra productive QB opened up plenty of eyes at the Senior Bowl when he was one of the better QB's on the field.  Depending on whose projections you're looking at, White could go anywhere from round 2 to round 5.  I'd bet on the former.
Luke Falk, Washington State: Falk's arm strength isn't what many would like it to be, but he's viewed as one of the brighter prospects in this draft who has outstanding accuracy.
Kyle Lauletta, Richmond: Like Falk, Lauletta doesn't have great arm strength but impressed scouts at the Senior Bowl.  Currently projected as a fifth round pick by NFL.com.
Chase Litton, Marshall: Litton would likely need more time than the quarterbacks mentioned above, but as a big (6′ 5") strong armed QB who displays good touch at times, Litton will get a shot to develop on somebody's roster.
With all of the focus on which quarterback the Jets should be taking in the first round of an incredibly deep class, are the Jets thinking about hedging their bets in the middle to late rounds?  If they aren't, they should be.
Videos
New York Jets OTA Presser Takeaways, Aaron Rodgers' Impact and Summer Delusion