#JetsCamp Notes: Day One 07/27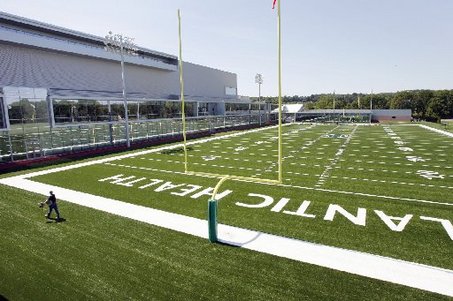 General Notes
– Players in shorts & shells
– With rain & lightning in the forecast practice was held indoors
– Practice ran 2 hours and 40 minutes
– Excluding Sam Darnold and his contract nonsense the only player who didn't participate was Courtney Upshaw
– The players auditioning for the returner spots are Andre Roberts, Lucky Whitehead, Elijah McGuire and Trenton Cannon
– Good first impression by Taylor Bertolet (K) a UDFA.  He showed a strong leg and good accuracy up to 55 yards.  Cairo Santos may have a legitimate battle on his hands.
– Impressive weight loss by Todd Bowles
Player Notes
– Terrelle Pryor participated in the first half of practice and hopefully he was working the rust off.  Because I wasn't impressed with his footwork in and out of his routes.
– Very impressive first showing by Avery Williamson.  Very good diagnosing plays and extremely quick to the ball to stop gains for little or no yardage.
– Jamal Adams with an excellent practice in all areas coverage, blitzing and run support.
– Nathan Shepherd started off slow but as practice went along he made plays stuffing runs and showed a strong bull rush when pushing the pocket.
– Dylan Donahue made an appearance after his offseason troubles.  He showed good bend and swivel coming off the edge.  And in run support he showed good discipline by staying home and getting a couple of TFL's.
– Kevin Pierre-Louis (ILB) displayed excellent speed in coverage as he was able to stay in coverage against WR's 15-20 yards down the field.
– The stars of the day were the OLine and the zone blocking scheme Rick Dennison (OLine coach) installed.  It's only the first day but they got whatever they wanted when they ran the standard "stretch" play.  There was excellent chemistry/timing between the RB's and the OLine.  Spencer Long showed good movement skills in space and the ability to "re-anchor" his feet if a DLineman had him off balance.
QB
– Josh McCown was his normal self, high completion % and efficient.  Nothing sexy just moving the
sticks and keeping the energy up in practice.
– Teddy Bridgewater was also efficient but his ball placement was off and his vertical throws were a little short.  Maybe he was working the rust off after two years of not playing.  He had the "sexiest" play of the day when he hit Ardarius Stewart on a 25+ yard out pattern over tight coverage.
Keep An Eye On
– Jeremy Clark the CB out of Michigan who was recovering from ACL surgery last year.  Prototype size for a "long CB" and the footwork of a smaller player.
– I expected Trenton Cannon (RB) to be used in a much smaller role but he really impressed out of the backfield.  Electric speed hitting the hole and not scared of running in between the tackles.
– Excellent job by Jeremy Bates and the offensive coaching staff as you can clearly see that they are crafting the offense to take advantage on Darnold's mobility.
Concerns
– DLine must do a better job against zone blocking schemes
– A few too many penalties
– Darnold's contract needs to get done
Standouts
– OLine
– Trenton Cannon
– Avery Williamson
– Jamal Adams
Be sure to visit our forums to read more about KRL's camp notes.
Videos
Aaron Rodgers Injury Fallout & Jets/Bills Recap