Jets Camp Position Preview: Running Backs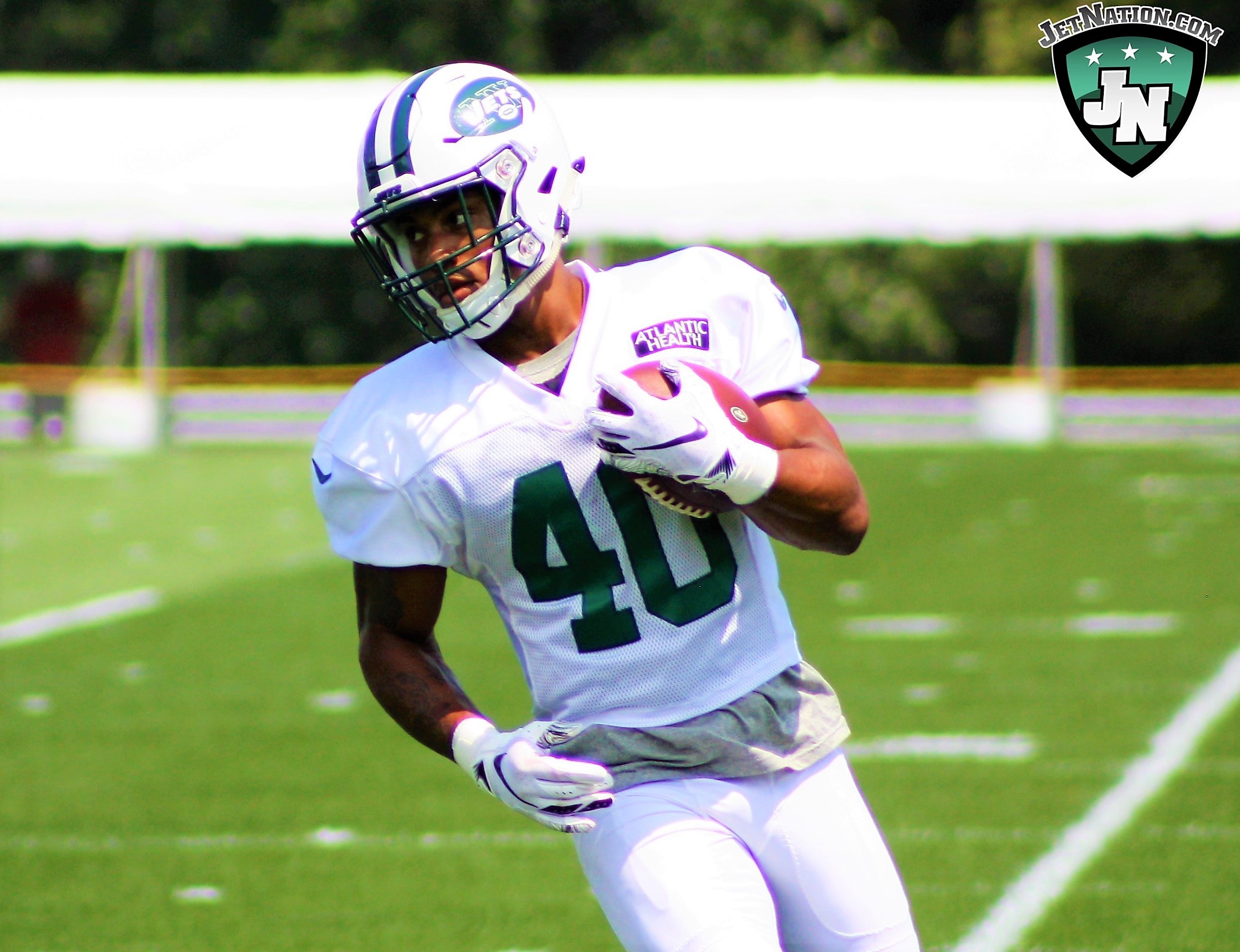 As the fourth day of training camp wraps up, one position of interest has been at Running Back. Certainly the Elijah McGuire injury has shaken things up at 1 Jets Drive as NFL insider Adam Schefter reported that McGuire will be out 3-6 weeks after having surgery on his fractured foot. McGuire, whom Stump Mitchell compared to Ladanian Tomlinson earlier this off-season will have to sit back the rest of camp and see which running backs will perform.
Trenton Cannon:
JetNation.com made the trip down to 1 Jets Drive on Sunday to peek under the hood, and the running backs impressed. Most notably, Trenton Cannon's speed was impossible to miss as he continued to break multiple big runs on multiple stretch plays. Cannon could end up as the 4th back on the depth chart if he shows improvement returning kicks and punts. The Jets have struggled immensely finding a return specialist, and Cannon has the an opportunity to lock up a roster spot here. Given his speed, and how packed the Running Back position is for the Jets, Cannon's speed could set him apart as a kick and punt returner in the 2018 season.
Isaiah Crowell:
Crowell rans extremely well between the tackles and  should be the lead back for the Jets in 2018.  He was signed as a free agent after a pair of productive seasons in Cleveland despite having to work with what was arguably the worst quarterback situation in the NFL.
Bilal Powell:
Powell ran well this Sunday, but didn't look as impressive Crowell or Cannon.  He did have a couple of touchdowns in during the team period, but with Crowell on the Roster, McGuire expected back early in the year and the possible emergence of Cannon, don't be surprised if Powell sees his touches drop this season.
Thomas Rawls:
Rawls caught Todd Bowles' eye in the first few days of camp, prompting him to say, "Obviously Rawls has been a heck of a player in Seattle and he came in the spring and he made an impression. He works hard, he has a great personality, he is very smart and he loves the game. Those are the types of players you like to coach. We just have to see him with the pads on and see how he progresses." Rawls has a history of injuries, but his main concern right now has to be ball security after fumbles on consecutive practices.
In the end, an efficient and disciplined running game is what the Jets are building toward, and this versatile group will go a long way in making that happen . As of now, if Crowell and Powell are likely to get the lions share of carries. If  Cannon explosiveness carries over in to games, he could find himself as the Jets return specialist. Rawls may back up Crowell, and Powell if McGuire isn't ready when the season starts.
Videos
Aaron Rodgers Injury Fallout & Jets/Bills Recap