Darnold Sloppy Outside of Red Zone as DB's Shine in Camp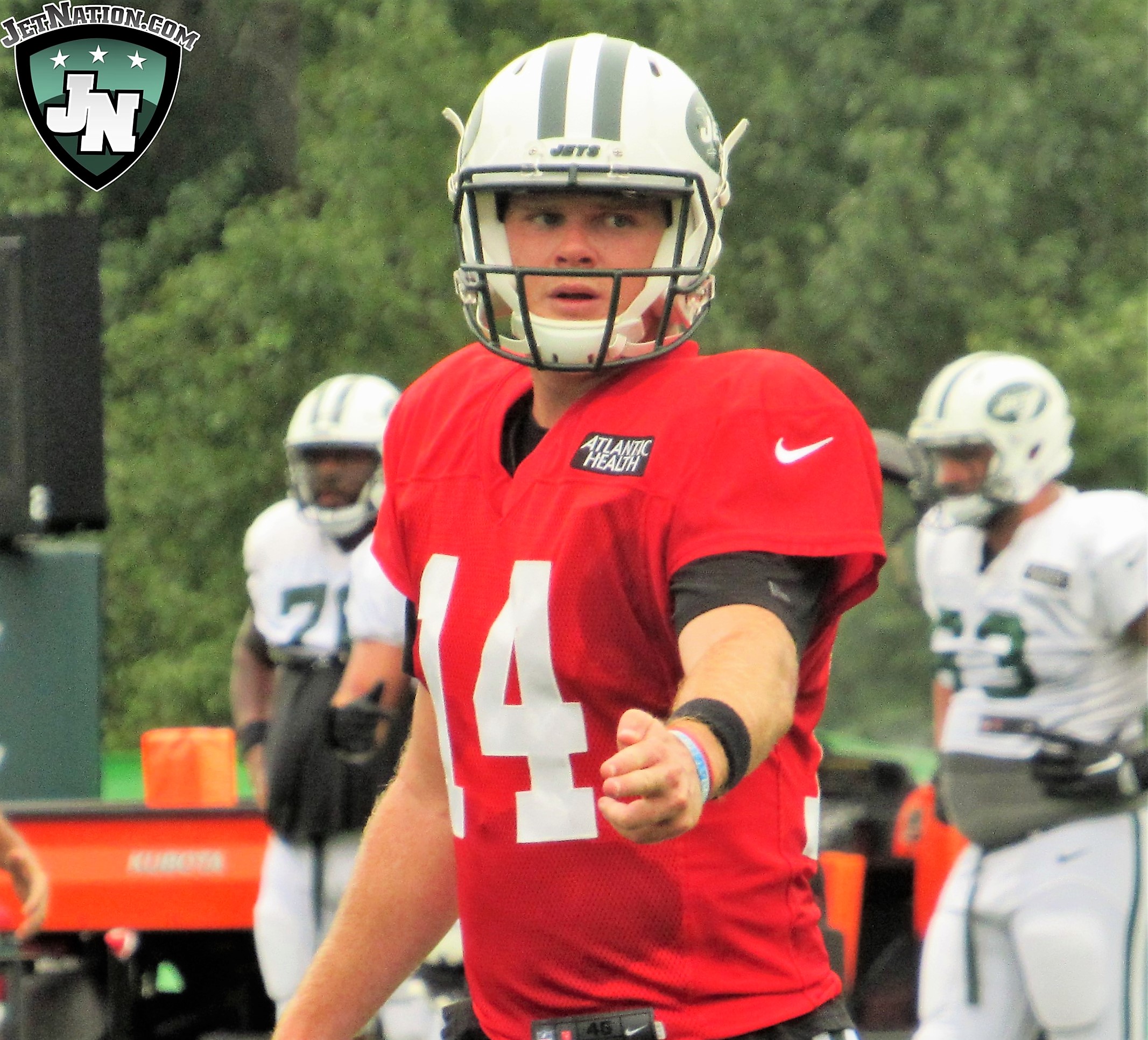 It wasn't quite as warm out at Florham Park on Tuesday as it was the previous day, but the Jets defense was certainly making the quarterbacks feel the heat.  Outside of the red zone, rookie quarterback Sam Darnold had some struggles and back-up safety JJ Wilcox was the sole beneficiary.
Wilcox picked Darnold off twice.  Once on an overthrown ball that he ran back for a TD, and another where the opposite occurred as Darnold under-threw Robby Anderson, allowing Wilcox to undercut the route and come away with his second pick of the day.
In the red zone however, where Darnold has often looked his best, he tossed another four touchdowns with one being what was arguable the best play of training camp up to this point.  On a ball that Darnold lofted toward the right corner of the end zone, wide receiver Terrelle Pryor used every inch of his 31" vertical and fully extended his right arm to pull the ball in on a jaw-dropping one-handed grab.
How else did things go in Florham Park on Tuesday?  Here are a few notes:
Fans who were concerned about the injury suffered by Trenton Cannon yesterday can rest easy.  He looked to be running at full speed throughout practice.
Teddy Bridgewater threw his first interception in team periods to Terrence Brooks who continues his strong camp.
Tre McBride made an impressive TD grab from Darnold in the red zone when he was fully extended and snatched the quick pass out of the air with his fingertips.
Matched up one-on-one with Robby Anderson, Derrick Jones broke up a pass attempt from Darnold when he timed a jump ball perfectly and batted it away.
Another quiet day for Chad Hansen who, aside from the odd play, hasn't done much at all.
Working with the 2's and 3's, Lorenzo Mauldin isn't doing as much as you'd expect for a player who was expected to win a starting job last season.
Another Doug Middleton sighting as he continues to show he belongs.  Could be another UDFA steal for this regime who fell off the map when he spent last season on IR.
Neville Hewitt made several plays today.  As we mentioned earlier today, this team has some significant depth at several spots.  Hewitt is part of that and will be a tough cut if he keeps showing up like he did today.
Avery Williamson very nearly had what would have been a third interception off of Darnold in the middle of the field but just didn't hold on to a gimme' interception.
Lots of bodies filing in and out at right guard today.  Brian Winters, Ben Braden and Jonotthan Harrison all got reps.
Just one more practice before Friday nights pre-season opener against the Falcons tomorrow.  If it's just a walk-through, there won't be much to report, but with a day off before the game, maybe the Jets run a normal practice?  We shall see.
Videos
Aaron Rodgers Injury Fallout & Jets/Bills Recap