Darnold's Poise not Reflected Among Jets Faithful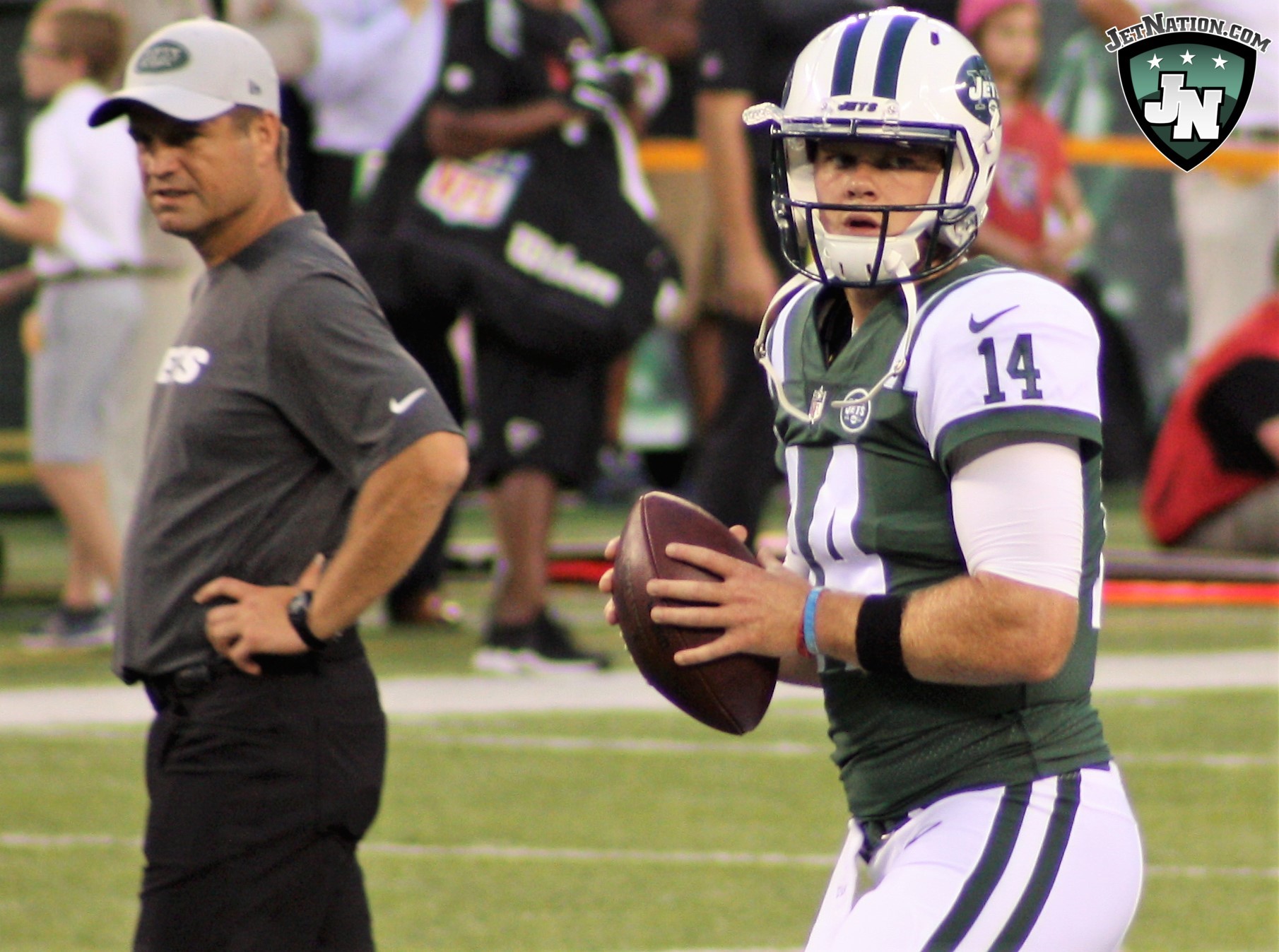 Sam Darnold is composed.  Jets fans?  Not so much.  Having played fewer than three quarters of pre-season NFL football as a rookie quarterback out of the University of Southern California, and despite an off-season of hearing the words "patience" and "don't overreact" uttered countless times by Jets fans, the poise displayed by Darnold has had the opposite effect on the Gang Green faithful.  And in all honesty, who can blame them?
Starved for a franchise quarterback since the days of Joe Namath, Jets fans weren't just treated to an impressive debut from Darnold against the Atlanta Falcons in the team's 17-0 vicotry, but it was the way Darnold went about his business that has fans hoping he's under center when the season kicks off.
It wasn't Mark Sanchez locking on to a single target and following his receiver for the duration of a route before firing an interception.  It was far from it.  On several plays, Darnold was seen coming away from his primary receiver, then moving on from his second before completing a pass to his third option, staying calm, cool and collected the whole time.
Nor was it Geno Smith sensing pressure up the middle and high-tailing it away from the line of scrimmage for a sack and a loss of yardage on the play.  Instead, it was Darnold, calmly keeping his eyes down the field, sensing pressure, and then moving within and outside the pocket to pick up a few yards with his legs, or to complete a pass to a receiver who had come open during the scramble with a defender bearing down on him.
Outside of a few fringe lunatic fans, the commentary on Darnold's play has been effusively positive, with some of the game's better x's and o's people breaking down some of his more impressive plays.
Prior Planning Prevents Pi$$ Poor Performance-Sam Darnold NOT PLAYING LIKE A ROOKIE. Have a plan for what the D is giving you-next levers stuff by the young QB. @nyjets @RichCimini @BrianCoz @GangGreenNation #NYJets pic.twitter.com/OaV5KOHt7c

— Dan Orlovsky (@danorlovsky7) August 13, 2018
How did Sam Darnold look in his #NFLPreseason debut? @BaldyNFL breaks down the @nyjets rookie QB's performance pic.twitter.com/d5XenfUg3b

— NFL Network (@nflnetwork) August 14, 2018
So in just 2 1/2 quarters, the quarterback who turned 21 only a couple of months ago, is showing more positive attributes at the position than the last two quarterbacks were able to show even after having spent several seasons entrenched as the team's starter.
Just how things will pan out for Darnold are a complete unknown at this point, but nobody in their right mind could blame Jets fans for being excited about the (very) early returns.  Will it continue this week against the Redskins where it looks as if Darnold could get the starting nod?  We'll know soon enough, and if it's another stellar outing, we know the calls from an excited fan base to start Darnold in week 1 will only get louder.  As they should.
Videos
NY Jets OTA Recap; Robert Saleh Cancels Minicamp