Darnold Starts; Jets Lose as Offense Stalls Behind Patchwork O-line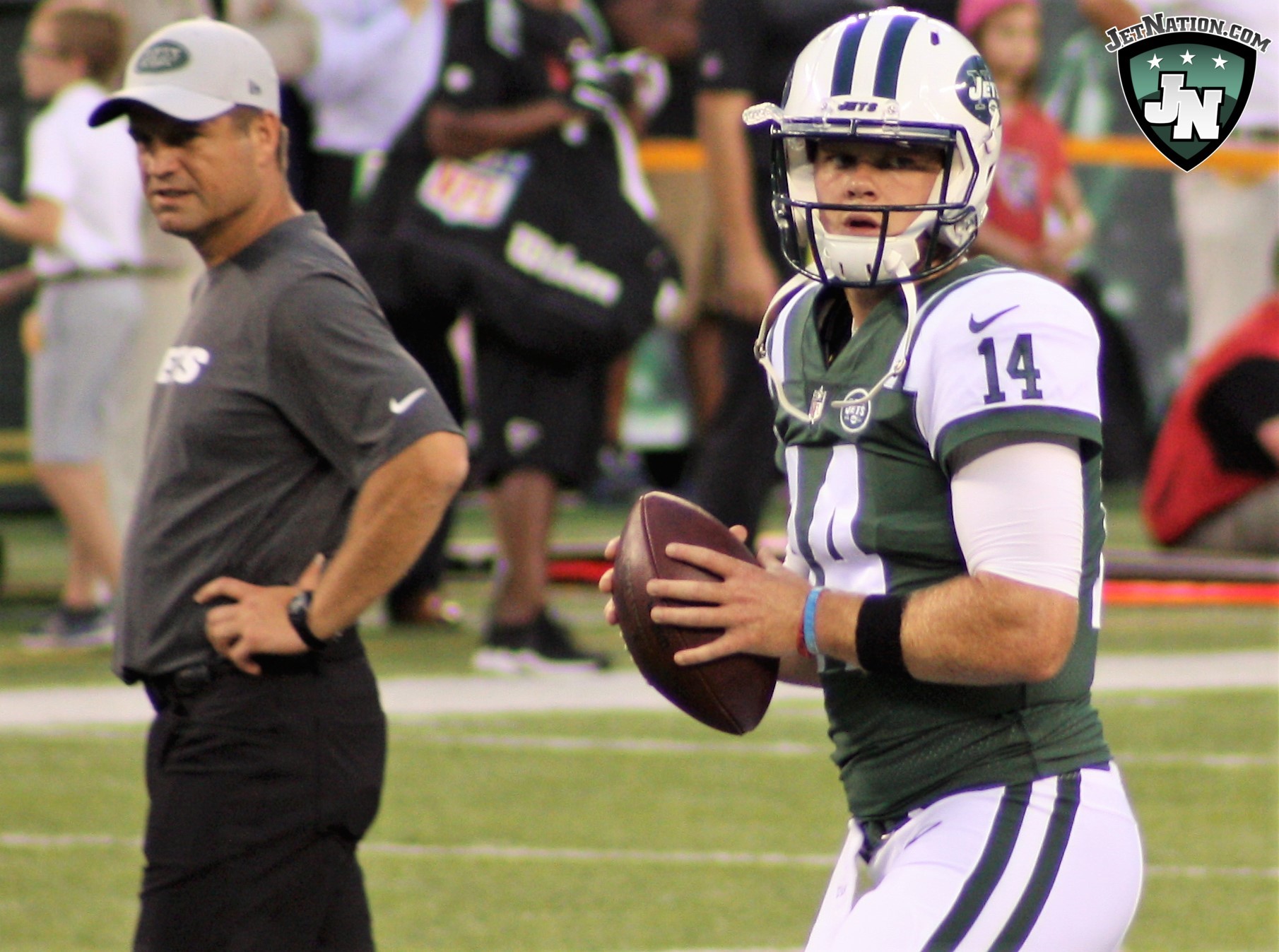 Prior to their week two preseason meeting with the Washington Redskins, the anxiety level among Jets fans was palpable as their prized possession, quarterback Sam Darnold, was going to be lining up behind an offensive line whose starting left tackle and right guard would be on the shelf with left guard James Carpenter trying to bounce back from an atrocious 2017.  While Gang Green's pass protection wasn't nearly as bad as some feared, it was the Jets run blocking that couldn't get any movement up front.
In his first start of the preseason, Darnold was pressured early on as he was forced to throw one ball away under duress just before taking a sack on his first series that didn't produce any points.  On his second drive, with offensive coordinator Jeremy Bates calling for several quick passes and rollouts, Darnold made a pair of high quality throws to Tre McBride on a couple of third downs to keep the drive alive.  The Jets would eventually stall in the red zone when Darnold was sacked, this time of the coverage variety as he had plenty of time, when the Jets had the ball at Washington's 13.
On his final drive, the Jets had excellent starting field position at their own 46 following a Doug Middleton interception on a ball that went in and out of the hands of receiver Cam Sims, but it ended with Darnold's first interception of the preseason.  On 4th-and-1, Darnold looked to be gunning for wide receiver Jermaine Kearse on a ball that was batted in the air before being picked off by fellow rookie, Troy Apke.
When all was said and done for Darnold, he finished the night 8-11 for 62 yards and an interception.  The sacks he took were due to either protection breakdowns or excellent coverage from the Redskins secondary.  All in all, not a bad outing for Darnold.
Teddy Bridgewater came on to play the second half and outplayed Darnold, likely boosting his trade value if Mike Maccagnan looks to move him to add some draft choices for 2019.  Bridgewater's best throw came on a 17-yard scoring strike to Charone Peake who made an outstanding leaping grab in the end zone.  Bridgewater would finish up 10-15 for 127 yards with the Peake TD pass and an interception.
No matter who was under center, there wasn't much going on for the Jets ground game.  Running back George Atkinson had a late 18-yard run to pad the Jets average on the ground but there was no hiding the fact that Bilal Powell was held to just 17 yards on six carries as the Jets would total just 64 yards on 22 attempts, an average of 2.9 yards per carry.
Despite taking a 13-12 lead with just 1:54 left, the Redskins got themselves in field goal range with just four seconds remaining before Dustin Hopkins hit the game-winner as time expired.
Videos
NY Jets Phase 3 OTAs, Expectations and a Minor Calf Tweak with Greg Renoff