Think the Jets O-line is Among NFL's Worst? Think Again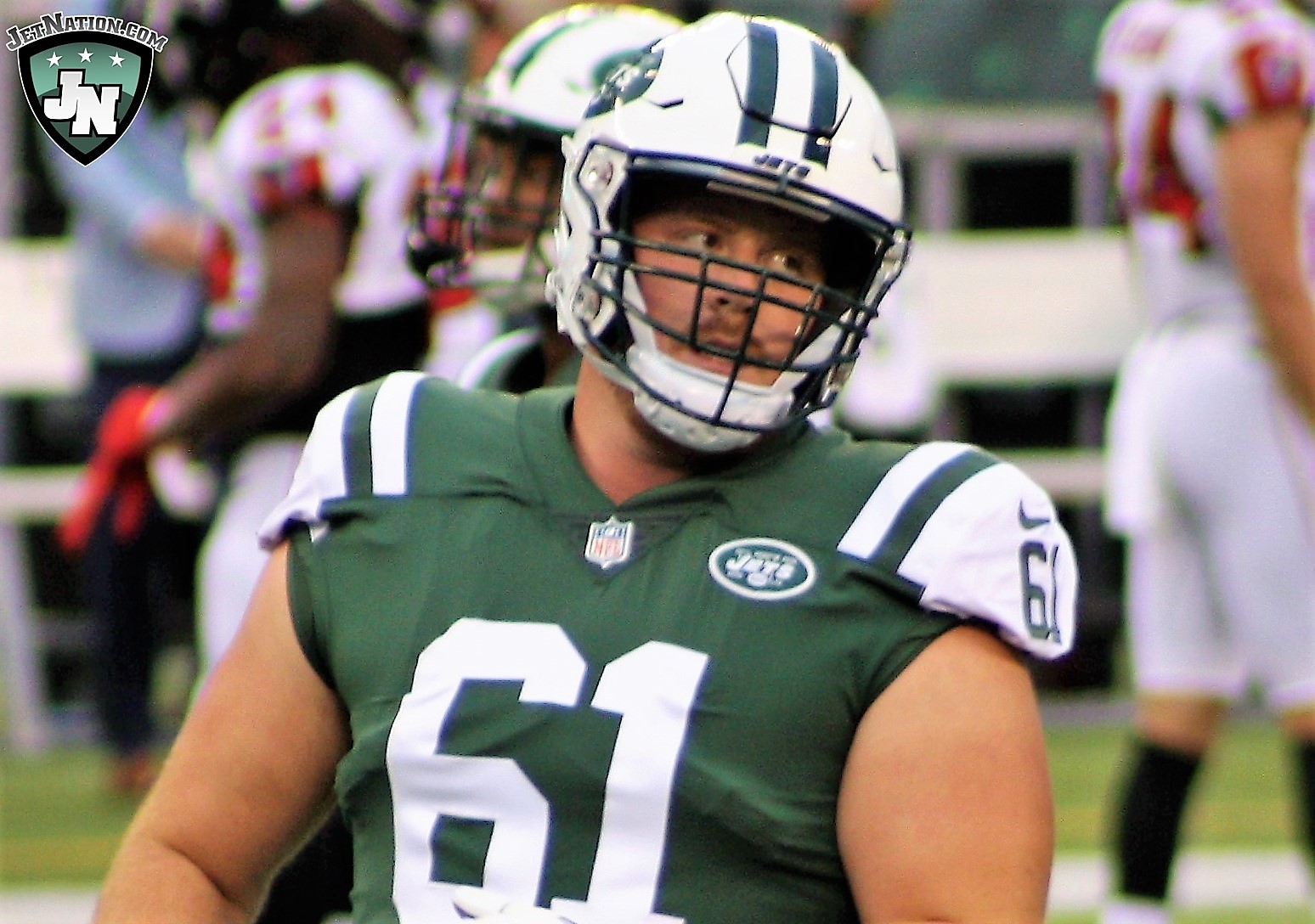 If you hadn't watched a single snap of Jets football through their first three games of the 2018 season and you'd only judged the team's offensive line by fan reaction, you'd probably think about sending flowers to Sam Darnold's hospital bedside with a "get well soon" card.
Despite parroting cries of Darnold "getting killed back there" and "running for his life", a simple look at a bit of game film along with several NFL performance tracking sites, you'd find that the Jets offensive line has been right about where we said they'd be before the season started.  Not terrible.  Not great.  Just about middle of the pack.  They're a group that will have a handful of good days with a few clunkers mixed in.
Following last week's loss to the Cleveland Browns, countless fans could be heard absolving Darnold for his poor performance, claiming he had "no time to throw" and that his receivers weren't getting open while the game plan was ultra conservative (both claims also false).
In going back to look at the film, a few things jumped out at us, so we went back and took a look to see what other sites were saying about the Jets against the Browns and on the season as a whole.
Against the Browns, Darnold dropped back to pass 33 times.  By our count, on 20 of those pass attempts, Darnold had 2.5 seconds or more to get rid of the ball, plenty of time by NFL standards.  In looking at the analysis from pro football focus, Darnold had 33 drop-backs and was pressured 12 times, meaning they had him with 21 snaps on which he had ample time to throw.  Of the 12 pressures Darnold faced, just eight of them were attributed to offensive linemen.
In looking to take advantage of his ability to throw on the move, offensive coordinator Jeremy Bates has dialled up plenty of rollouts to both the left and right.  Against Cleveland, we counted 8 designed rollouts.  If not by design, they were plays on which Darnold left the pocket prematurely.  Any way you slice it, that removes 8 plays on which offensive linemen were asked to block for Darnold on a direct drop-back, meaning there were roughly 25 plays in which Darnold needed time in the pocket.  Going off of our numbers or pro football focus, it means Darnold had a clean pocket on at least 20 of his 25 throws from the pocket.
Does this mean the walls weren't closing in or that pressure wasn't far behind?  Certainly not, but it does mean there was time for a throw to be made.  Are we off by a pressure or two, or even three?  Is PFF off by a few pressures?  Perhaps, but even if that were the case, Darnold still had time to throw far more often than not.
In looking at the offensive line's blocking on the season, the Jets have fared far better than more than a dozen other NFL teams according to footballoutsiders, PFF and NFL Next Gen stats.
Footballoutsiders.com ranks the Jets pass blocking 17th in the NFL, but one flaw in their analysis is that it would appear they don't take in to account how long a quarterback has to get rid of the ball before being sacked, something that pro football focus does do.  PFF ranks the Jets slightly higher than FootballOutsiders at 14th in the NFL after three weeks.
NFL's NextGen Stats also tracks the amount of time a quarterback has to throw from the time the ball is snapped.  According to their data, only four other quaterbacks have had more time to throw than Darnold as he ranks fifth in the NFL.  Of course the number of roll-outs the Jets have run will impact that number, but those plays have also been somewhat offset when looking at how frequently the Jets have run quick screens to get the ball out of Darnold's hands in a hurry.  On those plays, the ball is coming out in under a second in some instances.
In terms of run blocking, PFF ranks the Jets 14th again, with football outsiders placing them even lower at 24th.  Even with the low-end ranking from FO, the Jets are one of just two teams with a pair of running backs in the top  20 in yards per carry in Bilal Powell and Isaiah Crowell who both sit at exactly 4.5 yards per attempt after three weeks.
On the season, the Jets offensive line has allowed 27 quarterback pressures, which breaks down to nine pressures per game.  Not great, but not terrible.  If you want terrible, look at the Texans, Cardinals and Chargers whose offensive linemen have given up 54, 47 and 41 pressures respectively.
Perhaps it's because so many expected so little from the offensive line this season so they're seeing what they told themselves they'd see.  Maybe it's a failure to understand that a designed rollout with trailing defenders isn't the result of an offensive lineman getting beat, but a designed play unfolding.  Whatever the reason, there is a clear disconnect between the perception of many fans when compared to football reality.
Will these rankings remain the same after facing one of the best defenses in the NFL on Sunday in Jacksonville?  Highly unlikely, but as the season unfolds, the Jets will likely be closer to the middle of the pack than the bottom of the barrel.
Videos
Aaron Rodgers Injury Fallout & Jets/Bills Recap