Jets Final Roster Report Card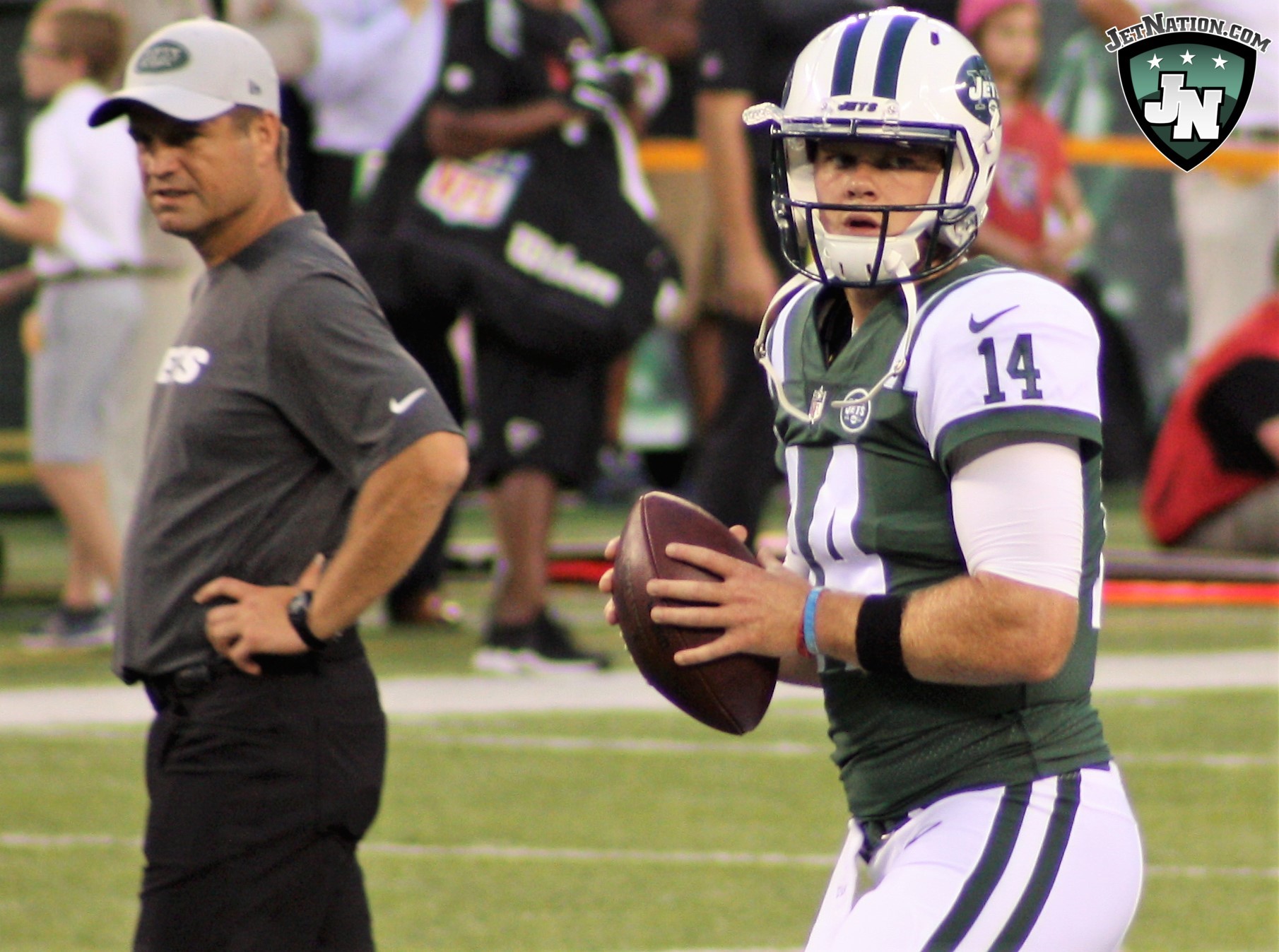 Well, the 2018 season is in the books.  Todd Bowles has been shown the door after a disastrous 4-12 season and there are plenty of decisions to be made once his replacement has been found.  Mike Maccagnan is going to be retained and will be heavily involved in selecting the team's new head coach.  As for the players, how did they grade out from top to bottom?  Here's a look at the key names still on the 53-man roster for now and how they graded out this season and what the future may hold.  Some are pending free agents who could be brought back and others are under contract for the 2019 season.
Quarterbacks:
Sam Darnold: B
All things considered, this thing went just about how fans had hoped in terms of realistic expectations.  There were some struggles early on, but after missing a few games with a foot injury, Darnold came back over the season's last four weeks and looked like a new man.  After throwing 11 touchdowns to 14 interceptions in his first nine starts, Darnold would throw six TD's and just one interception in weeks 14-17.  After nearly fifty years, the Jets have their quarterback.
Josh McCown: C-
McCown was terrible on the field this season, but earned high praise from Darnold in terms of having a veteran to watch and learn from as the season progressed. McCown has hinted at playing next season but the Jets would be wise to try to talk him in to a coaching gig.  If not, $1 million to be the team's second or third QB sounds reasonable.
Josh McCown says he hasn't made a decision on his future. Said he'll decide with his family in the coming weeks. "I'm not ruling anything out." #Jets

— Andy Vasquez (@andy_vasquez) December 31, 2018
Davis Webb: Incomplete
Webb didn't see any regular season snaps but the Jets could do with a developmental back-up QB.  If Webb will sign to audition next preseason, then go for it.
Running Backs:
Isaiah Crowell: D
Crowell averaged the most misleading 4.8 yards per carry you'll ever see.  His week five performance that saw him average 14.6 yards per carry boosted that number tremendously.  Minus that one contest, Crowell averaged 3.6 yards per carry but that's largely on the Jets being one of the league's worst run blocking O-lines.  Due to count for $5 million against the salary cap next season, cutting ties with Crowell would result in a cap savings of $3 million with $2 million becoming dead money according to overthecap.com.  Perhaps a savings of $3 million could go toward any free agent running backs who might be available, and yes, we're looking at you Le'Veon Bell.
Eli McGuire: C-
McGuire did a very good job of catching the ball out of the backfield but again, with such poor run blocking up front, had no real chance to show what he could do on the ground.  He'll have a shot to stick again next year when there will hopefully be better run blockers up front.  Has flashed the ability to run it, catch it and pick up the blitz, a nice all-around back who could be a solid no. 2 behind the aforementioned Bell.
Trenton Cannon: D
Cannon played sparingly and didn't do a whole lot, but his blazing speed jumps out on film just as it did in training camp.  He's a project player out of a small school, but his attributes make him a player worth working with for another year or two as he could be something special.  His excellent coverage on special teams makes him an asset while they develop his game as a running back.  Cannon would greatly enhance his chances moving forward if he were to dedicate himself to handling punts this offseason.
Bilal Powell: Incomplete
Powell has likely played his final game as a Jet after being placed on IR early in the season with a neck injury.
Wide Receivers:
Robby Anderson: C+
Anderson missed some time with an injury and wasn't heavily targeted in Jeremy Bates' offense early in the season.  Once Bates realized Anderson could play, we saw a dramatically expanded route tree from Anderson and some impressive numbers down the stretch.  A restricted free agent after the season, the Jets will have to decide what level tender to place on Anderson if he's not going to be given a long-term deal.  Anderson quietly put up 752 yards and six touchdowns on 50 receptions.
Quincy Enunwa: C
Enunwa was locked up with a four-year deal and looks to shake the injury bug moving forward.  Enunwa missed a couple of games earlier in the year and was then kept out of the team's final two games with an injury that he may have played through had the games been meaningful.  Enunwa clearly built a strong rapport with Darnold early on.
Jermaine Kearse: F
A huge letdown this season from Kearse as he went from a career year in 2017 (65/8105) to his worst in 2018 (37/371/1).  The Jets will have to decide which version of Kearse they believe is the real one of they're going to consider bringing him back next season.  Was it the breakout player of '17, or the frustrated under-performing player in 2018 who has since acknowledged that he felt as if his role in the offense was an afterthought under Jeremy Bates?
Deontay Burnett: Incomplete
Not enough reps for Burnett to give him a grade, but after spending most of the season riding the bench, he showed that his familiarity with Sam Darnold could be an asset as he showed great hands in limited reps, ending the season with a 5 catch 73 yard performance.  Should be an ideal slot receiver moving forward.
Tight Ends:
Chris Herndon: B
Herndon was one of the better rookie tight ends in the NFL this season and his emergence was a grim reminder of just how bad the Jets have been at the position for much of the past few decades.  After just one season, Herndon already looks like he can be one of the best tight ends to wear Green and White.  He finished the season with 39 receptions for 502 yards and 4 touchdowns while showing he can be a quality blocker as well.
Jordan Leggett: C-
We were tempted to give Leggett an "incomplete", but just because he was rarely targeted doesn't mean he didn't see the field enough to earn a grade.  Leggett was far more effective as a run blocker than most expected and although rarely targeted, he caught just about everything that came his way.  With a new coaching staff, here's to hoping Leggett gets a chance to form a nice 1-2 punch with Herndon.
Eric Tomlinson: F
Tomlinson had his worst season as a pro.  He was retained on the roster as a blocking tight end and he wasn't very good in that are at all.  A return next season is unlikely.
Clive Walford: Incomplete
Walford was cut by the Jets before the start of the season and returned for week 17 after Tomlinson was placed on IR.  He makes this list only because he's a player who should be invited to camp next year and given a chance to win a roster spot.
Offensive Line:
Kelvin Beachum: C
Beachum is what he is.  A mid-level left tackle who will get beat from time to time, but isn't the liability some seem to believe he is.  His presence may lead the Jets to pass on a left tackle in round one of the draft to go with an edge rusher, but being far from dominant, the Jets may look to take Beachum's replacement when draft time rolls around.
Specner Long: D
Long was supposed to be an upgrade over Wesley Johnson at center which he was until a finger injury led to over a dozen wild snaps out of the shotgun formation forcing him to left guard when James Carpenter went on IR.  Long had played well at guard earlier in his career with the Redskins, but was mediocre at best with the Jets this season.  Should be back to compete for a spot next year.
Brian Winters: C-
As is the case with the rest of the Jets offensive line, Winters is a better pass blocker than run blocker.  He's an inconsistent player who dominates at times but struggles at others.  Could be back again next season and while he could be upgraded, you could do a lot worse.
Brandon Shell: C
Shell has settled in nicely as a decent starting right tackle, but the Jets would probably like somebody with a bit more of a mean streak in his spot.  With a need at left guard, center and possibly grabbing a left tackle, Shell is likely the starting right tackle again next season.
Brent Qvale: D
Qvale is what he is.  A fill in along the O-line who can play some guard and some tackle.  Given the state of offensive lines around the league, he may be brought back again next season.
Dakota Dozier: D+
Same as Qvale, Dozier is a guy who has shown he can fill in from time to time.  Not a lock to return, but not a bad backup.
Ben Braden: Incomplete
Undrafted free agent last season who was added to the active roster this year.  Will likely be back to compete for a backup spot in 2019.
Defensive Line:
Leonard Williams:  C+
Whoever takes over for Todd Bowles should have plenty to say about the future of Williams.  A player who was regarded as the best player in the draft when he was chosen and a Pro Bowl alternate in his second pro season, Williams has regressed in Todd Bowles' scheme.  On paper he isn't worth the $14 million he's due to make.  If the new staff feels they can get him back to a Pro Bowl or near Pro Bowl level, it would be a welcome development.
Henry Anderson: B
A draft day deal that landed Anderson for a 7th round pick turned out to be a heist.  Anderson was strong against the run in 2018 and finished the season with a career high 7 sacks.  He should be an in-house priority in free agency.
Steve McLendon: B
Forever overlooked and easily the most underrated player on the Jets roster, McLendon graded out as one of the Jets top defenders per PFF at 78.5.  Getting a bit long in the tooth could mean McLendon is sent packing, but his work during his time with the Jets was undoubtedly two things; Fantastic and underappreciated.
#Jets top 5 graded defensive players from this season (min. 450 snaps):

1. Jamal Adams- 89.7
2. Steve McLendon- 78.5
3. Leonard Williams- 78.2
4. Henry Anderson- 76.5
5. Trumaine Johnson- 74.9#JetUp

— PFF NY Jets (@PFF_Jets) January 4, 2019
Nathan Shepherd: F
Shepherd was expected to struggle as a player coming from a small school, but despite appearing to progress at times, he was largely invisible as a rookie, finishing the season with just 15 tackles, 1 TFL and 5 quarterback hits.
Mike Pennel: B-
Pennel only plays about a quarter of the Jets snaps, but he's very good at what he does in the middle of the defensive line.  His role in the future could be determined by what type of scheme the Jets new coach opts to go with.
Folorunso Fatukasi: Incomplete
Fatukasi played just three snaps as a rookie, but the incredibly strong lineman was likely brought in for a year of mentoring with a chance to take McLendon's job in 2019.
Linebackers:
Avery Williamson: B
In his first season as a Jet, Williamson did an excellent job in the middle of the defense, finishing with a career high 120 tackles, 3 sacks, 2 forced fumbles and a fumble recovery.
Darron Lee: B-
Lee was still inconsistent against the run but against the pass, the primary reason he was drafted, Lee was one of the league's best defenders, picking off three passes and returning one for a touchdown.  Unfortunately for Lee, much of that is negated by the fact that he earned a late season suspension for violating the league's substance abuse (not PED) policy.
Neville Hewitt: C-
Hewitt filled in for Darron Lee in the season's final four weeks and showed himself to be an adequate depth option.  Should be back next season.
Kevin Pierre-Louis: Incomplete
Pierre-Louis spent much of 2019 on the sideline due to injury, but given his level of play when he was on the field, Pierre-Louis is another player who should be back next season.
Anthony Wint: Incomplete
An undrafted rookie free agent, Wint has some support at 1 Jets drive and will likely be back for another audition next season.
Jordan Jenkins: C+
Jenkins registered a career high 7 sacks but looked to take a step back against the run.  All things considered, it was  a solid year for Jenkins, but if he can put it all together in 2019 against the run and the pass, he could be setting himself up for a big pay-day.
Brandon Copeland: C
Copeland was a surprise contributor in 2019, logging a career high 5 sacks as a part-time player after picking up just a half sack in his previous two injury plagued seasons.  Copeland should find himself back with the Jets next year.
Frankie Luvu: C-
Another undrafted free agent, Luvu saw his playing time increase as the season progressed and showed flashes in getting pressure on opposing quarterbacks.  Luvu plays with a non-stop motor that led him to 3 sacks and 11 QB hits as a part-time player.
Josh Martin: Incomplete
Martin spent most of the season on IR but should be back next season as a special teams ace and situational pass rusher.
Secondary:
Jamal Adams: A
Adams is clearly the Jets best player at this point.  He'll be heading to the pro bowl and was second-team All-Pro after a season in which he was used at slot corner, boundary corner, free safety, strong safety and linebacker.  Adams is an invaluable chess piece who, with the right coaching staff, could be one of the more impactful defensive players in the NFL.
Marcus Maye: Incomplete
Maye played in just six games due to injury but showed that if he can shake the injury bug, he could team with Adams to be one of the best safety duo's in the NFL.  Among safeties with at least 300 defensive snaps, Adams and Maye are one of two sets of safeties in the top 10, joining Eddie Jackson and Adrian Amos of the Chicago Bears.
Terrence Brooks: Incomplete
Benched in favor of Darryl Roberts for some reason, Brooks has the ability to be a solid depth player under the right staff.
Trumaine Johnson: F
Johnson had a few quality performances, but in terms of performance versus salary, he was a colossal disaster.  With Todd Bowles out of the picture, we'll find out next season if it was a matter of coaching using a player the wrong way, or if the once highly regarded Johnson has lost a step. Getting benched in the season's finale for showing up late to practice solidifies a failing grade.
Morris Claiborne: C
Claiborne takes a lot of heat that basically seems to be a result of being imperfect.  He's far from great, but he's also not as bad as some make him out to be.  He was among the top corners in the NFL in passes defended but did give up his share of big catches.  The Jets may opt to let him walk and look elsewhere for a no. 2 corner.
Darryl Roberts: C
Roberts had his best season as a pro while playing cornerback, but was then moved to safety by Todd Bowles where he struggled.  He's a free agent after the season, but the Jets should look to bring him back.
Buster Skrine: F
Skrine had a solid season in 2018 but regressed again in 2019.  Skrine's time in New York hasn't been good.  He's unlikely to return.
Rashard Robinson: F
Robinson missed part of the season due to suspension and earned high praise from Todd Bowles as the team's most impressive player in the preseason.  Once on the field, it was ugly.  Robinson has been one of the worst moves we've seen from GM Mike Maccagnan.
Derrick Jones: Incomplete
Jones was extremely impressive in training camp but was nailed to the bench from weeks 1-16.  Finally on the field due to injures in week 17, Jones was one of the highest rated cover men in the NFL according to PFF.
Parry Nickerson: Incomplete
Viewed as one of the drafts biggest potential steals, Nickerson saw some reps early in the season due to injury but didn't play a rep beyond that.  He showed very impressive awareness in training camp and will likely get a chance to win the team's nickel corner spot next season.
Brandon Bryant: Incomplete
Bryant was an undrafted free agent who showed steady progress throughout training camp and stuck with the team's practice squad until being activated late in the season.  Look for Bryant to get a shot at a roster spot next season.
Special Teams:
Lac Edwards: B
Edwards has evolved in to a quality punter who averaged 45.9 yards per punt, good enough for sixth in the NFL.
Andre Roberts: A+
Roberts had a fantastic season that earned him his first ever pro bowl selection after averaging a whopping 14.1 yards per punt return with a touchdown and a 29.4 yard per return average as a kick returner with 1,174 yards.
Jason Myers: A
Myers is another pro bowler who was 6-7 on kicks of 50 yards or more and was 33-36 on the season.
That wraps up 2018, and now it's on to who will be added to the 53-man roster in the coming months.
Videos
Aaron Rodgers Injury Fallout & Jets/Bills Recap