Super Bowl Prop Bets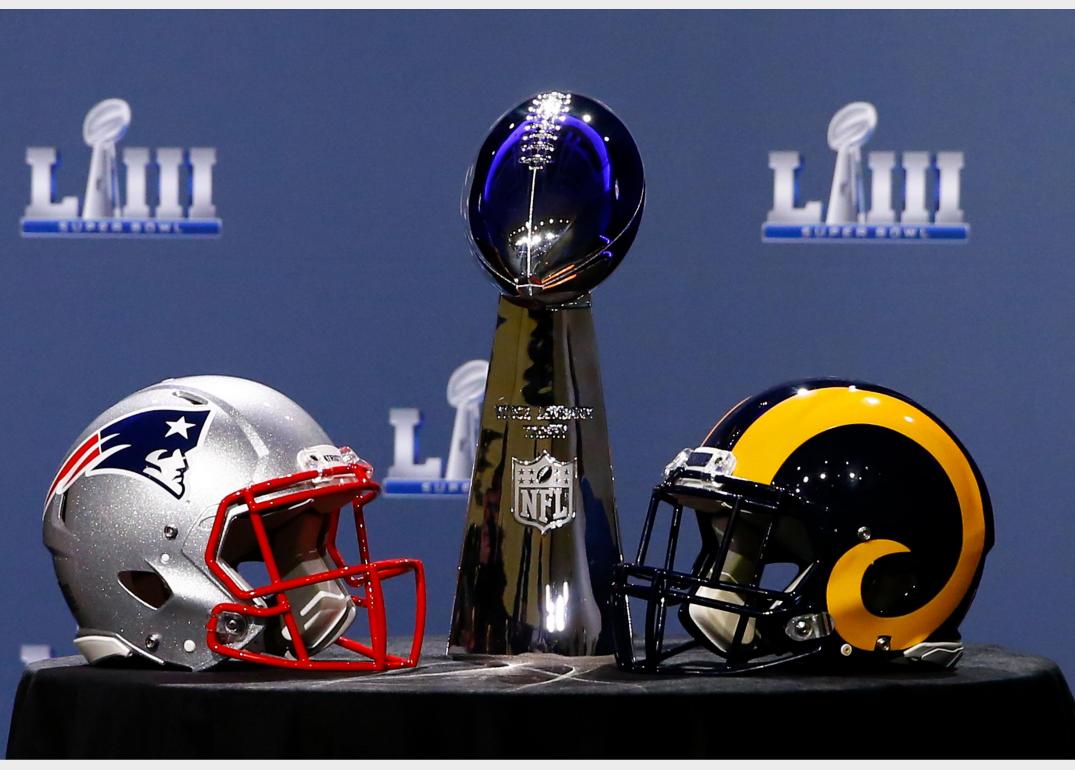 We have already covered the Super Bowl in a couple of ways. We talked about the total and what we think about the point spread and outright winner. Let's move on to the best thing about the Super Bowl (arguably): props betting. The best betting sites, like Bookmaker, Bovada, and Will Hill will have loads of props to choose from. Everything thing from game props, to individual player props, scoring, and entertainment proposition lines. There are so many fun and interesting things to choose from to keep the cheers and boos going at our Super Bowl parties.
Super Bowl MVP
Recently we broke down the NFL MVP and dropped our Super Bowl LIII Pick, but what about the Super Bowl MVP? Can you guess who is the far and away favorite? Yup, you guessed it. It's Terrible Tom Brady.  At -130 Gisele's man is listed as the most likely to win the award. The next closest is Jared Goff at +150. But after these two the shots are pretty freaking long … Lets have a look.
Todd Gurley +851
Sony Michel +1276
Aaron Donald +1455
James White + 2332
Rob Gronkowski +4000
Julian Edelman +4500
Brandon Cooks +4500
Aqib Talib +5000
Rex Burkhead +6500
After Burkhead you are getting into super long shot territory. For our purposes, we have to go with Tom Brady. Since I picked the Patriots to win the game, unless, Gronk or Edelman have a standout performance, Tom Terrific gets the MVP.
Thank You
Keeping with both themes of QBs and fun … Who will the winning QB thank first?
So, we know the usual suspects: mom, God, fans, the team … but what are the odds?
Teammates -160
Wife or Family +160
Coach +700
God +800
Fans +800
Anyone else or Anything else +1300
Last time around, Tom Brady credited his mother after winning the MVP. So, let's go out on a limb and connect these picks. If the Pats win, Tom Brady will thank his wife or mother first at a profitable +160!
Comeback Kid?
Will Tom Brady lead the Patriots from behind in the 4th quarter or in OT to snatch the victory from the Rams? No is set at -650 and Yes is +400.
The GOAT
How many times will Tom Brady be referred to as the greatest of all time during the CBS broadcast? Kickoff to completion and the half time show doesn't count. The line is a minuscule .5 at -110. I would have expected UNDER to be around +200 and OVER to be minus -250 or more. But with standard Juice, OVER .5 is a no-brainer!
The Romo-Fly Effect
Will Tony Romo predict a play during the game that results in a touchdown? Yes is +214 and No is -301.
Overruled!
The line for overturned coach challenges is set at 1. UNDER 1 is -450 and OVER 1 overturned call is +350
Maybe We Should Have Started Here?
So, the coin toss should have been the logical starting point for our list of odds … but I got carried away with the MVP thing. If you are a fan of 50/50 odds, the coin toss is just the bet for you! -103 is the betting line for both sides of the coin. Will it land on heads or will it land on tails?
Damn That S#%* is Cold!
This prop bet is my personal favorite. What color of Gatorade will douse the winning coach?
Clear or water +268
Yellow +323
Blue +379
None +395
Orange +493
Red +552
Green +1448
I find it interesting that No Gatorade or liquid has higher odds that orange, red, and green. Is this because the books know that the Patriots will win and think the players might be hesitant to soak Coach Belichick?
National Anthem …
Will the National Anthem be shorter or longer than 110 seconds? UNDER 110 seconds is +135 and OVER 110 seconds is -135. It should be noted that it usually pushes two minutes.
Move Like Jagger
Will Adam Levine appear shirtless at any time during the halftime show?
No is -301 but Yes isn't a long dog at +214.
This is only scratching the surface. There are other halftime show odds, more broadcasting odds, more odds on Brady-related things. Super Bowl commercial odds etc. Head over to you favorite sports book and make a list. You can even use these as parts of a Super Bowl LIII pool to make you party more fun.
Videos
NY Jets Phase 3 OTAs, Expectations and a Minor Calf Tweak with Greg Renoff