Gase's Offense: Tannehill/Osweiler Held Him Back (Part 4)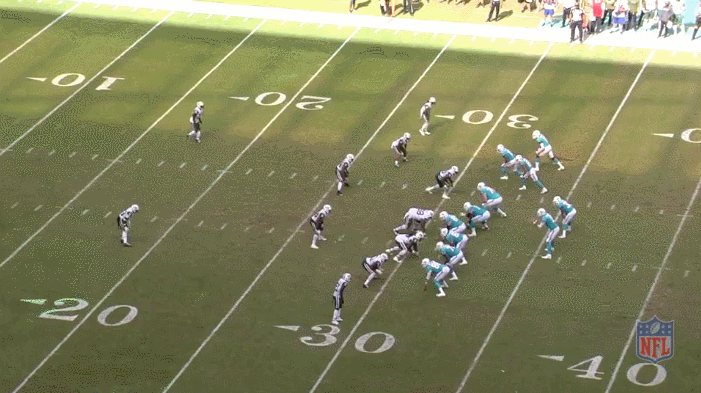 Welcome to part 4 of the series about the faults with Ryan Tannehill and Brock Osweiler, with regards to how it limited the effectiveness of Adam Gase's offense. We will discuss the issues with the offense itself in a later series, while also discussing the bright spots within the same offense. Please don't take this article as an excuse for Adam Gase, since he's far from perfect, but this is just about how his quarterbacks held him back. Please check back with us for the rest of this series.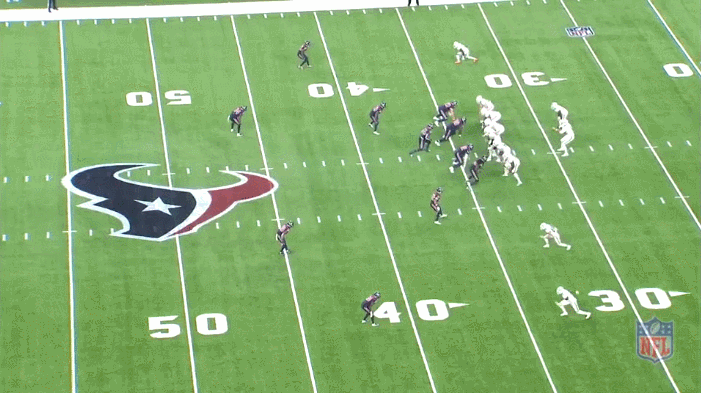 No, that's not vintage footage of Bryce Petty throwing to Robby Anderson. Easy touchdown off the board because Osweiler overthrew Devante Parker by 5 yards. Although, this route by Parker bothers me because it shows a lack of set up. Notice how Parker cuts to the inside of the defender with his inside foot, which robs him of momentum. In this case, it doesn't matter because the defender was fooled anyway, so Parker was able to still run by him. However, Parker needs to set up his cuts better so he can explode through them, instead of having to decelerate because he's no longer balanced. I've wondered for a long time why Parker hasn't developed because he was one of my favorite receivers in the draft, but he seems to lack fundamentals on certain aspects of the game.
How does this impact the Jets? Robby Anderson will love Adam Gase, because he loves taking deep shots down the field. Obviously, Darnold would have to make a better throw but Anderson is much more adept at setting up his routes than Parker, so a similar situation would have Anderson with greater separation down the field.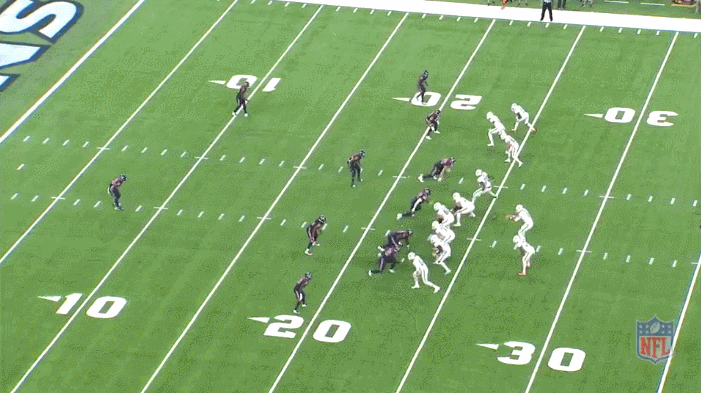 Have you seen this concept before? It's 3rd and short, and Gase goes with a trusted play, only to have Osweiler and the offensive line ruin his plans. At this point, I'm starting to doubt if the offensive line has practiced against the spin move. The play is there to be had, with the crossing route or one of the in routes, but Osweiler gets flushed out of the pocket. If he kept his eyes down the field, he would have had a throwing lane to two receivers, but his first priority was to escape the pocket.
This is a major issue with scouting for the draft, because QBs tend to react to pressure differently. There are guys like Darnold/Mayfield/Watson that will keep their eyes down the field while escaping the pocket. This allows them to move around, but still keep the timing of the plays alive. Then there are guys like Allen/Jackson who are more of an escape and reset passers, with the first priority being to avoid the sack. In college, this works much better (especially in spread offenses) because the defense isn't as disciplined, leaving passing lanes open. However, in the NFL, it's much harder because plays are based much more on timing. For example, on this play, the timing of the crossing route means that there is a short window for an easy pass. However, if the timing is off, then the receiver is running right into another defender. This isn't to say backyard football doesn't exist, because someone like Aaron Rodgers can direct receivers while on the run, but that's extremely special.
How does this impact the Jets? Practice timing. One thing I hated about Todd Bowles coaching style (aside from any form of ingenuity) was his lack of QB preparation. He first started with splitting reps for Fitzpatrick/Geno Smith, then Josh McCown/Petty/Hackenberg leading to a lack of practice with the first team. Competition mantra works when it's one on one situations, so you know if a receiver can beat a defender or if a linebacker can blitz the A gap. QB is heavily dependent on timing, and Bowles made sure to spread around the limited reps so all the QBs were at a disadvantage. Now, with Darnold as the QB, he should get all the first team reps, so they can work on timing.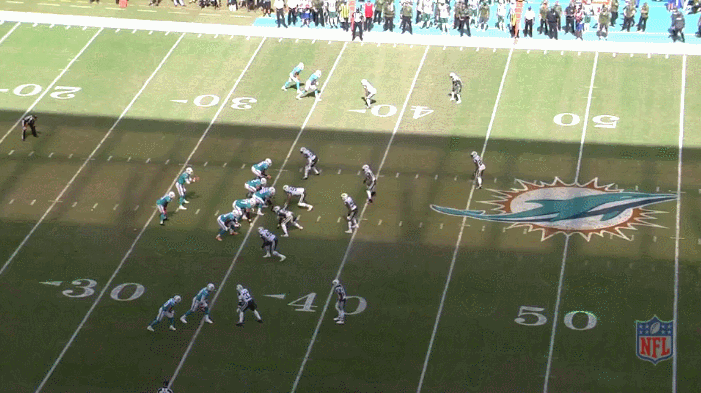 The second match up against the Jets for the season, and Osweiler misses a wide open Amendola down the field. There isn't much to dissect here, Amendola just runs right by the defender. Who is the defender? If you guessed Buster Skrine, then you'd be wrong. It's Daryl Roberts.
How it impacts the Jets? They probably should try to draft or sign CB depth.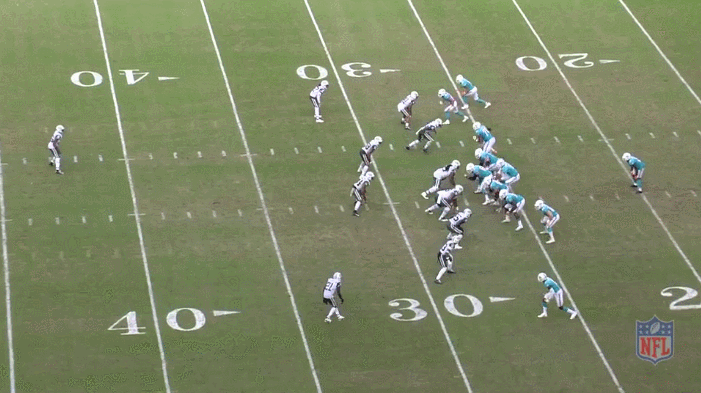 Devante Parker shows up once again, with this dropped pass. The Dolphins have two receivers open for this pass, with Parker (covered by Jamal Adams) and another one to the top of the screen (covered by Buster Skrine) and Osweiler makes the correct decision to go with the wide open crossing route. The throw is a bit behind the receiver, and Parker lets it go right through his hands. However, I find something else more fascinating. Notice Avery Williamson on this play because he's vacating the middle of the field, and therefore allowing a clear passing lane. Gase (as well as a few others) are running late blocking routes for tight ends. I noticed it much more frequently writing about the Titans last year, and I've seen a fair share while breaking down the Dolphins film. Chip block routes are very common where the runner chips a pass rusher near the line of scrimmage as they release down the field. However, now more tight ends seem to stay longer on blocks, and then releasing after the timing for the first read expires. Therefore, they are providing an extra option to QB if the reads down the field are covered as a dump off option. If the defense lends a linebacker to stay with the tight end, then the tight end helped to block a pass rusher and keep a linebacker occupied. If a linebacker sees the tight end in as the blocker and abandons assignment, then the tight end becomes a yards after the catch option for an easy pass. On this play, notice how the tight end is in to block the pass rusher, but also occupies Williamson, which is part of the reason why Parker is wide open down the field.
How does this impact the Jets? I think the Jets are going to value the tight end position very highly going forward in this offense, which would explain why they are signing a few of them, especially blocking tight ends. For plays like this, they don't need explosive athletes, but guys that can block effectively, while being able to catch some passes and rumble down the field.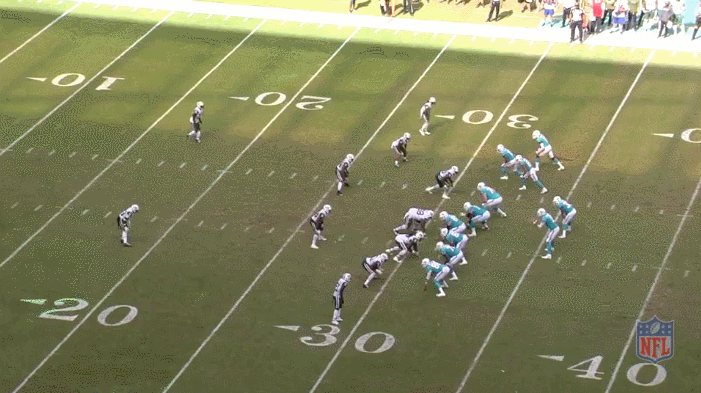 Jordan Jenkins got this sack, even though he's double teamed, which should explain the quality of the Dolphins' offensive line. The play call has the tight end going for a deep corner route, with a deep seam route and comeback route being open. If this is a clean pocket, there is a good chance for a touchdown because there are at least three good options down the field. If that wasn't enough, there is a running back coming out of the backfield for an easy catch and run as well. Instead, Osweiler runs himself right into a sack.
How does this impact the Jets? Why does Todd Bowles have a defensive coordinator job? If it wasn't for a great effort from Jenkins, this is just an easy conversion at three different levels of the field in three different directions.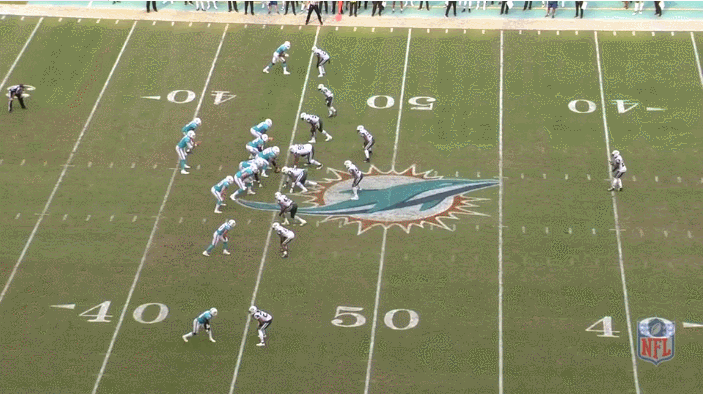 This is a 3rd and 1 play that failed, but Gase's offense tends to throw more than you are accustomed to on 3rd and short. This is Jordan Jenkins again with the sack, but the QB has an easy conversion to the right side of the formation. It's essentially a pitch and catch, but Osweiler is looking off the safety as if he wants to throw the pass deep. These are the type of plays that infuriate fans because the you ignore the check down options, to get greedy.
How does this impact the Jets? For one, I can pretty much guarantee you that Gase is the most aggressive play caller the Jets have had in my memory. While I was following the Jets since the late 90s as a kid, I wasn't deep diving into offensive philosophies until Rex Ryan came along, so my experience is limited in this regard. Sam Darnold has to know his progressions on the play, instead of being lost out there at times like Osweiler. For example, this is a low to high read, where Osweiler has to make the quick read first, and then progress down the field. Instead, Osweiler sees single high safety and bypasses his initial read completely, and gets sacked.
Thanks for reading part 4 of the Gase's Offense: Tannehill/Osweiler Held Him Back series. Please check back with us soon for Part 5.
Videos
Aaron Rodgers Injury Fallout & Jets/Bills Recap