Chris Johnson's Comments on Douglas Starting to Bear Fruit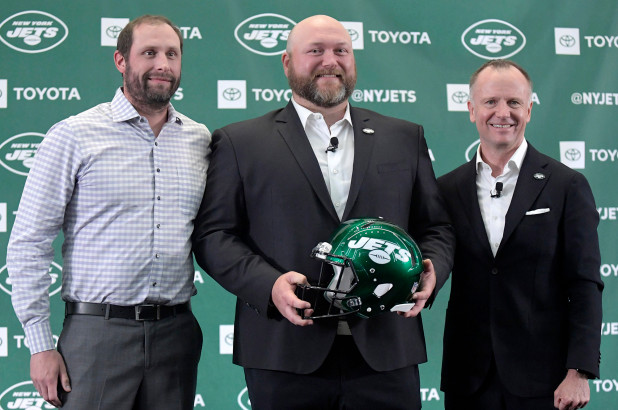 Just a few weeks ago, Jets acting owner Chris Johnson took a lot of heat from some fans and the media on both the local and national level. The owner sat and watched his GM spend $120 million, run an entire draft that included the third overall pick, and assemble a roster for an unproven head coach in his first season with the team. An unprecedented move with all factors taken in to consideration.
The path to build it was unconventional, but the Jets are putting together a very impressive front office.

— Field Yates (@FieldYates) June 18, 2019
Now, just over a month later, Johnson's words at Douglas' introductory press conference are bearing fruit, and Jets fans should be excited.
It was during that press conference when Johnson listed the many reasons why he hired Douglas, referencing at one point the many connections Douglas had around the league as a respected executive. This, Johnson said, would allow Douglas to assemble a talented cast with which to run the team's front office. Today, we're seeing the impact of the GM's connections.
First, it was announced by NFL insider Ian Rapoport that former Browns GM and Senior Bowl Director Phil Savage would be joining Douglas. A good hire for a guy who has spent a ton of time watching the best of the best college players as they've prepared for NFL auditions.
Then news broke of another hire in former Ravens Pro Personnel Director Chad Alexander. Nobody outside of the Raven's inner circle knows for sure what Alexander's top decisions have been in Baltimore, but if you can add a football mind who worked under Ozzie Newsome for 20 seasons, with seven of them being his Pro Personnel Director, you make that move. Of course Douglas and Alexander will be extremely familiar with one another as Douglas also spend over a decade in Baltimore under Newsome.
Last but not least, the Jets are bringing back former executive Rex Hogan, who is expected to be the team's Assistant General Manager after bolting to spend some time with the Colts after his last stop with the Jets.
Schefter: Jets re-hire Executive Rex Hogan https://t.co/Eifss5zi2h

— JetNation.com (@JetNation) June 18, 2019
How this will play out on the may be an unknown, but Chris Johnson is clearly the man who will be writing the checks for a staff that looks like an all-star cast on paper, meaning these guys won't be working for peanuts. Kudos to Johnson for making a bold move to get a respected GM and opening the check book for a front office that looks to be far better than anything the Jets have put together in quite some time.
Videos
Aaron Rodgers Injury Fallout & Jets/Bills Recap