Not Ready for Training Camp? Here's a 90-Man Roster Rundown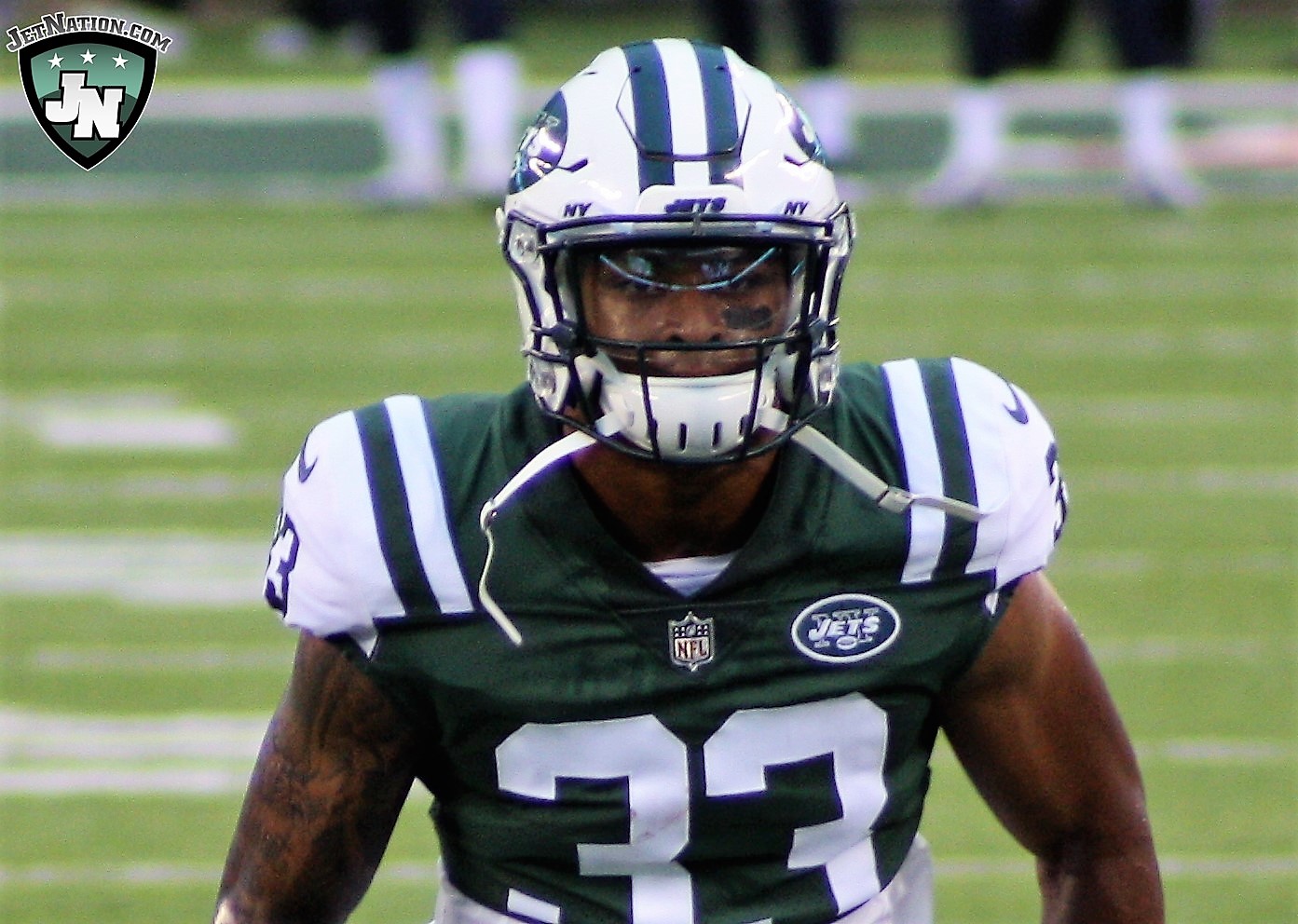 Let's face it, the NFL off-season is long and painful chunk of the calendar year in which countless players come and go in both big-time transactions and under-the-radar moves. Training camp is just about under way, and JetNation.com has you covered with a full rundown of all 90 players on Gang Green's roster as the season approaches.
33 S Jamal Adams: The dynamic defender looks to be on his way to becoming one of league's premiere players. In 2018 he excelled in all facets of the game. In pass coverage, against the run and in pressuring opposing quarterbacks. There's nothing Adams can't do on defense and Gregg Williams will look to use that to his advantage on game days.
59 LB Justin Alexandre: An undrafted free agent out of the University of Incarnate Wood, there isn't much out there in terms of live snaps to evaluate. The edge rusher racked up 8.5 sacks and 12 tackles for loss in his final collegiate season.
49 LB Jeff Allison: Undrafted out of Fresno State, Allison is a heady linebacker with a good motor who has his work cut out for him.
76 OT Calvin Anderson: Let go by the New England Patriots after being signed as an undrafted free agent out of Texas, Anderson becomes one of the many camp bodies hoping to earn a spot on the offensive line. He has the length you look for in an offensive tackle but the consensus on Anderson appears to be that there is a need to bulk up.
96 DL Henry Anderson: One of the most pleasant surprises of the 2018 season, Anderson returns with a hefty contract with expectations to match.
11 WR Robby Anderson: The speedy receiver who showed off an expanded route tree late in the season will be looking for a big pay-day if he picks up where he left off in 2018. Look for Anderson to go well over 1,000 yards this season.
41 CB Bless Austin: Oft-injured late-round pick who has plenty of potential to be a legit starter, but an injury history that suggests it will never pan out.
93 LB Tarell Basham: Basham saw some reps late in the year last season and showed he was deserving of a longer audition. It looks like he'll get one under the team's new regime.
68 LT Kelvin Beachum: An average tackle who makes average tackle money who might be the best person in the locker room. This will likely be Beachum's final season as a Jet as the team will look for a long-term answer this offseason.
26 RB Le'Veon Bell: Perhaps the most dynamic player ever to don the Green and White, the Jets hope Bell can be close to what he was as a Steeler when he was arguably the most difficult offensive player in the NFL to game plan for.
15 WR Josh Bellamy: A free agent addition who played for Adam Gase in Chicago, Bellamy looks to be a key special teams contributor with an expanded role on offense.
87 TE Daniel Brown: A converted collegiate receiver, Brown earned rave reviews from the Jets beat during OTA's and he'll hope to carry that over to camp and the regular season.
40 DB Kyron Brown: The Jets have the undrafted Brown listed a cornerback but don't be surprised if he gets a look at safety at some point.
38 S Brandon Bryant: Snagged by the Jets after going unclaimed in the supplemental draft last season, Bryant had an impressive close to the 2018 preseason and hopes that will carry over to 2019.
58 LB James Burgess: The former Cleveland Brown reunites with Gregg Williams in a wide open competition at outside linebacker where the Jets have few proven players.
18 WR Deontay Burnett: Never has a player who has done so little been such a fan favorite as Deontay Burnett. As Sam Darnold's top target at USC who made one big catch after another, many a Jets fan called for Burnett to get on the field last season but Todd Bowles would have none of it. This season under Adam Gase with a clean slate, Burnett could get a decent look.
35 CB Tevaughn Campbell: The 25-year-old former CFL player couldn't have asked for a better opportunity than the one he'll have with the Jets. With so little in the cupboard at corner, any and all comers will earn a look. The speedy Campbell (4.35 40) has had auditions with the Giants and Redskins several years ago that didn't work out.
40 RB Trenton Cannon: The speedy second-year player could have a hard time sticking in what is suddenly a crowded running back room. The Jets will consider keeping Cannon on the roster as a gunner but the best plan might be to stash him on IR for a season if he's not going to make the final 53.
53 LB Blake Cashman: A rookie who was a collegiate tackling machine with plus athleticism, Cashman enters camp as an intriguing rookie with a chance to get on the field as a situational defender as he'll compete with the likes of Neville Hewitt for playing time.
7 K Chandler Catanzaro: The former Jet returns for second tour of duty after a one-year hiatus.
23 DB Jeremy Clark: A former Michigan Wolverine who has shown little in his first two seasons with the Jets. Likely a make or break year for Clark.
77 OL Tom Compton: A dark horse to steal the starting RG job, Compton is a more athletic player than Brian Winters and may be a better fit for Adam Gase's offense.
51 OLB Brandon Copeland: Another pleasant surprise in 2018, Copeland put up a respectable 5 sacks as a part-time player and will look to play as an every down backer this season.
82 WR Jamison Crowder: This is a player to keep an eye on. The shifty slot receiver could thrive under Gase this season.
14 QB Sam Darnold: The single most important player on the roster, Darnold is looking to pick up where he left off following a strong finish to his rookie season.
3 P Matt Darr: Darr provides the first competition that incumbent punter Lac Edwards has ever faced as a pro. He could steal the job.
2 WR Greg Dortch: A shifty slot receiver and return man, Dortch has generated a lot of buzz this offseason and is viewed by many as the undrafted free agent most likely to make the roster.
75 OL Chuma Edoga: Likely a future offensive tackle, Edoga could get an audition to play on the inside a little bit in the early going.
4 Lac Edwards: Edwards will be pushed by the aforementioned Darr as he looks to keep his roster spot.
81 WR Quincy Enunwa: If Enunwa can avoid the injury bug, something he has failed to do in the past, it will go a long way in making this a top-tier offense.
8 QB Luke Falk: A camp arm or a guy who has an opportunity to win the back-up job? Time will tell.
94 DL Folorunso Fatukasi: A second-year D-lineman who has flashed excellent strength at times, Fatukasi is in a crowded D-line room that could it tough for him to stick.
TE Ryan Griffin: The former Houston Texan was added after Chris Herndon's suspension was announced. A true in-line tight end, Griffin could end up stealing Eric Tomlinson's roster spot if given a legitimate shot.
78 C Jonotthan Harrison: Few players will be under the microscope the way Harrison will as the season approaches. He's been a serviceable player with the Jets and Colts, but the team could look to upgrade before the season kicks off. If not, Harrison is a better player than he gets credit for and nobody should be reaching for the panic button.
10 WR Quadree Henderson: A speedy receiver who has a shot to win a job as a return man.
42 LS Thomas Hennessy: Thomas Hennessy is the long snapper for the New York Jets and wears number 42. If we learn anything more about him, it's probably a bad thing.
89 TE Chris Herndon: Suspended for the first four games of the season, the promising young tight end will have to be a spectator for a little bit before stepping in and resuming his role as the team's starting tight end.
46 ILB Neville Hewitt: Hewitt filled in admirably for Darron Lee at times last season and looks to hold off rookie newcomer Blake Cashman. The former college safety could be a valuable piece for Gregg Williams.
TE Temuchin Hodges: Formerly knows as Bucky, Temuchin Hodges was added to the roster in the last 24 hours to add another pass-catching tight end who can also split out with his 6′ 6" frame.
39 RB/WR Valentine Holmes: International player from the world of rugby, Holmes can reside on the Jets practice squad without counting against the 10-man limit. Will get a shot to show what he can do as a return man.
48 OLB Joran Jenkins: Fresh off of a career high 8 sacks, Jenkins looks to net his first double-digit sack season under the aggressive Gregg Williams and an improved front seven.
22 CB Trumaine Johnson: The biggest disappointment on the roster by a long shot last season, Johnson will look to bounce back under Gregg Williams who was his coordinator with the Rams when he played his best football.
31 CB Derrick Jones: One of the most physically gifted players on the roster, Jones may get a look this season with a new head coach in town. Like Deontay Burnett, fans were desperate to see Jones get some live reps. When his time came in week 17, he looked like a player.
84 WR JJ Jones: There are a few long shots on the roster with speed to burn and Jones is one of them. The former West Georgia product has been clocked in the mid 4.3's.
63 OL Tyler Jones: This undrafted college tackle was one of the top pass blockers in the country and is now listed as a guard on the Jets official site. More competition at a spot with a shaky future.
91 DL Bronson Kaufusi: A former Baltimore Raven who flashed late in the season as a rotational player, Kaufusi has earned plenty of praise from the media this offseason. He's one to keep an eye on.
44 LB Harvey Langi: A former BYU product who has spent some time on the Jets and Patriots practice squads, he's a long-shot to stick.
60 OL Toa Lobendahn: The undrafted rookie out of USC has enough positional versatility to earn a long look on the O-line.
50 OLB Frankie Luvu: A player who showed last season as a rookie that he has some attributes that give him the chance to be a situational pass rusher at the very least.
37 DB Arthur Maulet: Maulet has appeared in just 12 career games as a reserve player.
26 S Marcus Maye: After starting all sixteen games as a rookie, Maye missed 10 games in year two. If he can stay on the field, he should be a part of a special safety duo between him and Jamal Adams.
25 RB Eli McGuire: A third-year back whose versatility has earned him high praise from Adam Gase. With Bilal Powell in the fold it could make things tough on McGuire, but expect him to get every chance to stick.
99 DL Steve McLendon: Underrated lunch pail player who doesn't get nearly enough credit for how good he is at his job. McLendon should receive a contract offer to join somebody's coaching staff the second he retires. Believes in accountability and the perfect person and player to show the young kids how it's done.
30 CB Montrel Meander: One of Joe Douglas' first additions after taking over as GM, the 6′ 3" DB looks to find a role in Gregg Williams' defense.
36 S Doug Middleton: The undrafted free agent safety has looked good when given the opportunity but has struggled with injuries.
45 S Rontez Miles: With a new regime, Miles may have a hard time sticking around as a box safety whose getting a bit long in the tooth. His enthusiasm is top-notch, but will that and his hard hitting ways be enough?
71 OT Wyatt Miller: An undrafted free agent tackle who showed great durability and good versatility in college. A practice squad candidate at the very least.
88 RB Ty Montgomery: A versatile player who can step in at running back or wide receiver, Adam Gase may have an under-the-radar play maker on his hands.
66 OG Jordan Morgan: Morgan was a fifth-round pick of the Chicago Bears just a couple of seasons ago but the Bears weren't going to wait around and wait for the small school product out of Kutztown to develop. Will the Jets give him a bit more time?
57 ILB CJ Mosley: If you're an inside linebacker getting paid like a franchise quarterback, expectations of an immediate major impact should be par for the course.
55 ILB Jamey Mosley: As is the case with Fred Jones, Mosely will have to show he's deserving of this audition and that it's not a favor to his older brother. Who knows? Surely there are some guys at Alabama who can't get on the field but have NFL caliber talent.
32 CB Mark Myers: The former Tampa Bay Buccaneer who played 33 games at Southeastern University is among the many corners on the roster at 5′ 10" 185.
43 CB Parry Nickerson: Nickerson enters year two after a down rookie season that saw him spend most of his time on the bench. An audition in the slot would likely do Nickerson well.
70 LG Kelechi Osemele: The former All-Pro is an instant upgrade at left guard and could pave the way for a big season out of Le'Veon Bell.
17 WR Charone Peake: Strictly a special teamer, Peake has failed to make the most of his impressive size/speed combo on offense.
98 DL Kyle Phillips: A talented undrafted free agent whose production may have been limited by playing on a defense that lacked much talent in Tennessee. Best player on a bad defense is one of our early favorites among the undrafted free agents who could stick.
56 OLB Jachai Polite: A chance to be the biggest bang for buck pick of this class, Polite has exhibited the necessary skills too get to opposing quarterbacks, but first he has to show that his lackluster pre-draft showing was a fluke.
34 CB Brian Poole: Buster Skrine's replacement in the slot can't be much worse, can he?
29 RB Bilal Powell: If the Jets view themselves as a "win now" team, Powell has a good chance to stick this season. If the Jets have their eyes on the future, Eli McGuire may get the nod.
79 RT Brent Qvale: A solid backup player who may have a harder time with a new regime and plenty of competition at the position.
39 SS Santos Ramirez: Hard hitter who is limited in coverage, Santos becomes a threat to Rontez Miles' roster spot if the Jets are in fact looking to carry a box safety to lay the wood.
27 CB Darryl Roberts: There were times last season when Roberts looked like a legitimate starting cornerback. Then there were times when he looked nothing close to it. Consistency will be the key, but the tools are there.
64 DL Trevon Sanders: A 327 lb nose tackle out of Troy, Sanders will face stiff competition on the interior D-line.
72 RT Brandon Shell: Shell's job may not be as safe as some assume. He'll likely be able to walk after this season and Chuma Edoga may get a chance to take his starting job.
97 DL Nathan Shepherd: Second-year D-lineman coming off of a hugely disappointing rookie season. Jets hoping he can make the year 1 to 2 jump out of a small college.
19 QB Trevor Siemian: Hard to believe but just a few years ago Siemian would have been the best QB on the Jets roster. Now he enters camp as the favorite to win the no. 2 job.
65 OT Eric Smith: Smith was snagged from the Patriots last season and figures to enter the competition as the backup left tackle. If we had to wager today, he'd be the guy to win that job.
9 WR Jeff Smith: A guy who started his career at quarterback for Boston College before moving to wide receiver with his 4.31 speed. Has the potential to be a depth receiver and a gadget player.
62 DL MyQuon Stout: Another undrafted D-lineman, Stout goes from small school Appalachian State to the NFL. Can he make the jump?
1 WR Deonte Thompson: A speedster who Dan Leberfeld of Jets Confidential says is not just another "camp body"
83 TE Eric Tomlinson: Hanging around for another year as the team's blocking tight end will be no easy task for Tomlinson this season. The aforementioned Griffin along with rookie Trevon Wesco could spell the end of Tomlinson's time in Green and White.
64 OC Jon Toeth: A former college standout at center, Toeth enters camp battling for a position without a proven starter.
5 QB Davis Webb: In his second season with the Jets, Webb will look to battle for the number two QB job.
47 TE Trevon Wesco: A multi-dimensional player who can line up at tight end, H-Back or fullback, Wesco could be a valuable tool after smoothing out the rough edges.
6 WR Tim White: Another receiver with extensive return experience in college who is part of a crowded receiver room.
92 DL Leonard Williams: Entering a contract year, look for Williams to have a career year under Gregg Williams with an upgraded front seven.
54 ILB Avery Williamson: After living up to expectations as a stellar defender in his first year as a Jet, Williams will team with CJ Mosley to form what the Jets hope will be one of the top inside linebacker tandems in the NFL.
95 DL Quinnen Williams: As the third overall pick in the draft, fans are looking forward to the big man in the middle collapsing the pocket and pressuring QB's for years to come.
52 ILB Anthony Wint: A good story as an undrafted linebacker who found his way on the field late last season, Wint will have to work to impress another coaching staff in year two.
67 RG Brian Winters: Due to count for $6.5 million against the cap and some options on the roster for a cheaper price, Winters will be pushed like never before as a Jet.
So there you have it, folks. Plenty of changes likely on the way, but that's the 90-man roster as it currently stands.
Videos
Aaron Rodgers Injury Fallout & Jets/Bills Recap