Featured Editorials Game Recap
Plenty of red Flags for Gang Green in Embarrassing Loss to Bills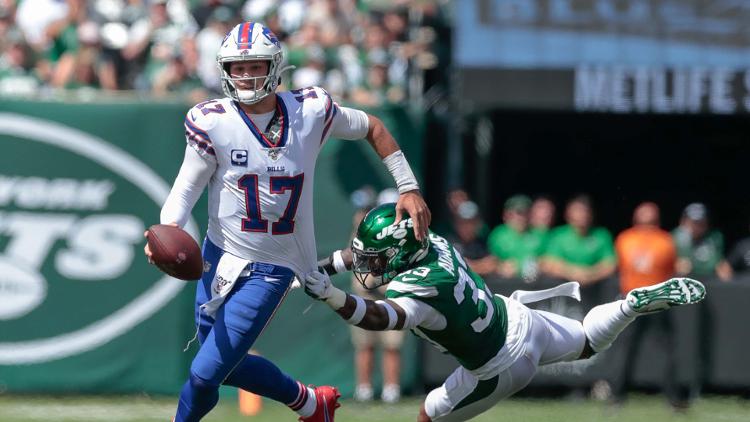 As if an opening day loss to the Buffalo Bills wouldn't have been bad enough on its own, the New York Jets managed to drop a 17-16 contest in a way that should set off plenty of alarm bells in regards to what the rest of the season may have in store for the Jets.
In his inaugural game as the team's head coach, Adam Gase saw his defense blow a 16-0 lead as the unit was worn down due largely to a sputtering offense. So why was the offense struggling to move the ball and why did the defense respond the way it did? Here are the main reasons that will need to be corrected if the Jets hope to avoid a five or six game losing streak to start the year.
First and foremost, quarterback Sam Darnold was a sitting duck in the pocket for much of the day. Despite his strength being his ability to throw on the run, Gase ran an offensive scheme that kept him inside the pocket while facing a heavy rush, which leads us to the second major concern.
Brought in for a king's ransom to do what he did with the Pittsburgh Steelers, one may have expected a game plan that called for plenty of screen passes to Le'Veon Bell in an effort to slow Buffalo's pass rush. This wasn't the case nearly as often as it should have been, leaving Darnold to fend for himself and take a beating. The fact that the team's previously dinged up offensive line hadn't played a single snap together this preseason certainly didn't help, but the play calling did the offense no favors.
Gregg Williams' defense forced four turnovers and scored 8 of the team's 16 points but the offense didn't do nearly enough with the opportunities that were presented.
On defense, it seemed a bit odd for the Jets to carry nine defensive linemen, but the team had suggested defensive coordinator Gregg Williams was going to use a heavy rotation of defensive linemen in order to keep the big guys up front fresh. Well, come game day, only five of the nine linemen were active and one left with a foot injury (Quinnen Williams), leaving the Jets with four very tired linemen as the game entered the final quarter. The front seven also suffered after losing CJ Mosley to injury as the unit looked to lose themselves following his departure.
Perhaps the biggest concern on defense was the play of cornerback Trumaine Johnson. Many had hoped to see Johnson bounce back under Williams but he was largely a disaster today. It got to a point that it seemed Buffalo would pick on Johnson every time they needed a big play. The immortal John Brown had 7 receptions for 123 yards, many of them with Johnson trailing a good distance behind on crossing routes. If this isn't fixed in a hurry, life is going to be extremely difficult moving forward.
Last but not least, kicker Kaare Vedvik will likley be looking for work tomorrow. Before today, Vedvik had never kicked in an NFL game and it showed. He missed several kicks in warm-ups before missing an extra point and a field goal in a game that was decided by one point. The Jets took an extended look at a pair of punters this preseason but for some reason opted to go light at the kicker position and it cost them a win in their season opener.
If the offense doesn't start playing to their strengths at some point and the secondary isn't fixed, the wind will be taken out of the sails that had many Jets fans envisioning meaningful football being played at MetLife in December.
Videos
Was Boomer Right to Blast Becton? Former Jets QB Sounds off Against Jets Tackle.