Mock Draft 2.0 From JetNation Radio; Addressing Premium Positions and Play Makers Early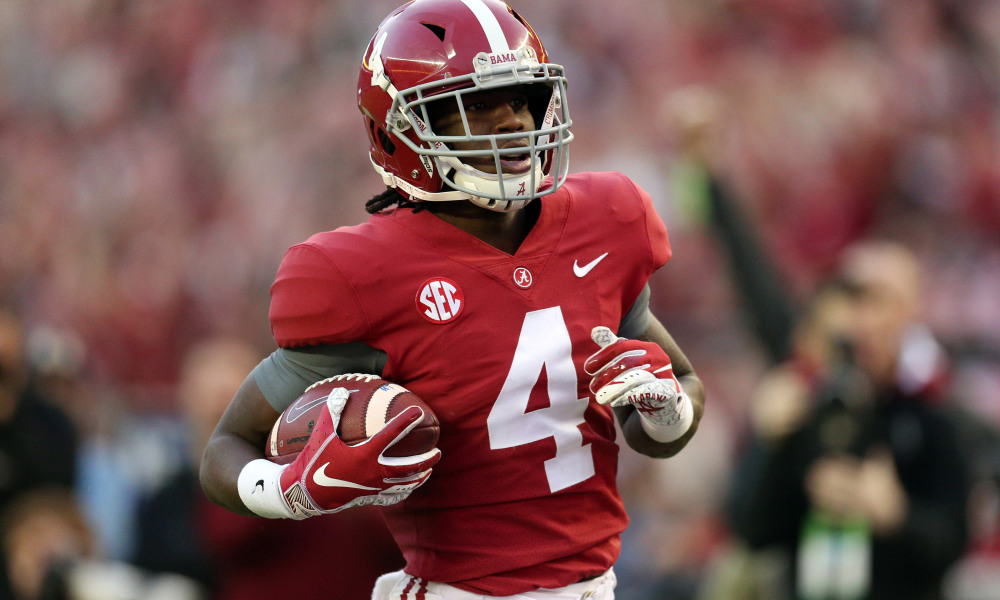 Generally speaking, we here at JetNation do our best not to flood our own site with dozens of mock drafts between the end of the NFL season and the draft itself.  We generally aim for two, but with a little bit of unexpected down time on our hands, we might make an exception and churn out some extras from JetNation Radio hosts, yours truly (@acefan23) and Alex Varallo (@NYJetsLife24).  Time will tell.
Before we get started, we would like to point out that as was the case with our mock draft 1.0 this draft was done using the draft simulator created by TheDraftNetwork.com.  This is to avoid grabbing premium players in every spot in a mock that becomes little more than a pipe dream.  By signing four offensive linemen, the Jets have made that area somewhat less of a need, but there are still plenty of spots that need upgrading.
Rd 1 (11th overall)
Glenn Naughton:
Alabama OT Jedrick Wills:
This was always going to be the best left tackle on the board.  In mock 1.0 it was Andrew Thomas, but this time Wills falls to the Jets at 11 and Joe Douglas pounces to continue building a wall around Sam Darnold.
Alex Varallo:
Alabama WR Jerry Jeudy:
Best route runner in class, showcases an explosive run style with excellent burst. Has versatility to play slot and outside receiver will fit into any scheme, plug and play weapon from day one.
Rd 2 (48th overall)
GN
Clemson CB AJ Terrell:
We had a few receivers penciled in for this spot but they were all off the board by pick 48.  In a weak cornerback class, we were pleasantly surprised to see a player of Terrell's caliber available.  By grabbing Terrell, the Jets nab starting players at two critical positions at left tackle and cornerback.  Will Terrell actually be there on draft day?  Unlikely.
AV
TCU OT Lucas Niang:
Despite injury from 2019, his previous years he played well displaying heavy hands, great feet and smooth mobility when on the move. Has a mauler block style and can be a bulldozer out in space in the run game.
Rd 3 (68th overall)
GN
Notre Dame WR Chase Claypool:
As is the case with Terrell, we expect Claypool to be off the board at this point on draft day and we would go with Florida wide receiver Van Jefferson in this spot.  As it stands though, Claypool, who had over 1,000 yards and 13 TD's at Notre Dame before showing off an elite combination of size and speed at the combine is the pick.
AV
St John OT Ben Bartch:
Considered a developmental project who began as a tight end and moved to left tackle. Shows good feet and hands but might need time to work on technique against NFL competition. His biggest flag is that he played at a small school, St Johns (Minn).  Barch clearly has a fan in ESPN analyst Louis Riddick.
this young man is going to be gooood. His background story is exceptional and his natural skills are too obvious. OL coaches will be all this project..

— Louis Riddick (@LRiddickESPN) March 26, 2020
Rd 3 (79th overall)
GN
USC WR Michael Pittman:
The Jets double-dip at receiver and grab Sam Darnold's old teammate out of USC.  One of the more well-rounded receivers in this class, the Jets turn to him and Claypool to begin assembling an arsenal for Darnold.
AV:
La Tech CB Amik Robertson:
Good man coverage skills, stingy in press and reliable playing on an island. Louisiana Tech dialed up cover one and zero defense often and you need sticky corners to do so. Considered to be "chippy" and fearless on the field. Ballhawk mentality that anticipates routes, logged 15 INTS and 34 pass deflections. Due to his size 5'8″ 187 LBS he may end up playing the Nickel CB.
Rd 4 (120th overall)
GN
Wisconsin OL Tyler Biadasz:
Biadasz has seen his stock slip a bit due to injury, but getting a player who had previously been viewed as one of the best in the country at his position is too hard to pass up here.  Even with Brian Winters and Greg Van Roten on board, there's little long-term talent on the interior O-line and Biadasz changes that.
AV
Minnesota WR Tyler Johnson:
Great hands, playmaker with breakaway speed, had numerous one-handed grabs. Smart player with quality boundary awareness. Caught the most slant routes in nation, ended up with over 3000 receiving yards and 33 touchdowns.
College has mastered slot WR mismatch#Minnesota WR Tyler Johnson ala Keenan Allen also lacked elite athletic traits. But:

* Dominates back shoulder
* Overcomes goofy QB play
* Wild catch radius
* Led NCAA in slant-route catches
* AJ Brown similaritieshttps://t.co/DEpdJN2tec

— Evan Silva (@evansilva) March 12, 2020
Rd 5 (158th overall)
GN
Utah CB Javelin Guidry:
Another corner that we'll attribute to how the board fell.  The top players on the board in this spot were areas where the Jets need very little help.  With that in mind, Guidry is the pick.  Brian Poole is only on a one-year deal and Guidry can be groomed to challenge for that spot next season.  He would also be an assett on special teams.
AV
Alabama Edge Anfernee Jennings:
Solid run defender for 3-4 or 4-3 defense. Can provide a decent amount of pass rushing moves. Seems a bit stiff but very strong when initiating a bull rush. Lunch pail type of guy that will always provide all-out effort.
Rd 6 (191st overall)
GN
Ohio State WR Binjimen Victor:
Another wide receiver?  You bet.  In one of the deepest classes in NFL history, this is a chance for the Jets to take advantage of the number of talented pass catchers on the board and potentially solidify the position for many years to come.  Victor is a bit of a project, but his combination of height (6′ 4") and elusiveness on film are rare.  Huge potential in round six.
Again, 6' 4'' Binjimen Victor against Wisconsin. He's not making these moves against small school defenders who are overmatched. Projected in rd 6 by @nfldraftscout. pic.twitter.com/8rvtMO6gQJ

— Glenn Naughton (@AceFan23) February 29, 2020
AV
Minnesota OLB Carter Coughlin:
More of an outside linebacker rather than an Edge, best fit for a 3-4 defense. When asked to keep outside containment he has good perimeter awareness and does well at cutting off throwing lane on screen plays. Tallied 4 pass deflections in 2019 an had the 2nd best QB pressures (20.7%) amongst all draft eligible Edge prospects, just a bit higher than the best pass rusher in class, Chase Young (20.4%). Productive player that totaled: 158 tackles / 40 TFL / 22.5 sacks / 4 PDs / 8 Forced fumbles
Rd 6 (211th overall)
GN
Utah State Edge Tipa Galeai:
This is a pick that will go down as one of many late-round guys who wasn't big enough to make it as a pro (6'5" 235), or an absolute steal.  This is a very weak edge class outside of two or three players at the top and Galeai has some high-end attributes that give him a chance to become a very good player.  He has the quick first step your're looking for off the edge and very long arms.  However, he doesn't always play to his own strengths and needs to put on some weight.  If he bulks up and the right coach gets his hands on him, Galeai could be a nice find.
Tipa Galeai out of Utah State could be a late round pass rush option. Shows good get off but will need to get bigger to be an every down player. Has the tools to cause trouble off the edge. pic.twitter.com/ErpWTSk7QD

— Glenn Naughton (@AceFan23) February 3, 2020
AV 
Miami RB Deejay Dallas:
Originally a wide receiver recruit and converted to running back. Dallas is a physical runner with good balance after contact. Not the fastest with a 4.58 forty time but his straight line speed and ability to switch lanes in a fluid manner makes him a threat. I like his vision and decision making on inside zone run plays. When he gets to 2nd level, Deejay bursts into another gear and takes angles to find a lane for long gains
| | | | |
| --- | --- | --- | --- |
| Rd | Pick | Glenn Naughton | Alex Varallo |
| | | | |
| 1 | 11 | OT Jedrick Wills | WR Jerry Jeudy |
| 2 | 48 | CB AJ Terrell | OT Lucas Niang |
| 3 | 68 | WR Chase Claypool | OT Ben Bartch |
| 3 | 79 | WR Michael Pittman | CB Amik Robertson |
| 4 | 120 | C Tyler Biadasz | WR Tyler Johnson |
| 5 | 158 | CB Javelin Guidry | Edge Anfernee Jennings |
| 6 | 191 | WR Binjimen Victor | OLB Carter Coughlin |
| 6 | 211 | Edge Tipa Galeai | RB Deejay Dallas |
Want to join the discussion about our mock draft or anything else Jets related?  Click here to join the most active Jets message board on the web,
Videos
Aaron Rodgers Injury Fallout & Jets/Bills Recap