Monday Morning Game Notes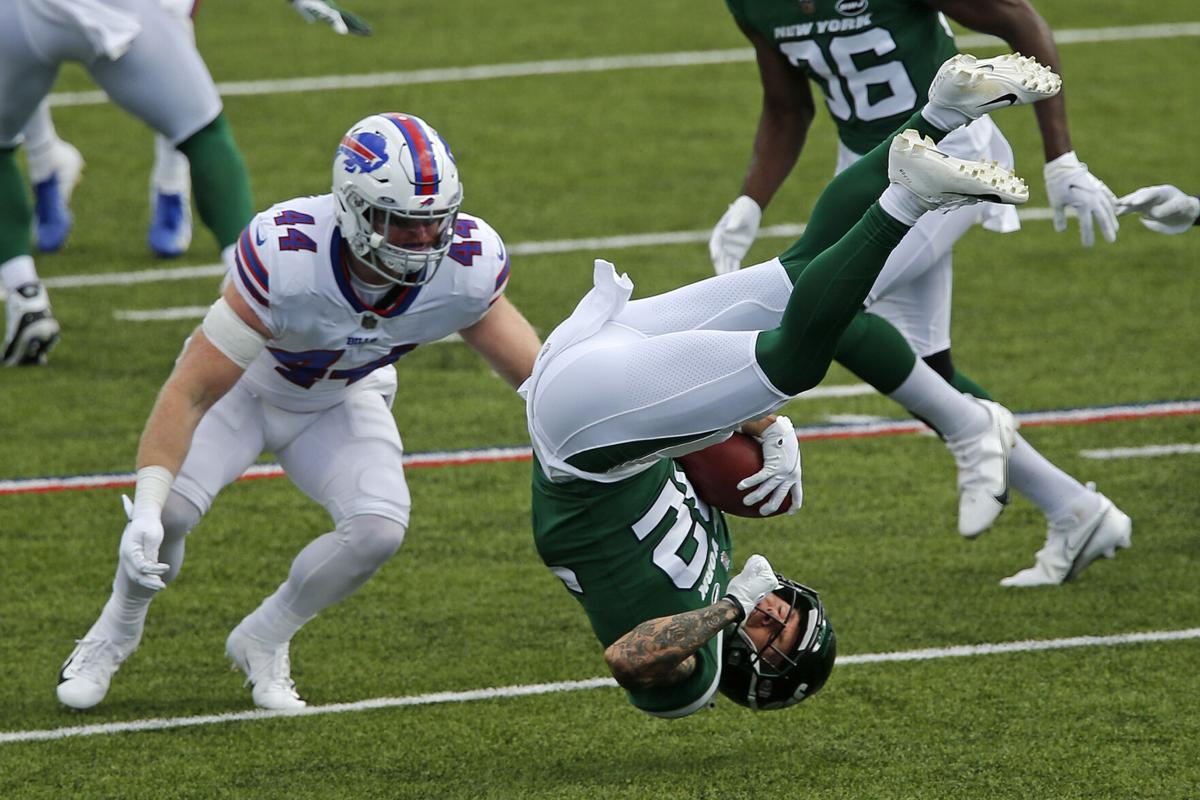 Here's the observation, an absolutely pathetic, putrid and trash performance by everyone in a Jet uniform.  A totally fake final score of 27-17 hides the total no show effort:
Special Teams
– The first play of the game should've been a sign, Josh Malone returns the KO outside the 30.  Decent field position, but of course there's a holding penalty.  So they start at the 9, typical. Credit to Malone because that was the only semblance of a return all game.  I know Ashtyn Davis was a hurdler in college but that needs to be left on the track.  He got his bell rung because he stupidly tried to hurdle a tackler.
– Unfortunately we saw way too much of Braden Mann.  Good job by him (46.3 avg) but no one wants to see a punter that much.
– Sam Ficken was perfect in all his attempts (FG, 2 XP's) but so what.
Defense
– Poor job by the defense in containing Josh Allen's running game in the first half.
– As usual no front seven pressure which allowed Allen way too much time in the pocket.
– Is Blake Cashman's body allergic to artificial turf?  He gets one snap into the season and he's hurt again?  He now has become the "Caucasian Dee Milliner", you have a shot to solidify a starting job and you can't stay on the field.  Give me a break.
– An excellent Trumaine Johnson impersonation by Pierre Desir and that's not a good thing.  So poor of a performance that Gregg Williams pulls him for Nate Hairston.
– Marcus Maye filled the hybrid role as expected and had a good game: 10 Tackles, 2 Sacks, 2 TFL, 2 Passes Defensed and 2 QB Hits.
– Bless Austin earned a starting job and then backed it up with: 8 Tackles and 1 TFL.
– Brian Poole had a costly holding penalty in the red zone which cost the team a TD.  But he was productive with: 9 Tackles, 1 Sack, 1 TFL and 1 Pass Defensed.
Offense
– What offense?  A total nonsensical plan to start the game.  The only groups that were able to stay on the field during camp was the OLine, TE's, RB's and Darnold.  Why not test the conditioning of BUF defense and run the ball?  Nope, let's spread out and have BUF test our pass protection with blitzes.  How did that work? They didn't get a first down until two minutes left in the first quarter.
– Jamison Crowder was the only offensive player who put up decent numbers (7 rec, 115 yds, TD) and he even had a couple of drops.
– Chris Herndon was a non-factor (6 rec, 37 yds) with a costly fumble.  And NOT ONE target for Ryan Griffin?  Can someone explain this to me?
– Breshad Perriman also was a non-factor (3 recs, 17 yds).
– Sam Darnold was horrible I don't care what his stats were (21/35, 215 yds, 1 TD, 1 INT).  You are now three years in the league, you can't have a delay of game penalty on the first play of a drive with NO CROWD NOISE.  Also, you can't take a sack by running out of bounds when you can throw it away.  And finally you can not throw that INT when you have an easy run in front of you that can pick up the first down.  Totally inaccurate in the first half and definitely the far inferior QB.  I am now officially concerned about what Darnold is and what he'll become.
Videos
Aaron Rodgers Injury Fallout & Jets/Bills Recap