Week 2 Preview: Can Jets Take Advantage of Banged up 49ers?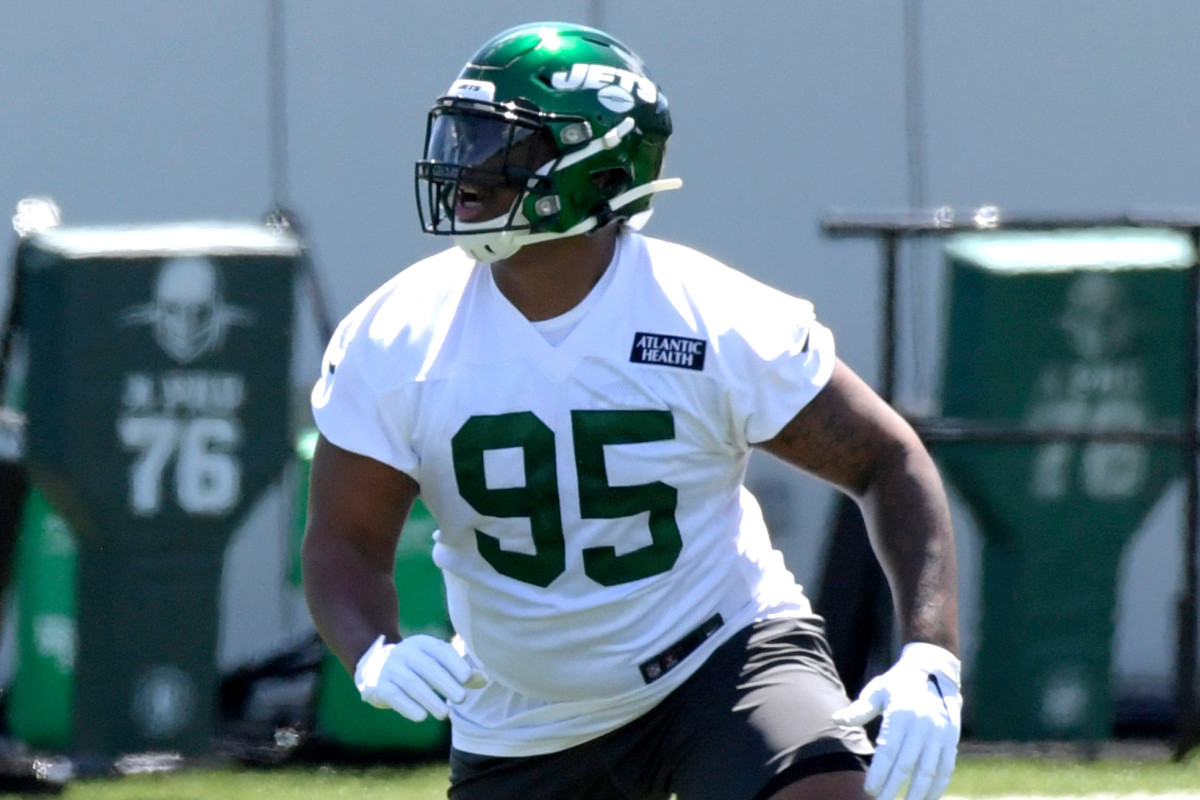 Yes, the New York Jets have their fair share of injuries, but fair to say none to any players of the caliber of San Francisco 49ers tight end George Kittle who is expected to sit this one out.  Along with Kittle, the 49ers have also placed cornerback Richard Sherman on injured reserve so the Jets catch a break there.  Will this be enough for Gang Green to eek out a win?  Let's take a look at key matchups.
Sam Darnold vs Sam Darnold:
Darnold was his own worst enemy last week.  He missed open receivers when protection was in place, he threw an ugly interception, ran out of bounds instead of throwing a ball away under pressure, and his mechanics looked terrible at times.  If Darnold is going to get better, he'd better start in a hurry.  It's not even about who the opponent is this week.  It's about Darnold making better decisions and cleaning up his mechanics.  If not, it'll be another offensive stinker with the Jets struggling to find the end zone outside of garbage time.
Mekhi Becton vs Nick Bosa:
This one has the chance to be worth the price of admission.  Bosa is an absolute freak off the edge whose explosiveness is a problem for anyone he goes up against.  For Becton, it's just his second pro start after a strong debut against Buffalo last week.  If Becton can't hold his own against Bosa, it's going to be a very long day for Sam Darnold and company.
Quinnen Williams vs Laken Tomlinson
Williams managed to beat the man across from him several times last week against the Bills but had little impact as Josh Allen consistently got rid of the ball too quickly or escaped the pocket before Williams got there.  Williams was the third overall pick last season.  He battled some injuries as a rookie as he settled in to the league, but it's time to start impacting the game on a regular basis.  Tomlinson looked impressive in pass protection last week against the Cardinals but given his skill set and draft status, the time for excuses for Williams is running out.  Tomlinson offers a tough challenge, but the Jets will need Williams to rise to that challenge with no real presence from a pass rushing perspective.
Breshad Perriman vs Emmanuel Moseley:
Moseley was picked on relentlessly in San Francisco's opener as we counted 14 targets.  Of those 14, the Cardinals completed nine passes.  With Richard Sherman on the shelf and Ahkhello Witherspoon possibly out with a concussion, the Jets have to take plenty of shots to Perriman against Moseley to give the offense an opportunity to get the ball into the hands of one of their most explosive players.
Jordan Jenkins vs Mike McGlichney:
Jordan Jenkins didn't see much action against Josh Allen and the Bills last week but he did pick up a few quarterback pressures despite limited reps.  We also recognized the fact that on most of Josh Allen's big runs, Jenkins was not on the field.
Looked like every big run Josh Allen had on Sunday came with somebody other than Jordan Jenkins on that side. He tries to roll out here but Jenkins and Quinnen team for the stop. pic.twitter.com/xNF1j7FDo0

— Glenn Naughton (@AceFan23) September 18, 2020
McGlichney is the closest thing the 49ers have to a "weak link" on their offensive line and Jordan Jenkins is the closest thing the Jets have to a pass rusher.  It will be interesting to see if Gregg Williams increases reps for Jenkins, or of Frankie Luvu and Harvey Langi keep sharing reps with the former Georgia Bulldog.
Jets Slot WR vs CB K'Waun Williams
Just over 48 hours from game time and here is the full list of healthy receivers on the Jets 53-man roster:
-Breshad Perriman, Chris Hogan, Braxton Berrios.  That's it.  Every single one of them.
The status of Jets receiver Jamison Crowder is up in the air right now so you'd have to believe Braxton Berrios will get the call in his place if Crowder's tender hamstring keeps him on the shelf.  Darnold has more chemistry with both Crowder and Berrios than he does with Perriman or Chris Hogan, so look for him to frequently target the slot.  Chris Herndon may also see increased reps out of the slot if Adam Gase puts an emphasis on getting him going on Sunday.  If it would mean some head-to-head matchups with the 5′ 9" Williams, getting Herndon involved out of the slot should be explored.
Connor McGovern vs DT Javon Kinlaw
Kinlaw looked like he was well worth the 49ers taking him in the first round when he made his debut against the Cardinals last week and he'll probably spend his fair share of time attacking the A-gaps with McGovern trying to pick him up.  McGovern was beaten a few times up the middle against Buffalo so this will be something to keep an eye on.
Prediction:
When we thought Kittle and Sherman were healthy, we viewed this as a blowout win for the Niners.  With those two on the shelf, it looks like it's going to a blowout win for the Niners.  For a young quarterback dealing with poor mechanics and happy feet, this is not the front seven you want him to be facing.  The Jets may not find the end zone in this one as they fall 23-6.
Videos
NY Jets Phase 3 OTAs, Expectations and a Minor Calf Tweak with Greg Renoff