Looking at the Future; Becton, Williams, Perine & Others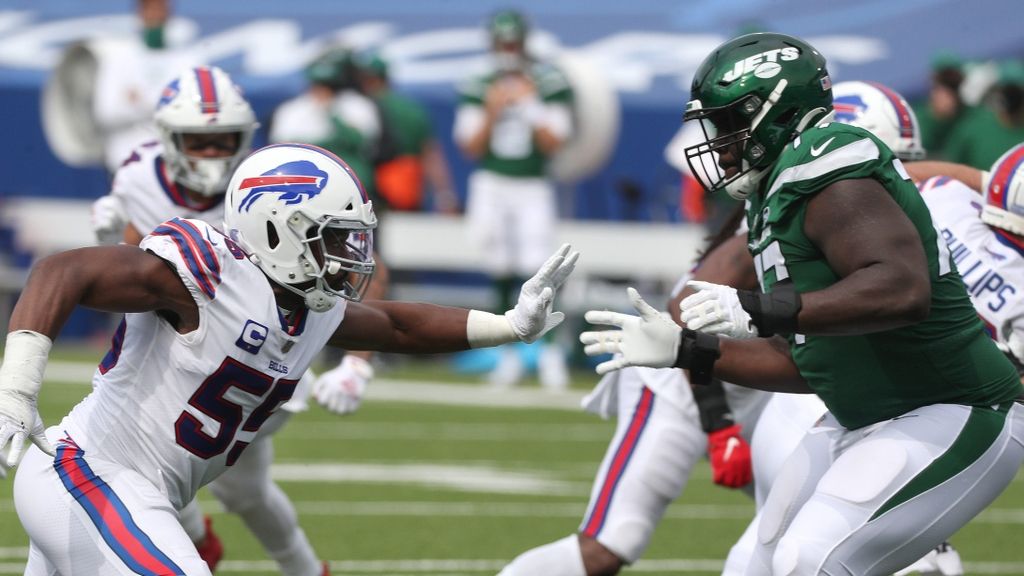 The season is beyond over and for the first time in my life I'm rooting for the team to go 0-16.  There is absolutely no benefit to winning any games, the Joe Douglas plan is now clear:
– Secure the #1 pick
– Fire Adam Gase and find the right HC
– Ensure that Trevor Lawrence is coming out
– Deal Sam Darnold
– With tons of cap space and picks surround Lawrence with a properly constructed roster when he steps on the practice field for the first time
In terms of roster construction let's take a look at some young pieces to see if they can be part of the future:
Offense
– Mekhi Becton is an absolute beast with unlimited upside.  Incredible power, movement skills and decent technique for someone so young.
– Cameron Clark needs to be worked into one of the guard spots as the season continues.  Because I haven't been impressed with Greg Van Roten, way too much softness at his spot.
– Chuma Edoga should be pushing George Fant but too many injuries and inconsistency makes me wonder about him long term.
– Chris Herndon's game has gone into the toilet.  I would keep him and see if the next staff can salvage his career but a new #1 TE has to be found. Hard to believe he's the same player who was making acrobatic catches and stretching the seam in 2018.
– Decent debut for Denzel Mims, now he has to stay on the field and adjust to the pro level.  Because in the first half he was making a nice impact but then BUF put White on him and he disappeared.  Stay in Hines Ward office and learn all the "tricks" to deal with top notch CB's.
– LaMical Perine shows good explosion to the hole and plays faster than his 40 time.  But he has a ton of work to do in pass protection.  Way too many times Perine is late finding his responsibility and gets pushed back into the QB's lap.
– Its too bad and way too soon but Sam Darnold needs another team.  We all know the countless issues where the Jets didn't support his growth (OLine, skill positions, coaching).  But the first half INT he threw was mindless and makes you wonder if he'll ever be a franchise QB.  You just can't throw into triple coverage when you're almost in FG position.  It makes you question his ability to see coverages and situational awareness.  There are multiple teams that could be looking for a QB (PIT, IND, NE, JAX, DEN, WSH, MIN?) maybe we can get a #2.  But with the questions about Darnold's game and his rookie deal running out the best we may get is a #3.  Amazing that his "era" could close so soon.
Defense
– Quinnen Williams has grown and has flashed his Alabama talents.  He's on pace for 63 Tackles, 7 Sacks and 17 TFL's which is the range of production I wanted. Now its on Douglas to get multiple edge rushers in the off-season where the new DC can have outside pressure from them with Williams applying the inside pressure. If proper moves are made we may actually see an NFL caliber pass rush.
– I like the potential of John Franklin-Myers and Bryce Huff.  Both have shown athleticism and the ability to penetrate in their limited reps.  I want to see more of them down the stretch to determine if they could be starters or JAGs going forward.
– I want to see more Blake Cashman at ILB. Avery Williamson isn't going to be here going forward and could be traded.  We need to see if Cashman can stay on the field and produce as the "speed/coverage" ILB.
– Bradley McDougald has checked out and needs to go.  Marcus Maye needs to be re-signed as the veteran/stabilizer in the secondary.  Bless Austin, Bryce Hall and Ashtyn Davis all need to be elevated to starters.  Let them take their lumps this year but they could be a young, talented and cheap group next year.
Videos
New York Jets OTA Presser Takeaways, Aaron Rodgers' Impact and Summer Delusion