Absurdity of Adam Gase's Incompetence Reaches new Levels as Jets fall to 0-12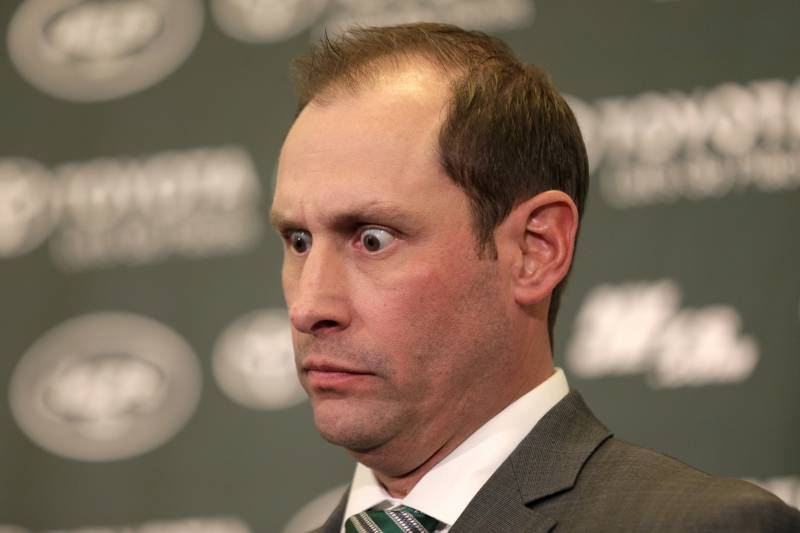 Just when you think it's impossible for Adam Gase to further prove just how far in over his head he is with the New York Jets as their head coach, we get a game like we had today.  A contest in which the Jets snatched defeat from the jaws of victory in the closing seconds by a final score of 31-28 to the Las Vegas Radiers.  Much of the focus will be (and should be) on Gregg Williams and his zero coverage blitz on the final play of the game.  But it's on the other side of the ball where the Jets efficiency exposed Adam Gase's idiocy.
First things first however.
Is there a segment of the fan base that is doing backflips over the Jets getting that much closer to Trevor Lawrence at the top of the draft?  Certainly.  Does this mean that Adam Gase wants his team to go 0-16 en route to the top pick?  Not a chance.
A winless season is a blemish like no other in the world of coaching.  It assures Gase he will be gone after this season and removes any notion of him being an offensive genius no matter how many phone calls Peyton Manning makes on his behalf.  Adam Gase wants to win football games and what we're seeing on Sundays is the best he has to offer.  In fact, Gase has put so much effort in to these games that he's downright delusional about their outcomes.
It was early in the first quarter yesterday when the broadcast team covering the Jets/Raiders said Adam Gase explained to them that the reason why his featured back has been 37-year-old Frank Gore is because the Jets have been in "a lot of close games" and that Gore doesn't want to come out.  A lot of close games?  Really?  Those are the words used by the head coach?  This, in discussing a team that has the largest points differential in the NFL as a result of being blown out on a regular basis?  Good lord.
Perhaps Frank Gore is the best option to play running back in the world Gase is living in, but not in the NFL in the year 2020.
In 11 games this season (10 starts), Gore has averaged more than 4 yards per carry just four times, two of which came in blowout losses.  To Gase, Gore is the answer to getting his offense in the win column as he's the featured back week in and week out.  When Gore was knocked out on just the second play of the game on Sunday, the head coach was forced to give Ty Johnson and Josh Adams an opportunity to step in for the archaic Gore, and the difference was astounding.  Johnson and Adams combined to run for 178 yards on 30 carries for an average of 5.9 yards per carry.
The offensive genius, without even realizing it, has been leaning heavily on a guy who might be the third-best running back on his own roster at this point.  What is Adam Gase watching throughout the week at practice?  And even if Sunday was an aberration, it showed that there are other backs on the roster worth giving a few more carries every Sunday.  But Gase, who has the best seat in the house to watch and evaluate his players, had no idea.  In love with the memory of the Frank Gore he coached many years ago in San Francisco, Gase nailed Johnson and Adams to the bench for as long as he could.
In fact, when Johnson got a rare carry way back in week six and picked up a season-long 30 yards, it seemed certain that even Gase couldn't deny the fact that the kid had a bit of juice.  From that point on Johnson may not have been the featured back, but surely as you own the NFL's 32nd ranked offense, Johnson would see six or seven carries per week just to see what he can do, right?  Wrong.  After putting up the team's longest carry by a running back up to that point, Johnson would see just five carries over the next five games.  Gast still believed Gore's carries were not to be limited.  He was the engine that was going to drive this offense.
It's not just about the player carrying the ball either.  After weeks and weeks of seemingly avoiding the left side of the offensive line, we saw the Jets run behind Mekhi Becton and shred the Raiders rush defense.  So impressive was Becton on the left side that NFL insider Brian Baldinger featured it in this tweet.
Brian Baldinger on Twitter: "@nyjets finally FINALLY decided to become a "left handed team" and build the offense around @BigTicket73 ; aka, Highway 77. Get on the damn HIGHWAY. #takeflight #BaldysBreakdowns https://t.co/XHgKhUPAes" / Twitter
It took Adam Gase 13 weeks to realize it might be a good idea to run behind his 360 pound mammoth left tackle.  It was the injury to Gore that showed him he has some backs on the roster who can get his offense more than 3 yards and a cloud of dust.  Adam Gase at his best isn't much better than most coaches at their worst.  He'll likely become the first Jets to complete an 0-16 season unless the Patriots take mercy on him in week 17.  Jets fans thought the bottom of the barrel was Rich Kotite's 1-15 team back in 1996.
If Kotite is taking the time to watch these games, he's probably shaking his head and wondering how in the world Adam Gase has a job at all.
Videos
NY Jets Phase 3 OTAs, Expectations and a Minor Calf Tweak with Greg Renoff