Looking at the Head Coaching Candidates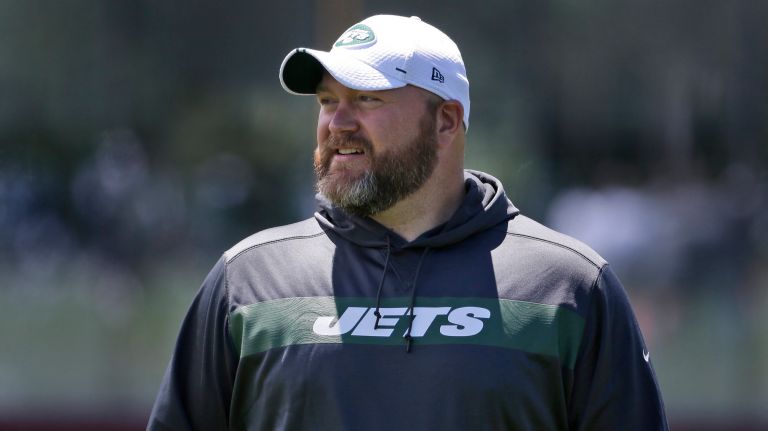 Adam Gase has been fired
, better late than never.  Two years after the New York Jets shouldn't have hired Adam Gase to begin with, the team has finally cut ties with a head coach who one could argue was the worst the franchise has ever known. With Gase and his lethargic vanilla offense out the door, it's time for Joe Douglas to lead the search that will land the Jets a new head coach who will undoubtedly have a big say in what the team does at the quarterback position for 2021 and beyond.
With Gase's firing a certainty even several weeks ago, quite a few names have been thrown around as possible replacements, so here's what you need to know about each candidate.
Matt Campbell, Iowa State Head Coach:  
The Jets reportedly made overtures toward Campbell during the Gase hiring process but he declined an interview, opting instead to stay at Iowa State.  Since that time, Campbell has solidified himself as one of the top coaches in the nation as he took Iowa State from an 8-28 record over the three years before he was hired, to currently being ranked 10th in the nation.
In year one with Iowa State, Campbell's team limped to a 3-9 finish, putting them at 11-37 over four seasons.  Since that time, Iowa State has gone 31-19 with 3 bowl appearances (1-2).  Their 8 wins this season represent the third time they've hit that total in four seasons.  Prior to Campbell, they hadn't won 8 games since 2000.
Campbell was named the Big 12 coach of the year in 2017 and 2018 and may get it again in 2020 after putting together an 8-3 season that culminated in a blowout win against the Oregon Ducks in the Fiesta Bowl.
Iowa State has had two Top 25 seasons in its entire history, and its highest final ranking was 19th.

The Cyclones are going to finish the 2020 season with a Top 10 ranking and a New Year's Six bowl win. One of the great stories in the sport.

— Stewart Mandel (@slmandel) January 3, 2021
Prior to his time at Iowa State, Campbell led Toledo to a win-loss record of 35-15, giving him a lifetime record as a head coach of 69-43.
If Campbell can be had, the Jets should hand him a blank check and make it happen.
Pat Fitzgerald, Northwestern Head Coach:
Fitzgerald's name was the first to surface several weeks ago when the folks at uStadium were the first to report the Jets were going to part ways with Gase and had already started considering replacements.
Fitzgerald is a highly respected head coach who has been in place at Northwestern since 2006.  In the five years leading up to his hire, Northwestern was a sub .500 program at 26-32.  As was the case with Campbell, Fitzgerald had a poor debut season at 4-8 but has since gone 102-73 to go along with a 4-5 record in bowl games with three of those wins coming in their last three tries.
A defensive guru who played linebacker in college, Fitzgerald has built one of the top defenses in the country which stymied Ohio State's Justin Fields just a few weeks before Fields carved up the Clemson Tigers in the college playoffs.
The Packers reportedly showed interest in Fitzgerald after firing Mike McCarthy but he had no interest in moving on from his alma mater.
Don "Wink" Martindale, Baltimore Ravens DC
Stop us if you've heard this before, but the Jets could be bringing in a supremely confident defensive coordinator from the Baltimore Ravens to take the wheel.
Martindale has been a linebackers coach and defensive coordinator who will be familiar with Jets GM Joe Douglas as there was a three-year overlap in their time with the Ravens before Douglas departed.
Since taking over defensive play calling for the Ravens, Baltimore's defense has ranked 1st, 4th and 9th overall in the NFL.  In his first year as a coordinator with the Denver Broncos in 2010, Martindale's defense was 32nd in the NFL.  That should have the Jets taking a close look at what went wrong in Denver.
Unlike Campbell, Martindale has no head coaching experience at the major college or NFL level.
Eric Bieniemy, Kansas City Chiefs OC: 
Stop us if you've also heard this one before, but the Jets could be bringing in a Super Bowl winning offensive coordinator who made a name for himself by getting video game like production out of one of the best passers in the NFL.
Because of the success the Chiefs have had on offense, Bieniemy's name has been tossed around quite a bit.  However, with Andy Reid likely calling the majority of the Chiefs plays, nobody outside of the organization knows just how much Bieniemy is doing in terms of putting together the offense that's executed by Patrick Mahomes every week.
Even if Bieniemy hasn't been the primary play caller, it's safe to assume he's picked up a thing or two from Reid, one of the best offensive coaches in NFL history along the way.
As is the case with Martindale, Bieniemy also has no head coaching experience.
Todd Monken, University of Georgia OC: 
This one is  a bit of a pipe dream as it would mean Chris Johnson swallowing his pride and going back to the guy who some say finished as the runner up to Gase two years ago.  But Monken checks just about every box.
From 2013-2015 Monken was the head football coach at Southern Miss.  Prior to his arrival, the Golden Eagles were coming off of a winless 0-12 season.  Over the course of his three seasons, Monken got Southern Miss from Winless to a nine-win season and bowl appearance.  His work didn't go unnoticed as the Tampa Bay Buccaneers brought him in to be their offensive coordinator.
In three seasons with the Bucs, Tampa Bay saw improvement from quarterback Jameis Winston in almost every single statistical category and his work this season in Georgia has been universally praised.
So in summary, Monken has turned around a college program as a head coach, he has called plays at the pro level and got a young quarterback to improve his production in each season he played under him.  It's a long shot, but Monken would be a great hire.
Joe Brady, Carolina Panthers OC: 
Brady's name has been mentioned several times this offseason as a hot candidate for upcoming vacancies.  He was the man behind the LSU Tigers record-setting offense before joining the Panthers.  He also spent two seasons working under Sean Payton in New Orleans leading up to his time with LSU.
Despite missing his best player on offense in Christian McCaffrey in 2020, Brady had the Panthers offense ranked 20th overall while producing a pair of 1,000 yard receivers in former Jet Robby Anderson and DJ Moore.
Dan Mullen, University of Florida Head Coach: 
Mullen is another candidate who is expected to draw interest from multiple teams given the Gators' offensive explosion in 2020 after becoming the first coach to win back-to-back FBS six Bowl Games with the Gators.
Mullen has also shown the ability to hang with upper echelon teams in posting a 4-3 record against top 25 ranked opponents.
After averaging just 23 points per game from 2015 to 2017, Florida saw a 10-point jump under Mullen who had them clocking in at 35 points per contest while his team's passing yards per game jumped form 79th in FBS to 15th last season.
Brian Daboll, Buffalo Bills OC: 
The work Daboll has done in Buffalo with Josh Allen cements him in as a guy whose phone should be ringing off the hook this offseason.  After completing just 52% of his passes as a rookie, Allen is  having an MVP type of season, connecting on 69% of his passes.  A type of statistical turnaround that's almost unheard of.
Winning is in Daboll's genes after spending 11 seasons with the New England Patriots before winning a national championship at Alabama a Nick Saban's offensive coordinator.
His work with Allen and knowledge of the division could make Daboll a prime target.
This search is expected to be exhaustive as Joe Douglas will want to hit on his first hire so expect more names to surface in the coming days.
Who do you want to see the Jets hire? We want to hear from you in our forums, where die-hard fans are sounding off on who will be the Jets next head coach?
Videos
Aaron Rodgers Injury Fallout & Jets/Bills Recap