System Comparison: Shanahan vs the LaFleur Brothers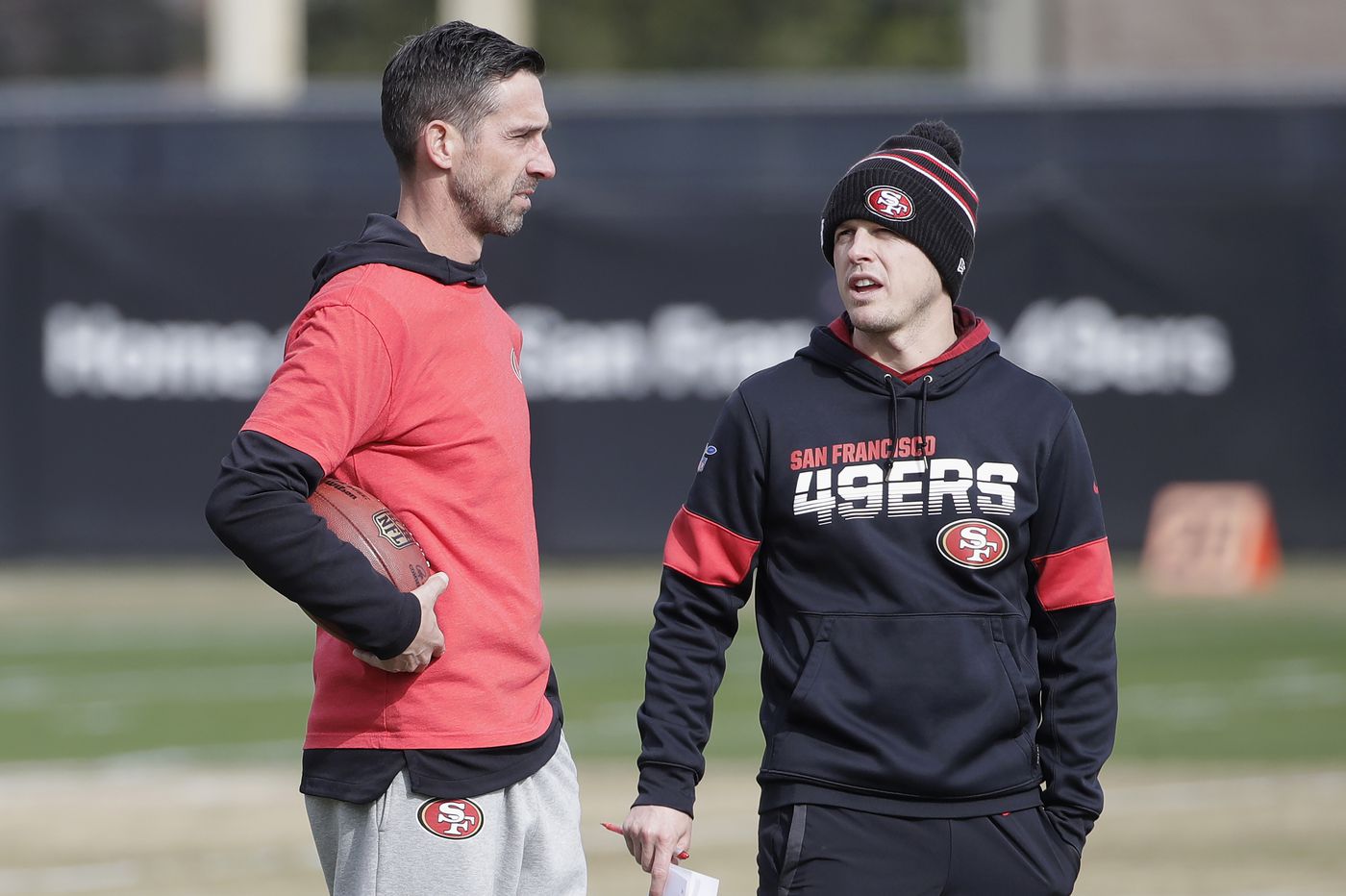 One thing Jets fans have heard repeatedly since the hiring of head coach Robert Saleh and offensive coordinator Mike LaFleur is that they should expect the offense to be a carbon copy of what the 49ers have done the last few seasons under Kyle Shannahan.  But that could be a bit premature.  Why not consider the possibility of the Jets blending the offenses of both Kyle Shanahan's system in San Francisco and LaFleur's brother Matt in Green Bay? 
Well we considered it, and decided to compare all three teams' personnel usage in 2020, as well as the players they have to fit each role.  While San Francisco has the ability to play with more backs and tight ends on the field utilizing Kyle Juszczyk and George Kittle, the Packers tend to use more 11 or 21 personnel out of spread looks.
For this exercise, we'll look at all of the pieces in each offense to help identify any clues as to what the Jets may look like offensively in 2021. While it's still early in the process and no official starters have been announced, we'll try to project who we believe will be the starters as well as how much time we expect them to play. Since the running game is said to be the most integral part of the offense, let's start with the backs.
Running Back
Michael Carter, New York Jets (2021 4th rd pick)
2020 Production (N. Carolina): 11 games, 156 attempts, 1,245 yards (8.0 YPA), 9 TDs, 25 catches, 267 yards, 2 TDs
Aaron Jones, Green Bay Packers (2017 5th rd pick)
2020 Production: 14 games, 201 attempts, 1,104yards (5.5 YPA), 9 TDs, 47 catches, 355 yards, 2 TDs (50-65% snaps/game)
Raheem Mostert, San Francisco 49ers (2015 UDFA)
2020 Production: 8 games, 104 attempts, 521 yards (5.0 YPA), 2 TDs (30-50% snaps/game)
All three offensive systems, New York, San Francisco and Green Bay, will look to deploy a "running back by committee" approach, where each back is spelled to maintain fresh legs on the field at all times. Therefore, the running backs above only make up a fraction of their team's position group, but are the most likely to lead their respective teams in major rushing categories. You can view them as the "RB1", but it's evident that the Shanahan and LaFleur systems do not rely heavily on one single player all year at the position. Tevin Coleman and Ty Johnson, and to a lesser extent La'Mical Perine, will all be asked to carry a small portion of the backfield duties throughout the course of the season. The Jets lack a complete "do-it-all" threat out of the backfield, but rookie Michael Carter has the highest chance, as well as upside and ability, to take control of the room in New York. Meanwhile, Green Bay will deploy star Aaron Jones and emerging young talent AJ Dillon, with rookie Kylin Hill added to replace Jamaal Williams. The 49ers will continue working their platoon of backs, which includes Raheem Mostert, Wayne Gallman as well as a slew of young, unpolished players including JaMycal Hasty, and rookies Trey Sermon and Elijah Mitchell.
In terms of expected usage in the Jets backfield, whoever emerges as their "lead" back,  Tevin Coleman likley begins in that role and will play roughly 40-60% of the snaps per game. The "spell" backs, Michael Carter and Ty Johnson, will likely fall anywhere between 20-40% snaps each week, with the remaining touches going to La'Mical Perine. All of this will be gameplan and matchup specific, of course, but the general attack from the position will be to share duties amongst all the players. Perine projects to be the best pass protector of the group, while Coleman gives the most immediate work in the passing game as a receiver. Carter and Johnson, however, look to fit the "wide zone" scheme the most. Their ability to stretch the run to the edge, with the vision and acceleration to plant and cut upfield quickly through the hole, is what Mike LaFleur looks for in his running backs.
Fullback/H-Back
Trevon Wesco, New York Jets (2019 4th rd pick)
2020 Production: 4 games, 2 targets, 1 catch (50% Catch%), 5 yards (5 YPC), 1 rush, 2 yards (15-25% snaps/game)
Josiah Deguara, Green Bay Packers (2020 3rd rd pick)
2020 Production: 2 games, 2 targets, 1 catch (50% Catch%), 12 yards (12 YPC) (20% snaps/game)
Kyle Juszczyk, San Francisco 49ers (2013 4th rd pick)
2020 Production: 16 games, 29 targets, 19 catches (65.5% Catch%), 202 yards (10.6 YPC), 4 TDs, 17 attempts, 64 yards (3.8 YPA), 2 TDs (40-60% snaps/game)
A major factor in the Shanahan system is the use of the fullback. In the case of the 49ers, they have the best fullback in the NFL, Kyle Juszczyk. Kyle Shanahan deploys Juszczyk in several different alignments throughout the course of the game. He can play in line as a blocker on the line of scrimmage, as well as splitting out wide to run routes. The best example of Juszczyk's versatility would be when the 49ers ran a FB Speed Option against the New Orleans Saints.
— James Light (@JamesALight) June 28, 2020
While it's clear the Jets, nor Packers, have the caliber of talent to match that of Juszczyk, they have offensive pieces that can be used similarly. For the former, it's Trevon Wesco who should be the favorite to win the job. Listed as a TE, Wesco lined up in the backfield a total of 45 times in 2020, according to PFF. While only 15% of his offensive workload came as a fullback, more than two thirds of his total reps were rushing downs, a 105-41 split (71.9%). If Mike LaFleur can coach Wesco up to be a more consistent blocker, it will go a long way for the Jets' run game. For the latter, an early season injury to Josiah Degaura derailed their hopes of having a solid H-Back in the offense. Luckily, the Packers use more spread looks (something the Jets may consider given their personnel), so they frequented more 11 personnel [1RB, 1TE] throughout the year. According to sharpfootballstats.com, the Packers ran 11 personnel 55% of the time, compared to San Fran's 44%. Adam Gase, for what it's worth, ran it 72%. It's expected that both the LaFleur brothers should operate with more 2-back sets in 2021.
Wide Receiver 1
Corey Davis, New York Jets (2017 1st rd pick)
2020 Production (Titans): 14 games, 92 targets, 65 catches (70.7% Catch%), 984 yards (15.1 YPC), 5 TDs (75-80% snaps/game)
Davante Adams, Green Bay Packers (2014 2nd rd pick)
2020 Production: 14 games, 149 targets, 115 catches (77.2% Catch%), 1,374 yards (11.9 YPC), 18 TDs (90% snaps/game)
Brandon Aiyuk, San Francisco 49ers (2020 1st rd pick)
2020 Production: 12 games, 96 targets, 60 catches (62.5% Catch%), 748 yards (12.5 YPC), 5 TDs (85% snaps/game)
For the reigning MVP Aaron Rodgers, the Packers have the ultimate "WR1", Davante Adams. With an outstanding 18 touchdowns in 2020, Adams displays incredible release and route running ability. He and Rodgers are always in lockstep, taking advantage of mismatches consistently, most notably on Rodgers' false count that rewards Green Bay in "free-play" situations. One could even make a case for Adams being the best wide receiver in the league. The 49er's however, are not quite as comfortable, but have a great deal of upside with Brandon Aiyuk. With nearly 750 yards and 5 TDs as a rookie, Aiyuk's YAC ability makes him a great fit for the West Coast offense. If he can polish up his routes, Aiyuk can take a big leap in year 2 with either Garoppolo or rookie Trey Lance.
Meanwhile, a new face in New York's offense, former 5th overall selection Corey Davis comes from Tennessee with a skillset both suited for Mike LaFleur as well as Zach Wilson. A near 1,000 yard receiver in 2020, Davis comes into a situation where he can excel and eclipse that mark for the first time in his career. His strengths come as a receiver in the middle of the field (crossers/deep-in routes), as well as being a physical blocker on the perimeter. If he and Wilson can develop a rapport early, there's no doubt that Corey Davis could emerge as the Jets' best receiver this upcoming season. Davis should play roughly 80% of offensive snaps per game, mainly as a perimeter player who can slide inside to the slot to create an advantage. He can work as the crosser in condensed splits to gain separation from defenders in man, and win contested situations on the outside to help out his rookie quarterback. Don't be surprised if Davis sets a career-high in YAC, shattering his previous best of 291.
Wide Receiver 2
Denzel Mims, New York Jets (2020 2nd round pick)
2020 Production: 9 games, 44 targets, 23 catches (52.3% Catch%), 357 yards (15.5 YPC) (90% snaps/game)
Allen Lazard, Green Bay Packers (2017 UDFA)
2020 Production: 10 games, 46 targets, 33 catches (71.7% Catch%), 451 yards (13.7 YPC), 3 TDs (60-70% snaps/game)
Jalen Hurd, San Francisco 49ers (2019 3rd rd pick)
2020 Production: ACL tear in August 2020, did not play
A position that leaves much to be desired for all three teams, the 2nd wide receiver spot remains a large question mark. Jalen Hurd has yet to play a game for the 49ers, but they must remain hopeful, as their only other outside receivers are Mohamed Sanu and Kevin White. Sanu may start based on experience and familiarity with Kyle Shanahan (crossover in 2016 in Atlanta, where Sanu played in Super Bowl LI), but if Hurd shows any sign of promise, he is likely to garner more and more reps. The Packers have struggled to find a consistent option opposite Adams, and have relied heavily on the likes of Allen Lazard and Marquez Valdez-Scantling. For context, Lazard was 5th in team receptions in both 2019 and 2020, while Valdez-Scantling finished 7th and 5th in respective years. If they can get above average production from their WR2 moving forward, Green Bay's top notch offense only gets that much scarier to opposing defenses. Second year pro Denzel Mims looks to rebound after a not-so-exciting rookie campaign. With only 357 yards and zero touchdowns in 2020, his production can only go up. He also needs to keep his body healthy for a full season, after lingering hamstring injuries limited him last year. While it's unlikely that he will be the best of the group in New York, if he shows the same ability to separate at the top of his route, Mims has potential to take a legitimate leap in Year 2.
Projecting Mims' usage is tricky for several reasons. For one, the Jets have a solid receiver group that includes five viable options. Secondly, the offensive philosophies have changed to one that relies more on running the ball and having fewer receivers on the field overall. Over a 7-game stretch in 2020, Mims was on the fields for an average of 91% of snaps. It's highly unlikely that he will see that much action, but to fall into the 60-70% range seems more reasonable on a per-game basis. Expectations should be for Denzel Mims to have roughly 500 yards and to finally find paydirt in 2021.
Slot Wide Receiver
Elijah Moore, New York Jets (2021 2nd rd pick)
2020 Production (Ole Miss): 8 games, 86 catches, 1,193 yards (13.9 YPC), 8 TDs, 14 rushes, 64 yards (4.6 YPR)
Amari Rodgers, Green Bay Packers (2021 3rd rd pick)
2020 Production (Clemson): 12 games, 77 catches, 1,020 yards (13.2 YPC), 7 TDs
Deebo Samuel, San Francisco 49ers (2019 2nd rd pick)
2020 Production: 7 games, 44 targets, 33 catches (75% Catch%), 391 yards (11.8 YPC), 1 TD, 8 rushes, 26 yards (3.3 YPR) (28% snaps)
Arguably the most important receiver position, and perhaps the most important position outside of quarterback in this offense overall, this is where things get interesting. San Francisco is locked in with their slot guy in Deebo Samuel, who is the model for what this scheme asks of their gadget players. He is their "do-it-all" threat that you need to account for on every snap. Whether he is motioning across the formation, lining up in the backfield, or out wide as the "X" receiver, Samuel has amassed 12.3 yards per touch with a 72% catch percentage over his first two seasons, adding 7 total touchdowns (3 rushing, 4 receiving).
For both Green Bay and New York, they will look to rookies to carry the load as the slot receiver. Amari Rodgers, who will be trying to fill the "Randall Cobb" role, can quickly emerge as the 2nd best pass-catcher in the Packers' offense opposite Davante Adams. Drafted in the 3rd round this past April, Rodgers' experience as a 4-year player at Clemson, as well as his versatility, will allow him to see an increase in reps as the season continues.
With the 34th pick of the 2021 NFL Draft, the New York Jets selected Elijah Moore out of Ole Miss. Throughout the draft process, Moore's rise up draft boards was quite significant. At first, he was rarely found in analysts' top 50 lists, but then he skyrocketed up boards, landing as high as WR4 for some clubs. For the Jets, that means a possible heist for Joe Douglas and company. Now, Moore has a chance to create a special connection in Florham Park with fellow rookie Zach Wilson, where the hope is that the two can grow together for the next decade. All signs out of OTA's would mirror that sentiment, as Wilson has hooked up with Moore for several big plays and TDs already in camp.
Usage will be, like Mims, difficult to project. Moore will be competing with Jamison Crowder for reps in the slot, at least to begin with. Robert Saleh said they are "working through contract things" with Crowder, so for now all the reps are going to Moore in OTAs. If Crowder is cut or traded before getting into training camp, Moore is in prime position to play a large chunk early on, potentially 75%+ snaps per game. Manufacturing reps and touches for Moore will be imperative for Mike LaFleur and this offense, who look to climb out of the league's statistical basement. Moore's skill set is one that could have him in the offensive rookie of the year conversation by season's end.
Tight End
Chris Herndon IV, New York Jets (2018 4th rd pick)
2020 Production: 16 games, 45 targets, 31 catches (68.9% Catch%), 287 yards (9.3 YPR), 3 TDs (68% snaps)
Robert Tonyan, Green Bay Packers (2017 UDFA)
2020 Production: 16 games, 59 targets, 52 catches (88.1% Catch%), 586 yards (11.3 YPR), 11 TDs (61% snaps)
George Kittle, San Francisco 49ers (2017 5th rd pick)
2020 Production: 8 games, 63 targets, 48 catches (76.2% Catch%), 634 yards (13.2 YPR), 2 TDs, 2 rushes, 17 yards (9.5 YPC) (40% snaps)
The final position group in this exercise is the tight end, and all three teams have reasons for optimism. Much like Deebo Samuel for slot receivers, George Kittle is the perfect example of what you want out of the position. A dominant 5th round selection, Kittle has over 3,500 yards in his first four seasons with 17 total touchdowns, but that is not his best trait. What he brings to the game from a physical perspective as a blocker, Kittle accentuates all the Shanahan/LaFleur preferred qualities. Green Bay has a lesser version of Kittle in UDFA Bob Tonyan, who caught 10 touchdown passes in 2020 with a tremendous 88.1% catch rate. Tonyan and Kittle are actually very close friends, and they work out together in the offseason, so it's not hard to see why the two are so alike.
New York, however, is still hoping for a comeback from Chris Herndon. A player who flashed as a rookie in 2018, and then emerged down the stretch when all hope was lost in 2020, Herndon comes into 2021 with a clean slate and a new opportunity. If he and Zach Wilson are able to build chemistry throughout the summer, Herndon can be in line for a big year. Primarily used as a blocker under Gase last season, Herndon is a breakout candidate for this offense.
The Jets are expected to deploy more two-tight end sets, so Herndon will have plenty of opportunity to see the field. He, Ryan Griffin and newly signed Tyler Kroft will all likely see snaps in the run game as well as on passing downs, but Herndon clearly provides the most upside of the three. If he were to achieve 600 yards and 5 touchdowns, both personal bests, this season would be a big leap in what hopes to bring him a new contract in the final year of his rookie deal. Staying healthy and not trying to do too much when he does see the ball should be his focus for 2021.
Videos
New York Jets OTA Presser Takeaways, Aaron Rodgers' Impact and Summer Delusion