NextGen Stats Suggests Jets O-Line Could be Further Along Than Expected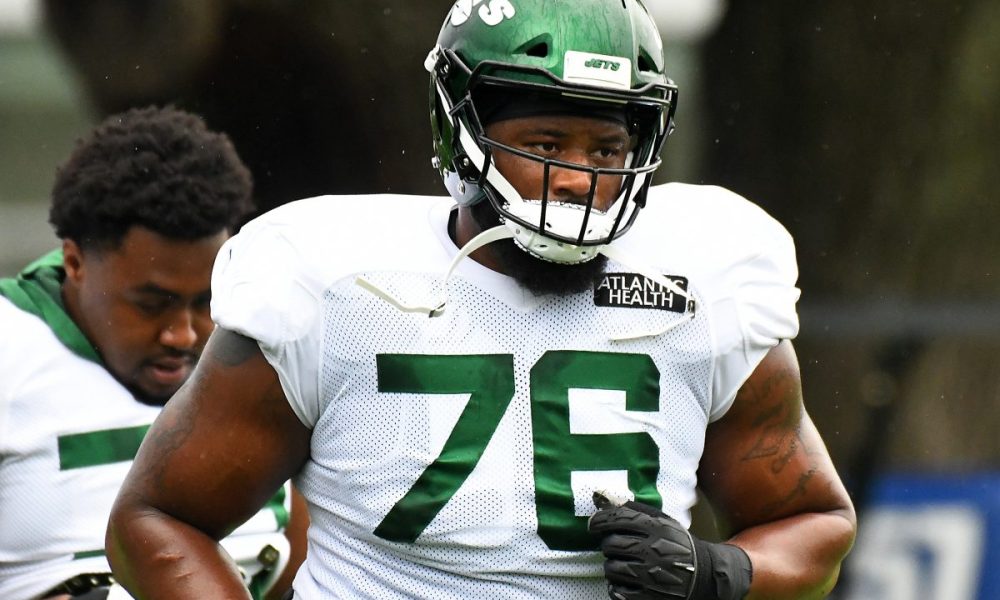 Not more than a couple of weeks ago we published a story suggesting that some of the Jets struggles on offense were due to the atrocious head coaching job done by former Jets head Adam Gase.  We pointed out the fact that running back Ty Johnson was grossly underused and pointed to the success he had when given the opportunity.
There wasn't much left to say about how bad the Jets offense was handled in 2021, but then an interesting nugget popped up from NextGen stats that reinforced what many of us already knew in Gase being incompetent, but there's a far bigger point to be taken from the data provided.
One metric tracked by NextGen stats is a running back's "expected yards per carry", which looks at the position of both the blockers and defenders while taking their speed into account.  This provides us with information that would be impossible to figure out while sitting on our couches, in the stadium or even watching all 22 footage.
So what did NextGen stats say about the Jets running backs expected yards per carry versus how they actually produced?
NextGen had the Jets ranked 9th in the NFL at an expected average yards per carry of 4.4, suggesting the run blocking wasn't as bad as the box scores would suggest.  The reality wasn't as kind however, as the Jets rushing attack was led by dinosaur running back Frank Gore, making the Jets actual yards per carry -0.39 yards over expected YPC, raking them 30th in the NFL as noted by NFL.com in projecting rookie running back performances:
The 2020 Jets' offensive line helped drive a 4.4 average in expected yards per rush, which ranked ninth in the NFL. Jets ball carriers, however, earned -0.39 rushing yards over expected per attempt, which ranked third-worst. Drafting guard Alijah Vera-Tucker and getting more snaps out of Mekhi Becton (who is presumably healthy) will add even more to this potentially positive O-line situation for the Jets.
To say the NFL's worst offense had top 10 capability in any facet of the game seems bizarre, but in looking at the production of the backs behind Frank Gore on Adam Gase's depth chart, it may not be all that far-fetched.
Over the course of the 2020 season, Gore was easily the worst runner on the roster as he averaged just 3.5 yards per carry.  When Gore was injured and Gase was forced to look elsewhere, it was a different story.  Rookie runner LaMical Perine was only slightly better than Gore at 3.6 yards per carry, but veteran Josh Adams averaged 5.4 yards per carry along with Ty Johnson who came in at 4.7 yards per attempt.  Those aren't numbers you would expect to see from your third and fourth running backs behind an offensive line that isn't supposed to be able to open up any holes.
So while there's still plenty of work to do at 1 Jets drive there is some data that suggests the offensive line isn't quite as far off the rails as it appeared to be under Gase just one year ago.
Videos
Aaron Rodgers Injury Fallout & Jets/Bills Recap