Jets Camp Report Mon 08/02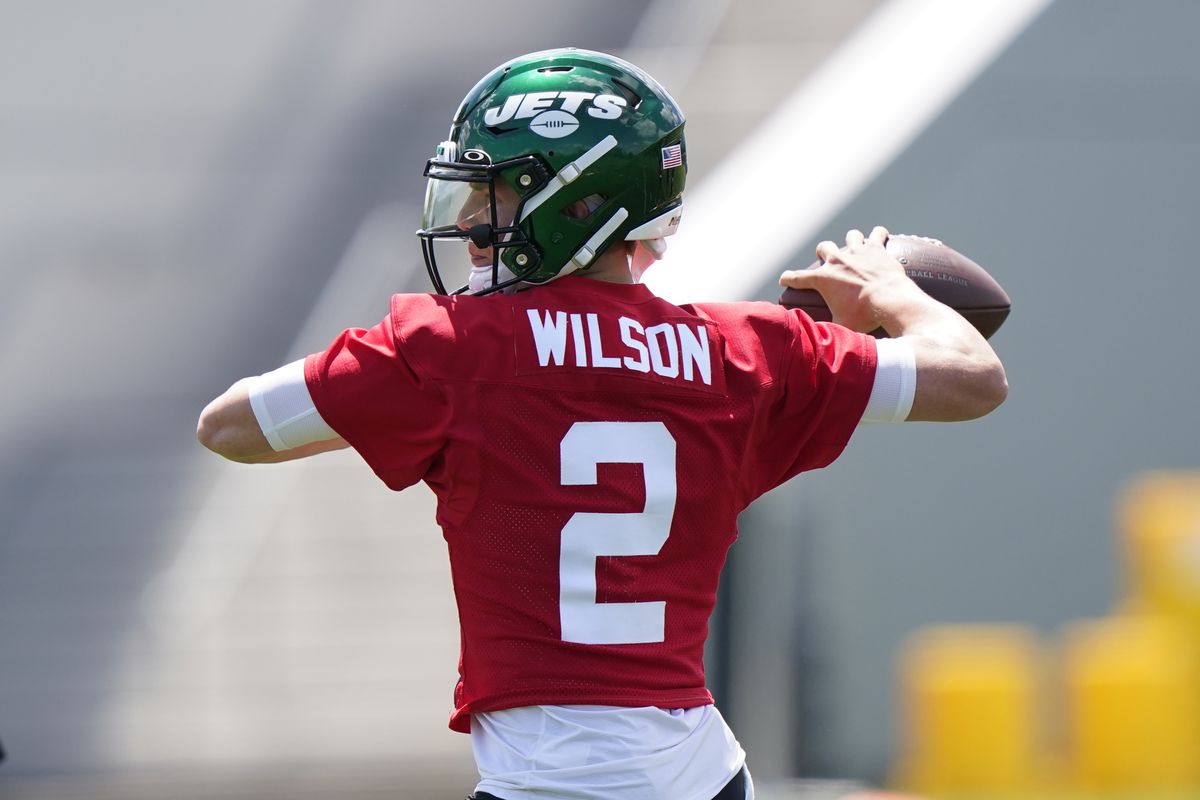 General Notes
– Practice ran 2 hours and 20 minutes with the same breakdown that I saw on Saturday (25 minute warmup, 15 minute install, formal practice).  Also the first 90 minutes of practice is very teaching intensive before they start 11 on 11's.  So that's why you won't see many "juicy tweets" early in practice.
– ** RED FLAG ** They were in jerseys & shorts once again.  This is the fifth day of camp, where are the full pads?  Is this coming down from the league or is this a Robert Saleh decision?  You can't prep for real football by playing two hand touch
– An actual fight today between Cameron Clark and Tanzel Smart where they squared off and stupidly threw blows with helmets on.
– The defense unveiled their blitz packages which stifled the offense and allowed them to win the day.  Let's see if the offense can recover when I go back on Wednesday.
Scheme Notes
– All fans are going to have to "unlearn" what to expect from the Jet defense. From 2006-2020 they were a 3-4 blitz heavy, press man defense that relied on  their CB's.  Now they are a 4-3, matchup zone defense that relies on their DLine.
– Only DLinemen that can penetrate and get up field will make the team.
– The back 7 must be:
* Detailed oriented
* Know how deep to drop in coverage
* Know who to pass their man off to
* Able to keep their eyes on the QB while watching their area
* Good tacklers
Player Notes
– With all the above said, excellent job done by the defense today.  Causing the QB's to hold the ball (which would've been "sacks"), forcing the QB's to scramble out of the pocket and knocking away multiple passes.
– Some 11 on 11 defensive highlights:
* Foley Fatukasi with a TFL on a draw play
* Lamarcus Joyner with a TFL on a screen pass
* Carl Lawson with a TFL on a running play
* John Franklin-Myers with a "sack"
* Justin Hardee (special teams ace) displaying CB skills with multiple knock aways
– Impressive performances by Hamsah Nasirildeen and Jamie Sherwood.  Very sound in handling their assignments, did not make mistakes and did an excellent job in timing their blitzes.  Nasirildeen is running with the #1's at WLB while he and Sherwood replaced CJ Mosley and Jarrad Davis in a coverage package.  My final point I'll keep vague because they don't want specific scheme stuff leaked, but Nasirildeen showed advanced knowledge in handling some blitz responsibilities he was given.
– Excellent performances by Bryce Hall and Bless Austin at CB.  Hall had a couple of passes defensed one in particular was from Zach Wilson to Keelan Cole.  Hall was in a trail position and was able to knock away an accurate 15 yard slant.  While Austin was able to make a leaping INT of Wilson in a red zone period.
– Elijah Moore displayed fantastic footwork as he shook a CB (didn't catch their number) to the ground in the red zone for an easy TD from Mike White.
– A Kenny Yeboah sighting as he caught a couple of passes in 11 on 11's and a TD during a red zone period.
QB Notes
– A tough sledding day for Zach Wilson with no "sexy plays".  As the defense clamped down completions were hard to come by.  But I will give him credit for not forcing things, taking check downs and even throwing balls away when no one was open.  He didn't compound a tough day by turning the ball over and making the practice a cluster "bleep". Even his INT that I mentioned before by Austin wasn't awful, he was throwing it high for his WR but Austin just went and got it.  Let's see him recover on Wednesday.
Standouts
– Bryce Hall
– Bless Austin
– Hamsah Nasirildeen
– Overall coordination of the defense
Concerns
– Let's see the entire offense bounce back on Wednesday
Videos
Aaron Rodgers Injury Fallout & Jets/Bills Recap