KRL Jets Camp Notes (8/4/21)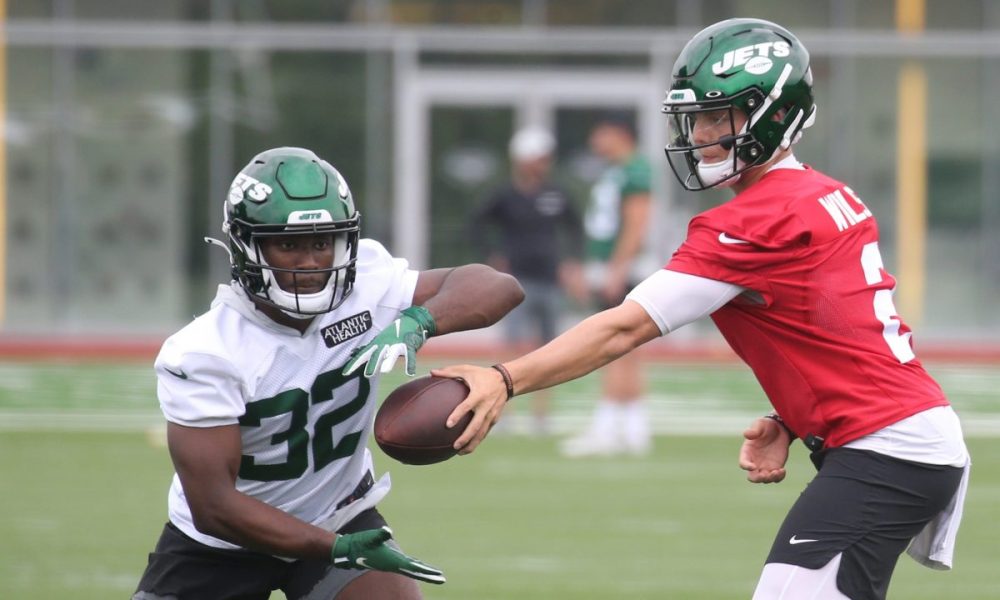 General Notes
– Practice ran 2 hours and 20 minutes.
– They were in jerseys & shorts again, so in one week they've been in pads one time (rant over).
– Josh Johnson was signed as the veteran QB he's wearing #9.  He took no live reps.
– Alijah Vera-Tucker didn't practice, he was replaced at LG by Dan Feeney and Alex Lewis.
– In dead periods of practice Morgan Moses and George Fant would pull Mekhi Becton to the side to talk about "kick slides" and hand placement.
– Nice bounce back performance by the offense which allowed them to win the day.  Strong running game and an impressive performance by Zach Wilson.
Player Notes
– There were 1 on 1's today between the WR & CB, here are some highlights:
* Bless Austin showed improved coverage skills as he had a breakup against Elijah Moore and a leaping INT against Denzel Mims.  Is he finally going to take that step and be a
complete CB?
* Impressive positional coverage displayed by Michael Carter (CB).  He was able to mirror the receiver and get multiple knock aways in his reps.
* As usual excellent footwork displayed by Elijah Moore shaking Marcus Maye among others in his reps to get open.
* Corey Davis displayed strong hands reaching around Bryce Hall and snatching a TD in one of his reps.
– Very effective run game displayed by the offense in the first period of 11 on 11's.  Some highlights:
* Tevin Coleman for a 15+ yard run to the right.
* Ty Johnson for a 20+ yard run to the right.
* Michael Carter for a 10+ yard run to the left.
* LaMical Perine with a 20+ yard up the middle, where he actually delivered a "blow" when the defenders tried to wrap him up.
* Austin Walter with a 10+ yard to the right.
QB Notes
– I don't know if Mike White and James Morgan can actually play (pre-season will give us an indication) but I'll give them credit for being efficient in their reps.  There are no
fumbled snaps, very few penalties and not that many INT's.  They seem to have a clue.
– Strong bounce back performance by Zach Wilson in all phases.  Whether he was in the pocket or on the move he was accurate, displayed excellent arm strength and "threw receivers open" before they came out of their routes.  Some of his highlights were:
* A 20+ yarder to Keelan Cole before he finished his route.
* A 15+ yarder to Jamison Crowder off of a misdirection in the pocket.
* A 15+ yarder to Elijah Moore (with velocity) while falling away.
* A 30+ yarder down the sideline to Elijah Moore.
* On Monday Wilson held the ball and hesitated during the red zone 7 on 7 period.  Today there was no hesitation and he dominated the period with multiple TD's.  He seemed to
learn where the holes are in the secondary and he attacked.
Standouts
– Zach Wilson
– Bless Austin
– Michael Carter (CB)
– Michael Carter (RB)
– Elijah Moore
– The running game
Concerns
– Let's see the defense recover tomorrow
Videos
Aaron Rodgers Injury Fallout & Jets/Bills Recap