Real Excitement Over Zach Wilson; KRL Report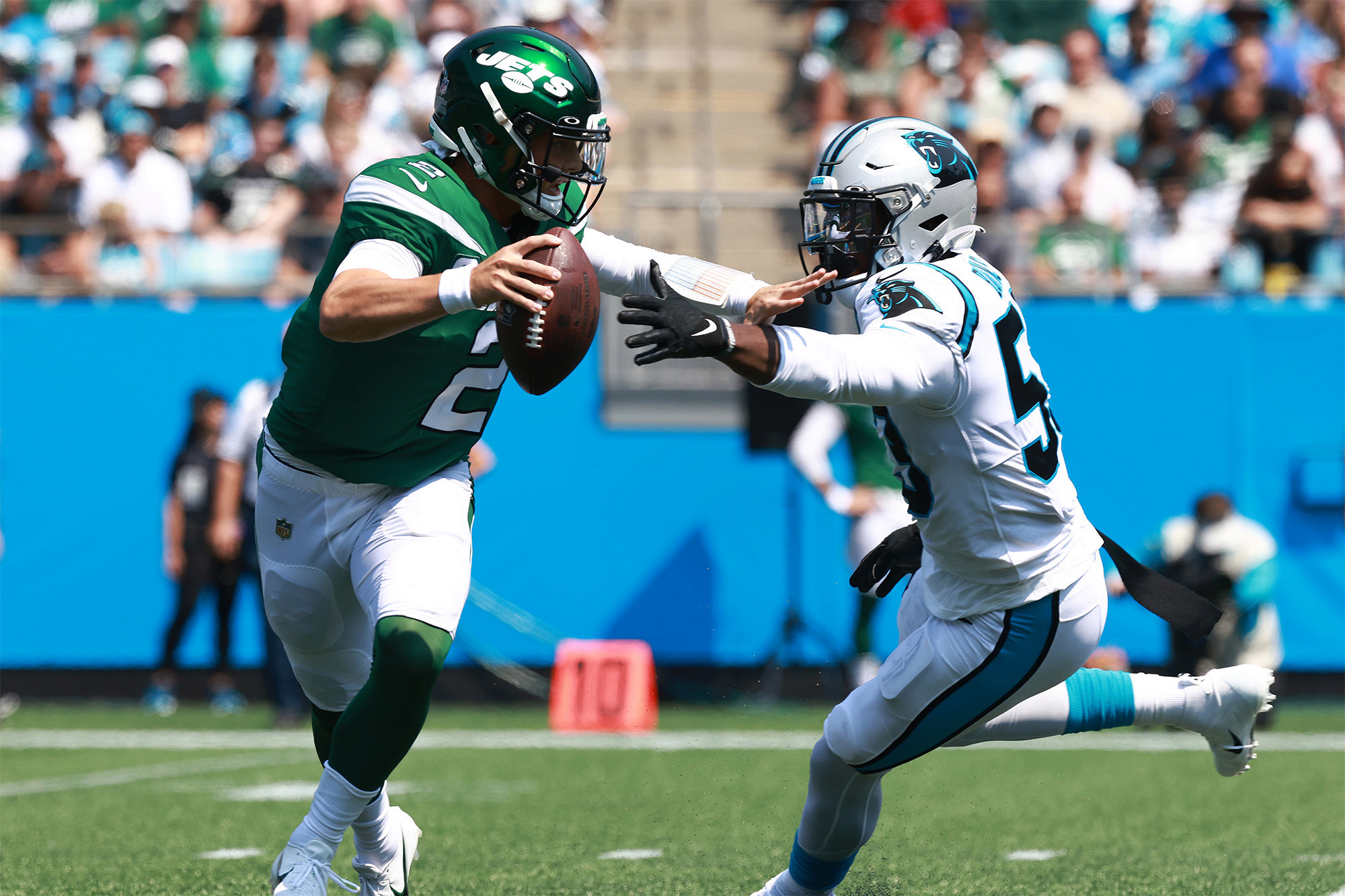 A 19-14 season-opening loss started out with a "Same Old Jets" feeling but ended with some promise.  Outscoring CAR 14-3 in the second half with the defense tightening up and Zach Wilson rallying the offense could be a springboard if the team can build on it.  Let's take a look:
Coaching
– Offensively the staff failed Zach Wilson in his debut:
* The pass protection was a mess (6 sacks).
* The run game never made the offense "two-handed" (45 yards).
* The screen game was never used to slow down the pass rush.
* Wilson's toughness/playmaking ability was the only thing that saved the day.
It will be interesting to see how/if Mike LaFleur can improve these aspects going into the NE game.  We'll never know their impact but the "grayheads" of John Benton and Matt Cavanaugh could be important resources for LaFleur as he seeks improvement.
– Defensively the staff was better:
* As it made second-half adjustments and shutdown CAR (3 points).
* As it had to make immediate personnel adjustments when LaMarcus Joyner and Jamien Sherwood went out with injuries.
– A couple of game management "hiccups" need to be tightened up:
* Having a delay of game penalty in the first half because there weren't enough players on the field for a punt.
* Burning an important timeout in the second half as the play clock ran down.  If they had that third timeout they could've kicked it deep after making it 19-14 and put pressure on CAR offense.
Special Teams
– Matt Ammendola was the star as he stepped in for an injured Braden Mann and punted six times for a 48.5 average.
Defense
– The key to the defensive game plan was to stop Christian McCaffrey and to get middle pressure on Sam Darnold.  They failed on both fronts as McCaffrey had 187 combined yards on 30 touches and Quinnen Williams and Sheldon Rankins only generated 3 Tackles and 2 QB Hits between them.
– How much did the Joyner injury have an impact on the Robby Anderson bomb?  Sheldrick Redwine got burned in single coverage, would Joyner have been better?
– John Franklin-Myers was the major impact player on defense.  Generating 3 Tackles, 1 Sack, 2 TFLs and 2 QB Hits.
– DelShawn Phillips filled in for Sherwood and had 12 Tackles.  Unfortunately too many were yards down the field.
– The young secondary was very solid in their debut.  Other than the Anderson bomb they were tight in their assignments.
Offense
– The major issues were mentioned earlier.  Other things that concerned me were:
* How did George Fant beat out Morgan Moses at RT?  And could that have impacted the OLine communication?
* One-touch generated for Elijah Moore.  Was he rusty after not playing in the pre-season?
* How deep in the doghouse is Denzel Mims?  He had one catch for 40 yards, but before that I don't think I saw him on the field.
– Impressive debut by Corey Davis (5 catches / 97 yards / 2 TD).  Showing toughness, speed, and YAC ability.  You wonder if he and Wilson hooked up on that first quarter 40+ yard "off script" play could things have been different for the offense?
– Zach Wilson turned this game from just another opening day loss to real excitement/hope for the rest of the season.  In his first game, he was under constant siege, had no help from the running game, and yet his toughness and playmaking ability rallied the team to a one-score game.  Wilson's numbers don't tell the entire story (20/37, 258 yards, 2 TD, 1 INT) because in the second half he was 14/21, 174 yards, 2 TD.  Let's be honest, Sam Darnold was under siege multiple times when he was with the Jets but he never was able to stabilize a game and rally the team like Wilson displayed yesterday.  When Darnold started off bad he remained bad ("Ghost Game").  Finally, don't underestimate how much respect Wilson gained in the locker room from the beating he took.  Now let's make sure it never happens again.
Videos
New York Jets OTA Presser Takeaways, Aaron Rodgers' Impact and Summer Delusion