Final Jets Injury Report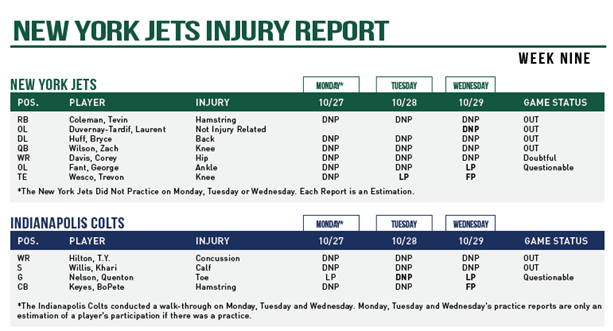 The NY Jets take on the Indianapolis Colts on Thursday night and here is their final injury report of the week.  The following players are definitely out for Sunday:  Tevin Coleman, Bryce Hall, Zach Wilson and newly acquired guard Laurent Duernay-Tardif also won't play.
Corey Davis is doubtful and George Fant is questionable.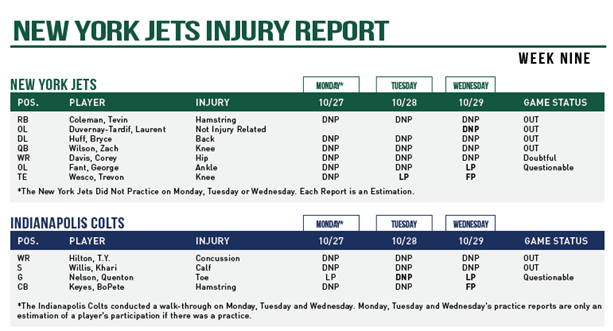 Some other injury updates from head coach Robert Saleh this week:
Mekhi Becton
He's going to be a couple weeks still. He's getting closer. His knee feels really good. But the biggest thing is trying to regain some strength back in that knee and that leg. He is a big man, but he's coming along good.
Jarrad Davis
So, we gave Jarrad a couple series off during the game, all with the mindset with trying to help him get to Thursday. And it's going to be the same thing this week. I thought he did a really nice job, first game back in a while. Again, his playing legs underneath him and the speed at which he can play, his length, all that stuff, he's a hard hitter, he's a great communicator, and I thought he did a really nice job. And for him, again, let's stacked it up, put a little bit more on his back and continue to build his playing strength.
Videos
New York Jets OTA Presser Takeaways, Aaron Rodgers' Impact and Summer Delusion