Outlook For the Up and Down Jets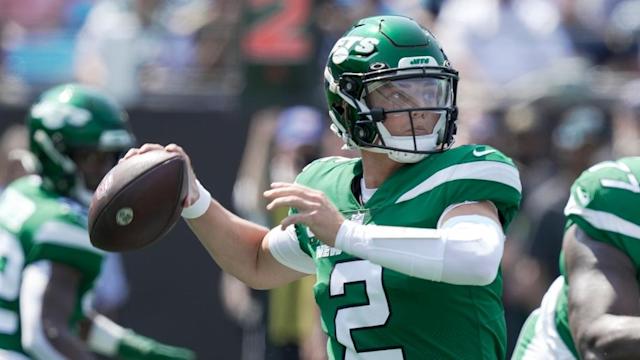 Following a 34-31 win over the Cincinnati Bengals in Week 9, the New York Jets were back in the losing column last week with a 45-17 loss to the Buffalo Bills on Sunday. The Bills came into the game as the favorites and were especially keen on making up after an embarrassing loss to the Jacksonville Jaguars last weekend, yet the Jets' defense could have given a much better representation of itself amid the circumstances.
We are now past the halfway mark of the current NFL season, and the future outlook for the Jets depends on what the young players can do the rest of the way. Right now, the Jets are pretty much where most expected them to be and the betting odds stats reflect the sentiment. They have produced a few upsets but they remain a work in progress on both sides of the ball.
Head coach Robert Saleh is in charge of the youngest team in the NFL and, if they were intent on having folks believe otherwise, they've certainly failed in that regard.
As we outlined, the Jets are playing through a historically poor season defensively, having allowed 175 points in a four-game stretch, the second-most since the AFL/NFL merger in 1970. While they were expected to struggle on defense, no one could have imagined it would be this bad. Saleh, who takes pride in being a defensive-minded coach and has built a reputation out of it, will be especially disappointed.
"Clearly it's not good enough," he said after Sunday's loss, which leaves New York 2-7 for the season. "Since coming off that Tennessee game, it just hasn't been good enough. Atlanta, we played all right, but ever since that bye week, we're not nearly as good as we wanted to be. Obviously, we've got eight games left, and from coaches to players, we've got to find a way to get better every day, or otherwise, you're selling yourself short.
"Again, we'll look at it. We didn't do much of anything very good defensively. They hit us on a couple of reverses, broke some tackles, did some good things, got us on the edge on the first drive of the game. Obviously, we've got to be better."
"We've got 8 games left. From coaches to players, we got to find a way to get better every day." pic.twitter.com/dGLcnohby6

— New York Jets (@nyjets) November 14, 2021
The offense has shown signs of promise and was the reason for the win against Cincinnati in Week 9. There was hope that backup quarterback Mike White would continue to impress but he fell flat against the Bills in Week 10, throwing four interceptions. White didn't throw any touchdown passes, having thrown for 251 yards on 24 made passes off 44 attempts. Veteran Joe Flacco, who will start against the Miami Dolphins on Sunday, was the one who threw for a TD, making all three of his passes.
Saleh has indicated rookie quarterback Zach Wilson would be back in the lineup soon. The No.2 overall draft pick hasn't shown the quality that made him as highly ranked just yet but, in his defense, he wasn't quite ready to be thrown into the deep end. While the talent is obvious, Wilson is still rough around the edges and is still learning the system.
He will be the first to admit the above.
"I just got here. I'm supposed to be a senior in college right now," he said, via ESPN, insisting he isn't worried about reclaiming the starting job. "You have to understand, it's going to be hard. I'm not making excuses, but that's where growth comes from.
"I definitely didn't come here thinking this would be the greatest thing ever and we're going to go undefeated. I knew it was going to be tough and that's part of the process. That's what makes football so fun. My time is going to come."
The Jets' offense found a spark after Wilson sustained a knee injury and White has held his own, if you don't count Sunday's game. But the second half of the season will be important for Wilson's development and it's becoming clear that Saleh needs to return him to the starting spot unless doctors advise against it.
White, who convinced the coaching staff he was the right man for the No.2 job in training camp ahead of this season, can still be proud of what he showed during Wilson's absence.
"My mindset is, every time I go on the field, I want to show – whether it's this team or the other 31 teams – I want to show them what I'm capable of and let the rest handle itself," he said.
He has since cut the figure of a player who has accepted that his time in the spotlight is about to come to an end.
"I'll support him, just like I did in the first couple of games of the season," he offered. "He's a good kid. I want him to do well. Whatever my job is, I'm going to do it to the best of my ability, 100 percent."
The Jet have a lot to do to get to where they want to be. That doesn't look like it will happen this season. If Zach Wilson and the young playmakers on offense, like Elijah Moore, Denzel Mims, and Michael Carter, can shine there will be more optimism about this team going into next year. As for the future, it could be pretty bright for the young cast.
Videos
Was Boomer Right to Blast Becton? Former Jets QB Sounds off Against Jets Tackle.