Wilson Bounces Back From Shaky Start but Questions Still Linger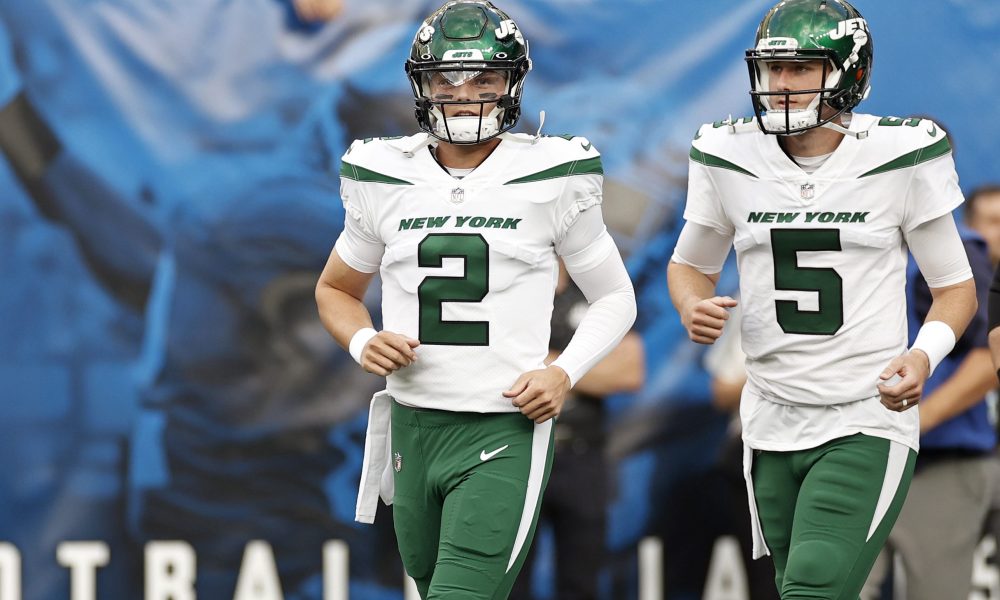 As we pointed out prior to yesterday's game against the Houston Texans, Jets quarterback Zack Wilson had plenty of things working in his favor.  His offensive coordinator is happier upstairs, he has had some time to sit back and watch the offense perform at a high level and he was likely to see more spread formations than he had in previous starts.  But in the end, none of that really mattered.
Wilson started the game by going a very shaky 1-6 with an interception on a ball that hit running back Ty Johnson in the back when he turned around to start blocking as it appeared he expected Wilson to take off running. In the end, the ball bounced into the hands of a waiting defender.
Throughout the course of the game we saw him sloppy mechanics and misfires from Wilson.  Be it short passes to wide open receivers over the middle uncovered receivers toward the sideline.  Jets fans should enjoy the win because they don't come along very often, but who can blame them for being concerned about Wilson's struggles?
Of course it would be silly to give up on the QB after just six NFL starts, but something isn't right with the second overall pick.  We can talk about college vs the NFL or even level of competition faced at BYU, but none of that should matter.  The physical act of throwing a football to a teammate who is wide open and uncovered just a few yards away should be no different as a Jet or a Cougar.  In watching Wilson, what jumps out most is his mechanics.  They're wildly inconsistent.
Looks like Wilson short-arms the ball and misses a gimme' completion. Overthinking while his mechanics are wildly inconsistent. pic.twitter.com/JCn1CIotMa

— Glenn Naughton (@AceFan23) November 29, 2021
At BYU, Wilson was the most accurate passer in the country, consistently hitting receivers at every level.  His mechanics weren't perfect, but they were nowhere near as bad as they've been at times with the Jets.  Most alarming is the fact that we've seen him doing drills at full speed in recent weeks.  He may not have been game ready, but he was able to do enough that one would have expected his mechanics to be a focal point for the coaching staff.  If they were, they failed to get better.  If they weren't, they've failed to identify what may be his biggest issue.
Credit Wilson for beating himself up a little bit after the game.  Despite the win, the QB acknowledged his poor play and recognized the fact that he's missing throws that he should be able to connect on
The Jets caught a break on Sunday, but there won't be many weeks where you get to face a team like the Texans who have a hard time getting things going on either side of the ball.  To Wilson's credit, he bounced back and did some good things in the second half, but there's still a ton of work ahead.
Videos
Aaron Rodgers Injury Fallout & Jets/Bills Recap