Jets Lose to Dolphins Again; Robert Saleh's Thoughts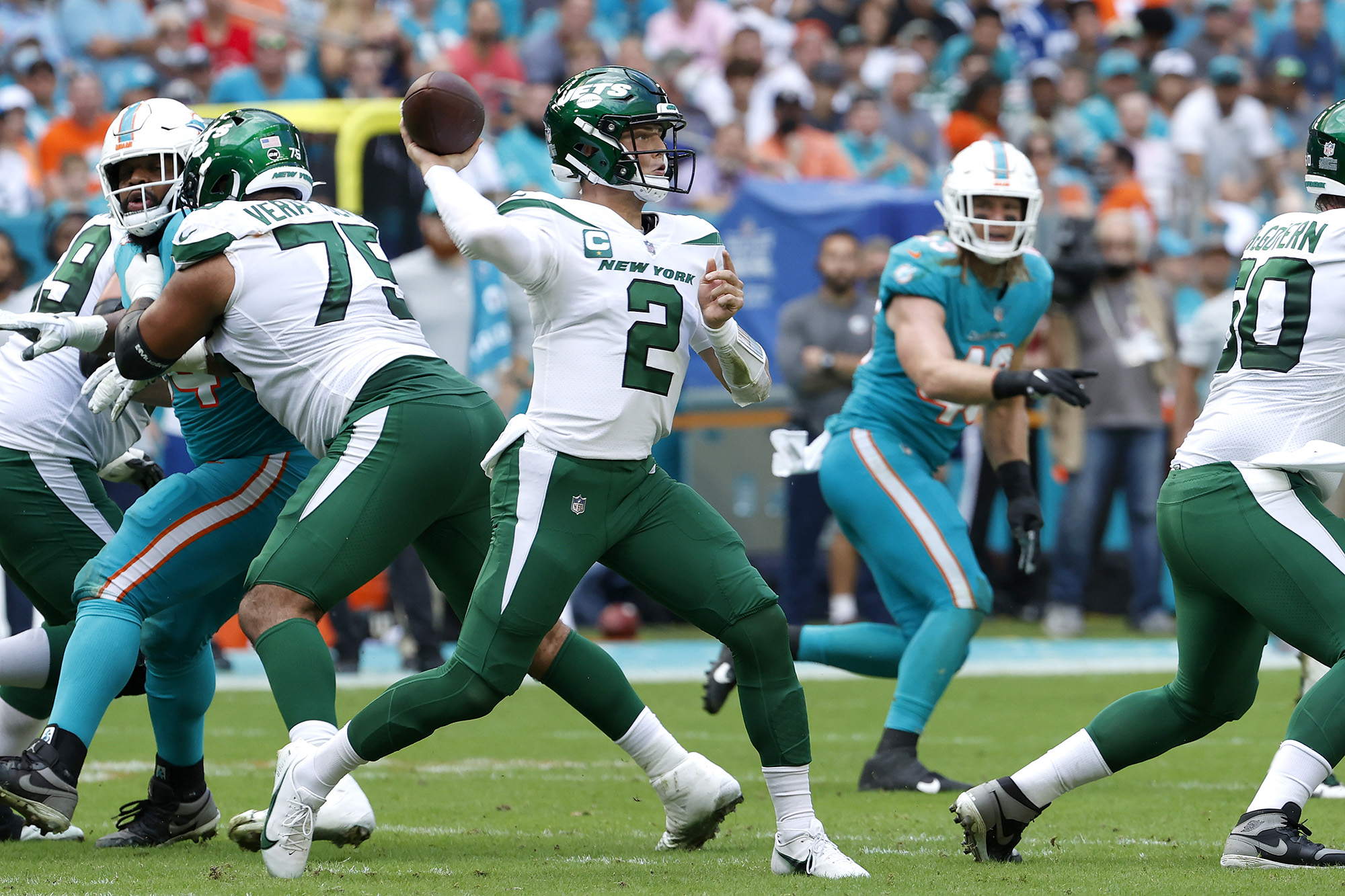 Here is what Robert Saleh had to say the day after the Jets lost to the Miami Dolphins for the second time this year.
How, at this stage, important would it be just to get a win for your players and your fanbase to just experience the benefits of that as opposed to just development and building as you go along here?
Winning is always first. Always, always first. But it's also not the whole cart in front of the horse thing, right? The process is what takes precedence over everything in terms of verbiage, but make no mistake, we want to win games, we're trying to win these games, we want to get W's, not only for ourselves, but for the organization and the fanbase, the media, for you guys writing. I mean, shoot, I'm sure you guys would write about a winning team for once in a while. So, trust me, I'm very cognizant of all of it, but keeping the main thing the main thing and really trying to find teachable moments whether you win or lose is the main focal point. Yeah, I want to win these last three games more than anybody, for everyone, trust me on that one. But at the same time, this young group, just to look back at Sunday and the fight that we went through versus a team that's trying to stay in the playoffs, there's a lot of cool things that happened yesterday. I really thought we were going to have a chance to win the football game, but obviously it didn't. But, Ian, to answer your question, it's very important to win football games, always.
Do you think it's most important to your quarterback to maybe get another win or two under his belt heading into the offseason, how important would that be for Zach (Wilson) and his development?
So wanting to win and needing to win are different, right? We're eliminated from the playoffs, we want to win football games. Will it change whether we win or lose, will it change the confidence level or the development that takes place? I don't think that moves the needle much. Does it create a little bit more swag? Maybe. Does it create more hope? Maybe, but I've seen a lot of teams win this time of year and there's a lot of fake optimism. I've seen that a lot. I've seen teams lose where, I'll just go off our 2018 season. We went 4-12 at San Francisco and there were so many really cool things happening offensively, defensively, even though we were losing football games and we lost all the way through. There was never any glimmer of hope that anyone could see, but in the building, we knew that something cool was happening. We just needed to add a couple pieces and it led to the 2019 season and, obviously, they're making a run now. So, to answer your question, winning, losing, obviously that's what we want to do, but in order to develop these guys, that's not necessarily what needs to happen. But we want to win football games.
You have, you just played a team that was in the playoff hunt and was winning five in a row yesterday. You've got Tampa and Buffalo coming up a little later on, both of which will need those games. How do you view Jacksonville here in terms of an opportunity? I'm certainly not looking for any rip Jacksonville or anything like that, but I mean they've struggled a little bit like you have and what kind of opportunity is this for you guys?
It's the same thing I've said before when teams look at us. You got a prideful group in Jacksonville. You've got coaches who are very prideful. There's a lot of people, especially when you have a change in coaching staff, there's a lot of guys who are now auditioning, there's not only coaches auditioning to stay, but there's coaches auditioning for other jobs, there's players auditioning to stay, there's players auditioning to go somewhere else. I promise you, there's no cashing in in Jacksonville. They're coming, they're bringing everything they've got, they're trying to win a football game. Trevor Lawrence is a very talented young man and he's going to try to use this as a chance for himself to get better. They've got a really good run game, I'm sure they're chomping at the bit to come run the football. There's a lot of things that they're looking at us and saying whatever they want to say, but we've got to strap up, we've got get ready to play football and keep that mindset that we've had with regards to what this time of year means and how you get better and how you separate from other teams.
From a big picture standpoint on Zach, for people who maybe are just looking at the stats or not seeing the signs maybe that they want to see from him yet, what are you seeing that encourages you about Zach and fuels your belief in him?
I'll speak on the two halves and just try to go plus and minuses. Obviously, his off-schedule stuff was really cool yesterday. He did a lot of great things in terms of just feeling the pocket, had some free runners just b-line to him that he made miss to create some really good things to get first downs. I thought he did a great job getting the ball where it needed to go in the first half. We had a 10-0 lead and throws an absolute dart on third down that Keelan's (Cole) got to come down with, obviously. So, he was standing in there, he was getting the ball where it needed to go versus a pretty complex system. Second half, obviously we had an opportunity early in the fourth quarter to get back in rhythm when we got the explosive screen and then the explosive run. Held the ball a touch long on the first down that caused the sack fumble, but one of the cool things that I think happened yesterday that no one notices is that was really, offense had the ball twice inside three minutes at the end of the game to win. I was going for two, everyone knew we were going for two if we score. And so, it was just a great opportunity for our offense, and if you guys all look at it, that was the first true two-minute drive that we've had this year. In terms of the end of the game, a chance to go win and we had two ops at it. There's a lot of learning in those situations for everybody, especially Zach. And I thought he did a good job. Obviously, he scrambled for a first down, we get a ticky-tack holding call that I wish they didn't call. Second down, I think the ball was batted down on the next one. Either way, it gets to fourth down and we run short of the sticks. For him, just a learning experience that can happen. The positives are, versus a very complex coverage, I thought he did a really nice job managing the game, getting the ball where it needed to go. We scored 17 points on a pretty darn good defense in the first half, and they hadn't allowed 17 points I think at all in their little six game streak here. And then the second half, just had the opportunities. We had opportunities and, obviously, what I said after the game, wish that…. But there's a lot of really cool things that he's doing, and it's like I said, it's on all of us to help elevate him even more, from winning one-on-ones as route runners to pass protection to running the football, all of it. I know I'm answering it longwinded here, Coz, but there's so many different things that I can point at.
I know you're not locked in on what the other rookie quarterbacks are doing around the league, but his week you face Trevor Lawrence so you're going to look at him. He's had struggles, he was a guy who coming out of college everybody basically said was Peyton Manning, Andrew Luck, can't miss. Does that give you any, I don't know if reassurance is the right word but just you see that he's struggling as well, that a reminder that rookie quarterbacks go through some things?
No. I think it helps the fan base and you guys as you guys write your stuff that it's a good reminder for y'all because we do tend to celebrate the anomalies like the (Justin) Herberts of the world. But as far as rookie quarterbacks, this is usually what happens, they struggle. If you look at rookie quarterbacks in the history of time, it is not easy to come to this league and play quarterback at a high level, especially when you're coming to a team that's kind of building. It's one thing if you got an established roster with an established coaching staff that's been around for, in Mac Jones' situation, 20 years. There is such a big difference in terms of all of it coming together for a young man. But what's encouraging about Zach, and I'll just speak about our guy, what's encouraging about him is he is learning so many different things and he is getting better at a lot of different things. But it's like I said, he's got to go through these tough moments like this is different. I know he took six sacks yesterday, but I promise you, what he's going through is different than somebody who is just getting his butt kicked because he just has no chance because his o-line is just not, this is just so different. I think he's going through a tremendous learning curve and it's one that he's going to be able to capture and run off of it and take with him to the offseason and grow off of. We're really excited about where Zach is and we're really, really confident that his arrow is definitely pointing up and it's only going to get better.
There were a couple sacks there late in the game where it looked like he might have been holding the ball too long. When you went back and watched the film, was that actually more of an example of guys just maybe not winning one-on-ones outside so he didn't have anywhere to go with the ball but to eat it or were there some situations where he could have played it a little different?
There's a couple things. One, credit to Miami. They've been together three years now, they do a really good job with their disguise system, it's very hard to see what they're doing for a full snap, which is going to make even the best of quarterbacks look, it just happens. On top of it, you got Xavien Howard, you got Byron Jones, they have a really good back end, and creating separation, when they get up on you and they lean, you can create separation, but you're going to have to hitch which means you're going to have to take time to allow those routes to come open. So, like I said, it's on everyone. When they start playing man coverage, how quickly can you separate and if you can't separate as quickly, how long can you hold up at the line of scrimmage from a protection standpoint? And then from Zach's standpoint, can you go off schedule and make something happen if everything breaks down. It's a lot of learning in that respect but when they decide to go man coverage in the second half, it's why I said it's on everybody in terms of how quickly can you win your one-on-ones and how long can you hold up? It's a little bit of everything, Connor.
There was a lot of criticism towards you guys this off-season for how you decided to handle the cornerback position. You stuck to your guns about wanting to play the young guys, develop the young guys and even though from the outside perspective that didn't seem like the smartest idea. Could you just speak to the development that you've seen both from Bryce Hall and now Brandin Echols since he returned? Because it does look like you guys might have two pretty good players there on the outside now.
For sure. Props to Marquand Manuel and Tony Oden, also Ricky Manning. They're doing a really good job with that backend. They're doing a really good job with that back-end. Super young group. With Bryce Hall and Echols, even (Javelin) Guidry and Michael Carter (II), I mean young Michael Carter is a rookie playing nickel at a high level. So, they've done a really nice job. I always challenge them that they got to get the ball, that's the next step that group has got to take, and we did get the pick six which was awesome. But that's the next step, can we go get the football. It is really cool to see them getting their PBUs and playing sticky coverage of man. When we get more rush from the outside and the rush and coverage starts tying in together, it can become a bit special. They've developed really nicely, and they've proven that they're NFL players and now the next step for them is to prove that they're NFL difference makers and you do that by taking the ball, which we did yesterday.
A couple of lineup changes, Robert, with Shaq Lawson and Ty Johnson being inactive in the game. Maybe you could just explain those?
Yeah, with Michael Carter, obviously, we felt like we were in good shape there. From a third-down perspective, Michael, Tevin Coleman, and then wanted to give Austin (Walter) another run. And then with Shaq Lawson, with (Bryce) Huff coming back, wanted to go with Ronny Blair.
Videos
Aaron Rodgers Injury Fallout & Jets/Bills Recap