JetNation NFL Power Rankings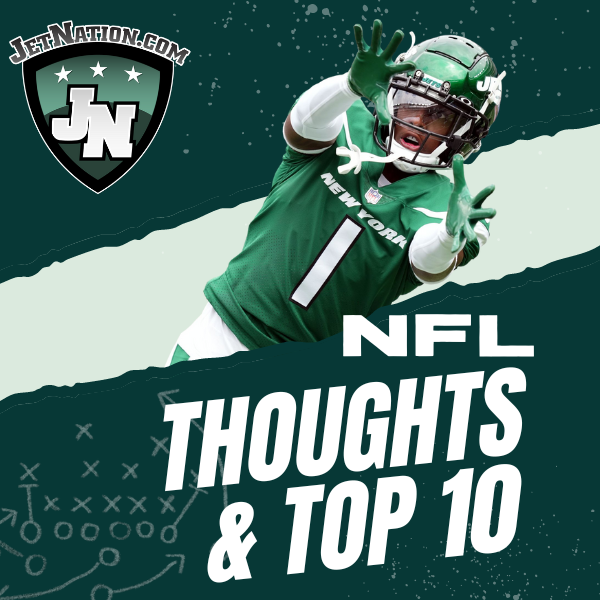 JetNation NFL Power Rankings
Week Six
Philadelphia Eagles 5-0 (Last Week: 1) The top dogs notched a nice road win in Arizona Sunday. The win sets up an early season divisional battle with the surprising 4-1 Cowboys.
Buffalo Bills 4-1 (Last Week: 2) The Bills spent zero minutes not dominating the Steelers. It was over quick for Pittsburgh.  This week we get a preview of the likely AFC Championship game as Buffalo draws a trip to KC.
Kansas City Chiefs 3-1 (Last Week: 3) The Chiefs seem capable of turning it on when and where they wish. It's not an historically proven method for success, but it works for KC.  The Raiders were game and needed the win to save their season.  This week's game is must-see TV as the Bills come to town.
Dallas Cowboys 4-1 (Last Week: Unranked) Written off by many, including yours truly, after Dak went down, the Cowboys are playing as well as anyone in the NFC. They get to prove it in a division showdown with undefeated Eagles this week.
Los Angeles Chargers 3-2 (Last Week: 6) The Chargers did just enough in Cleveland. Road wins in the NFL don't need to be pretty.  LA gets a desperate Denver team this week who are wondering if they made the right move at QB.
Minnesota Vikings 4-1 (Last Week: 8) The Vikings needed a late drive to come from behind on the bottom-dwelling Bears despite dominating the stat sheet. The Vikings travel to Miami this week at an opportune time given Miami's injury issues.  The Dolphins will battle, and the Vikings will need to show their shiny win-loss record is for real.
Tampa Bay Buccaneers 3-2 (Last Week: 10) The Bucs got some home cooking on Sunday as the league decided sacking Tom Brady is a personal foul. The Bucs have not played as well as they did in week one, but the next two weeks set them up to be 5-2 when they play a top-level team again.
New York Giants 4-1 (Last week: Unranked) Welcome to the top ten, New York. The Giants got off the mat in London and scored an impressive win against solid opponent Sunday.  We'll see if the Giants have any staying power as they host a talented Baltimore Ravens team this Sunday.
San Francisco 49ers 3-2 (Last Week: Unranked) The Niners took out the Panthers who then fired their coach. The victory gave the Niners the top spot in the NFC West.  Not trading Jimmy G in the offseason looks like the Niners best offseason personnel move.
Green Bay Packers 3-2 (Last Week: 5) The Packers fell in London after building a nice lead on the undermanned Giants. Green Bay usually responds well after disappointing efforts.  That bodes poorly for the Jets who visit this week.
Videos
Aaron Rodgers Injury Fallout & Jets/Bills Recap